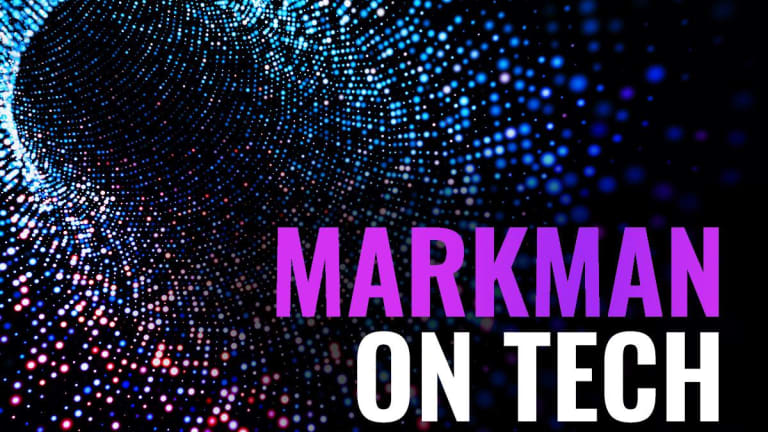 Health Care Is About to Improve Dramatically; Here's How to Play it
Governments and physicians around the globe struggle to deliver high quality healthcare at a reasonable price. But fresh medical technology innovators are coming, and there's one in particular worth looking at.
Bill Gates is really smart. Microsoft (MSFT) - Get Microsoft Corporation Report , the company he co-founded, developed software that still powers most of the world's personal computers. He's also really good at predicting the future.
That is the basis for a fascinating story published by Entrepreneur Magazine recently. Way back in 1999, when the internet was in its infancy, Gates predicted, among other things, smartphones, fintech and social media.
His prescience was uncanny. The opportunity for investors, I believe, is the one idea of Gates that fell short.
When the internet was nothing more than AOL and a dial up connection for most people, Gates imagined healthcare transformed by real-time consultations with doctors. He saw a future of data and devices.
Two decades later, governments all over the globe still struggle to deliver high quality healthcare at a reasonable price. Regulations, patient privacy concerns and powerful confederates in the pharmaceutical and insurance sectors have aligned to maintain the status quo.
The good news is that medical technology innovators are coming.
Networks and video conferencing technologies are plenty fast enough for simple consults, but that is only the start. Many of us voluntarily carry complex sensors everywhere we go. They are in our smartphones, fitness trackers and watches. Our genetic material provides even more important information.
This intersection is attracting new investment. Verily, a life sciences firm owned by Alphabet  (GOOGL) - Get Alphabet Inc. Report , is gathering data from within the healthcare ecosystem. The company is working with large pharma, medical products firms, clinicians and patients to integrate datasets, then apply analytics and machine learning to help derive insights.
Microsoft and Alphabet are holdings in Jim Cramer'sAction Alerts PLUS Charitable Trust Portfolio. Want to be alerted before Cramer buys or sells MSFT or GOOGL? Learn more now.
It is a radical idea. Verily is essentially rethinking healthcare by finding patterns inside data.
In 2016, Verily partnered with Nikon, the legendary camera maker. Researchers have been working on a screening tool for diabetic retinopathy and diabetic macular edema, two of the leading causes of blindness among adults.
If everything goes according to plan, clinicians will be able to take an image of the patient's eye and determine the early onset of disease. Nikon will supply the imaging, while Verily will take care of the machine learning.
The company announced Jan. 9 that it raised $1 billion in new funding from investors. Also Ruth Porat, the chief financial officer of Alphabet, is joining the board.
This is a real business. The company wants to do for healthcare outcomes what Google did for internet search. Verily is using its programming strengths, and all of the computing might from the Google Cloud computing platform to find needles in haystacks of information.
It's probably far beyond what Gates imagined in 1999.
The best way for investors to play this trend is not Alphabet, however. Verily is not a public company, and even if it was, its sales would be immaterial to its parent's bottom line.
Illumina Inc.  (ILMN) - Get Illumina Inc. Report  makes best-in-class DNA sequencers used by pharmaceutical companies, academic and clinical research organizations. With 70% market share, the San Diego company is in the sweet spot of life sciences' computational future.
DNA sequencing allows doctors to personalize medicine. They can tailor drug treatments to a patient's specific genetics, medication regimen and family history.
For a long time, this was impossible. The tests were too expensive and the science was not advanced enough. Now neither of these things are true. Thanks to the herculean effort of Illumina, the cost of sequencing has collapsed to $1,000 today. The same battery of tests would have cost $100 million in 2001.
Driving down costs might seem like a recipe for disaster but it keeps competitors out. It also builds a huge new market for Illumina gear.
Illumina reported $867 million in sales during its fiscal fourth quarter, Tuesday, an 11% gain year over year. For 2018, sales surged 21% to $3.3 billion. Gross margin advanced to 69%, versus 66.4% the a year earlier.
The shares are well off the record high in October at $370. They trade at roughly 43x forward earnings and 3.3x sales, which is not cheap, but it is closer to the average during the past five years.
It's an attractive long-term entry level for company doing the things with data and devices that were unimaginable 20 years ago, even for Bill Gates.
To learn more about my recommendations at the crossroads of culture and technology, check out my daily newsletter Strategic Advantage.
To learn about my practical research in the short-term timing of market indexes and commodities, check out my daily newsletter Invariant Futures.
Jon Markman is editor of the independent investment newsletter Strategic Advantage. He owns shares of Microsoft and Alphabet.