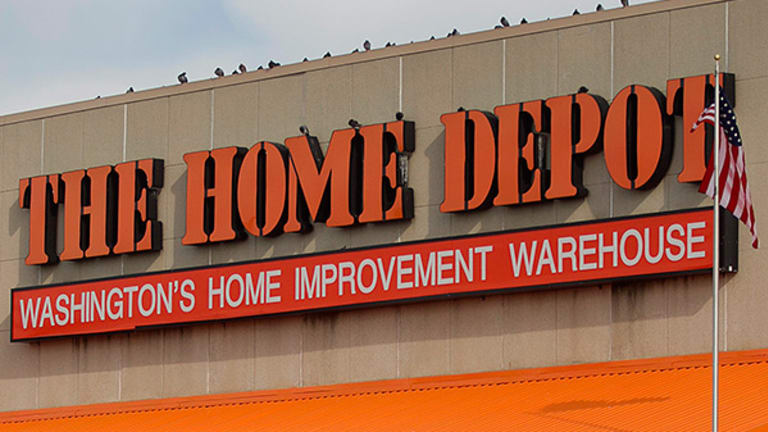 Publish date:
HD, SWK, CAT, AAPL: Jim Cramer's Views
Jim Cramer shares his views on the jobs report and bailing on solid stocks. Home Depot, Stanley Black & Decker, Caterpillar and Apple are among the stocks discussed here.
Jim Cramer shares his views on the jobs report and bailing on solid stocks. Home Depot, Stanley Black & Decker, Caterpillar and Apple are among the stocks discussed here.
NEW YORK (Real Money) -- Jim Cramer shares his views every day on RealMoney.Click here for a real-time look at his insights and musings.
Here Is How to Make Money From the Jobs Report
Posted at 12:02 p.m. EDT on Friday, April 1, 2016
You need to try to make money from everything that is thrown at you. Today you have to try to make money from the nonfarm payrolls report, which first sent the market down and then, upon further review, made it roar back to life. 
How do you play something that's as dry and convoluted as the Labor department's release? Simple. You look for outsized gains in certain segments of the report and you extrapolate.
Which ones showed truly standout growth? 
First construction. The economy added 37,000 construction jobs in March, with the heaviest concentration in residential specialty trade. 
Second, retail. This segment added 48,000 jobs. The biggest gains besides general merchandise? Ten thousand new jobs in building materials and garden supply stores.
Bingo. You have your pay off: Home Depot (HD) - Get Report . It dovetails perfectly into the release. Now we know Home Depot said it was hiring more than 80,000 people for the spring selling season, to ensure that its 2,000 stores are staffed. So, profit point number one is HD, which is, not coincidentally, breaking out here. 
Second? Lumber, appliances and tools. Which are huge sellers? Weyerhaeuser (WY) - Get Report , Whirlpool  (WHR) - Get Report . WHR got a big number bump today from Bank of America Merrill Lynch on strong sales and a strengthening real -- the beleaguered Brazilian currency that rallied hard this past week, perhaps in reaction to a "throw the bums out" political groundswell. 
Then there is Action Alerts PLUS holding, Stanley Black & Decker (SWK) - Get Report , which is THE tool play. It's been so strong that we had to trim it back in the portfolio just to rightsize the position.
Other takeaways? Employment in health care increased by 37,000, with ambulatory health care services and hospitals doing the hiring. Think AMN Healthcare (AHS) , the staffing service for those jobs, and the fabulous Susan Salka, CEO of the company. It's three points off its high, and I bet it breaks out. 
Finally, the release states "employment continued to trend up in food services and drinking places." If that's the case, go with Sysco (SYY) - Get Report , the food supplier, and Darden Restaurants  (DRI) - Get Report . Darden reports next week, and I think will have another excellent quarter.
You do the homework on the companies, you get the release, you know the profit points. That's how calculated risk plays out -- and that's how money can be made.
At the time of publication, Action Alerts PLUS, which Cramer co-manages as a charitable trust, was long SWK.
Bailing on Solid Stocks Amid Hysteria Isn't Smart
Posted at 4:15 p.m. EDT on Thursday, March 31, 2016
When we look back at the quarter we just put "paid" to, I want you to remember that it was a tale of two halves: the half that caused people to run from the stock market, and the half that caused people to miss some fabulous gains.
I see it like "Great Expectations," where it was the worst of times and the best of times within one quarter, because I want to do some teaching here. The teaching is about how, if a company is a decent company -- not one with a ridiculous balance sheet laden with debt or one with no earnings prospects, but one that historically has hung in there -- you almost always get a better chance to sell than at the panic vortex that consumes so many investors and causes them to lose their heads at the worst possible times.
Let's start with Caterpillar (CAT) - Get Report , the giant machinery company that has had such a hard time of late. Here's a company that at the end of January reported a loss of 15 cents per share versus a profit of $1.35 the year before. But if you looked under the hood, you could see that the company had taken a giant restructuring charge and would have earned 74 cents a share if it hadn't seen the need to take out costs because of a downturn among its clients in so many businesses.
At the time, CEO Doug Oberhelman said, "Cost management, restructuring and operational execution are helping the company while sales remain under pressure from weak commodity prices and slowing economic growth in developing countries." But, he added, "Our balance sheet is strong, our product quality remained at high levels, we gained market position for machines for the fifth year in a row, inventory levels have declined and are well-positioned as we look forward to 2016."
He also made it clear that the recently raised dividend, which gave you almost a 6% yield, was a priority to be paid. That day the stock hit $57. It never looked back and soared to $76 by the end of the quarter.
It was, in retrospect, so easy to sell. The dividend wasn't covered by earnings per share even as CAT's gigantic cash flow didn't make it a problem. The end markets all looked so bleak, especially oil. The dollar was flying because the Fed had tightened not that long before then. Iron ore and copper had been plummeting. And the Chinese stock market had just fallen from 3000 to 2652 in two months' time.
Since then, every one of those indicators have reversed. That low for Caterpillar's stock was the low for pretty much every single commodity and indicator.
It wasn't the time to sell -- it was the time to buy. The toughest move would have been the most right one to take.
How about Apple  (AAPL) - Get Report , which is part of the Action Alerts PLUS portfolio?  You look at this quarter and you see a stock that went from $109 to $93 but had been as high as $132 six months before. What happened on the day it hit $93? The company reported a monster quarter, best ever, but analysts chose to focus on how it would be the last strong quarter for Apple smartphone sales and that the company's earnings were all downhill from there. One analyst after another cut their price target. The forecasts, if you look back, were for an endless amount of pain as this one-trick pony was at last exhausted. You would think they would want to shoot it to put it out of its misery.
The call to trade Apple was in the air. Trade out of it. You can always get back into it. There's always that ability to say, "Hey, catch you lower later, alligator." But you didn't get to catch it lower later. It was the low for the year.
Apple spent the rest of the quarter going higher because investors realized that the next quarter most likely would be the low because a new iPhone was on the horizon and there was a terrific $20 billion service revenue stream that's now growing rapidly. Don't believe me? Check your Apple bill -- that is, if you even bother. But when a billion people own Apple devices, those service charges add up.
Oh, and can I add that the low in Apple's stock coincided with the low in the Chinese stock market? Everyone was so worried about Chinese sales slowing, but the stock market has been an uncanny measure of Chinese retail sales, and neither it nor Apple's stock reached those levels again. 
Or how about Chevron (CVX) - Get Report , one of the largest oil companies in the world and one that is committed to its dividend almost like no other. On Jan. 20, oil hit $26.50 and Chevron's stock hit $78.51. Good time to sell?
How about looking at it like this. When oil broke through $40 to $39 on the way to $26.50, Chevron traded at $69.58. That's right -- Chevron's stock was literally 19 points lower when oil was $13 higher. I know it was tough to buy that stock that last week of January. But the fact that it was substantially higher showed you that the company had the wherewithal to hang in and pay that dividend when it yielded 6%, so it was a buy, not a sell, when it was at 5%.
Or how about Wynn Resorts (WYNN) - Get Report  back in the middle of January when the stock traded below $50? What was going on? You could look at it one way, which was that the stock of Wynn would never recover from the relentless decline in gambling in Macau, the Chinese gaming paradise. It was a decline that had taken the stock down 80% from $249. You only could imagine the disaster about to befall this company, which had doubled down and was about to open a brand-new casino in the mecca of all betting.
Or how about if you took the perspective of the builder of the enterprise, the man who owned 11% and who spent $100 million to buy a gigantic tranche of stock in the open market because he said the opportunity was too great not to and people were way to negative about China even as he was very angry with the government. Not only did he make no secret of one of the biggest insider buys I have ever seen, but he pretty much taunted those who bet against him. It has been a straight shot up to $93 since then, and now his second casino is opening just when the Macau gaming numbers have hit a bottom and are starting to run up.
Or how about Adobe (ADBE) - Get Report  and Salesforce.com (CRM) - Get Report , two companies that came on "Mad Money" the week that LinkedIn (LNKD)  and Tableau Software (DATA) - Get Report  cratered. Both companies, while they could not reveal their quarterly results because they were mid-quarter, told stories of incredibly robust growth. They didn't hide for a moment that business was fabulous. Salesforce's stock was at $67 and Adobe's was at $86. A few days later, because of guilt by association, they were at $53 and $73, respectively -- right in the face of their statements of strength.
Did you ignore them and panic? Did you think they were just blowing smoke? Or did you buy and ride them back to $73 and $94, respectively, after their great quarters?
Or how about one last one? In the second week of February, it looked like the world was coming to an end. European banks were teetering. Oil was plummeting. The dollar was soaring. The indices were down double digits. And what stock was cratering? Home Depot  (HD) - Get Report , which had fallen from $133 to $111 during this period even though it had no exposure to European banks, nothing to do with the strong dollar and was a huge beneficiary of lower oil and gas prices. Is it any wonder that it managed to get back to $133 for one amazing and predictable round trip?
In each of these instances, there seemed like plenty of reasons to bail. Yet in each of these instances, these companies or their CEOs told it like it was, whether it be CAT telling you that it was in good shape for the downturn, Apple explaining it wasn't a one-product company any more and more lucrative times lay ahead, Chevron expressing fealty to its dividend after its stock had bottomed when oil was much higher, Steve Wynn plunking down $100 million in insider buying, the CEOs of both Adobe and Salesforce gushing about their businesses as their stocks plummeted, or Home Depot's stock getting crushed when it should have been soaring.
Grant me this: Always remember that even if you hate the market, there are always better times to sell the stocks of great companies than into a maelstrom of selling, because panic is never a strategy.
At the time of publication, Action Alerts PLUS, which Cramer co-manages as a charitable trust, was long AAPL.