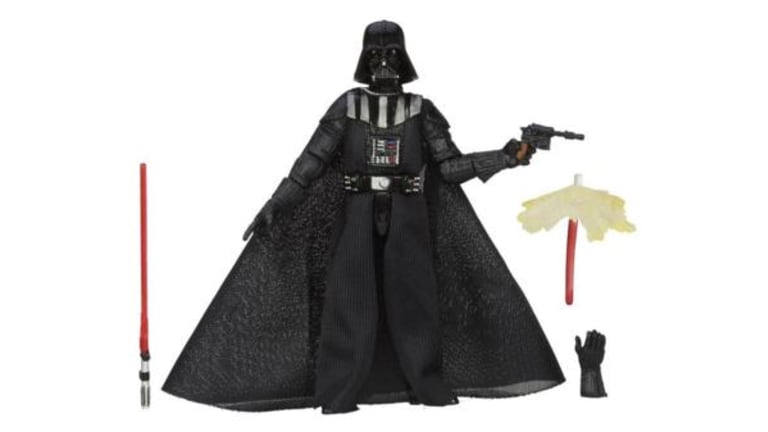 Hasbro CEO: The Force Still With 'Star Wars' Toy Sales
It's fun being an investor in Hasbro, thanks to Disney's 'Star Wars.'
Updated with additional information.
Hasbro (HAS) - Get Hasbro, Inc. (HAS) Report has made it fun for investors over the last year. The maker of board games such as Monopoly and 'Star Wars' light sabers has seen its stock rise 11% in the past year, outperforming the S&P 500's 13% plunge.
Underlying the gains have been solid performance on the top and bottom lines throughout most parts of Hasbro's product portfolio. Excluding the impact of the strong U.S. dollar, net sales in 2015 increased 13% year over year. Adjusted for one-time items, earnings per share rose 11.4%. Sales were led by 20% and 17% gains in Hasbro's boys and pre-school segments, respectively.
Top-selling products included none other than Star Wars, which benefited from Disney's DIS newest cinema blockbuster smashing box office receipt records globally, as well as interest in Monopoly, Nerf, Jurassic World, Marvel, Play-DOH and My Little Pony. In particular, Nerf's sales rose 13% last year, reaching a new record for Hasbro.
"It's about the great innovation and really engaged fan base that we call Nerf Nation -- we inspire them to create the kinds of trick shots to get engaged," Hasbro Chairman and CEO Brian Goldner told TheStreet. Added Goldner, "We have a new lineup called Nerf Rival that is more paintball-like in that it has the circular projectiles, but it doesn't have the paint."

Nerf Rival Khaos MXVI-4000 Blaster -- the first fully automatic blaster in the Nerf Rival line.
The company also arguably had one of the must-have toys for the holidays in interactive board game Pie Face. Hasbro will launch a new variation of the popular game shortly. In the end though demand for Star Wars toys stole the show for Hasbro. The company says it sold about $500 million in Star Wars toys last year.
"We believe 2016 could be as big as 2015," said Goldner, who explained that its Star Wars toys business may benefit from the movie's home entertainment release in the spring and a new installment called Rogue One: A Star Wars Story arriving in theaters in mid-December. '"We are already selling product around Rey -- the character that was revealed after Force Awakens broke," pointed out Goldner.
Hasbro's solid year ended on a high note. The toy maker's fourth-quarter earnings came in at $1.39 a share, beating Wall Street's forecasts for $1.30 a share. Total revenue was $1.46 billion compared to estimates for $1.36 billion. Hasbro looks to keep the momentum going this year by innovating in its franchise properties such as Nerf, Play-DOH and My Little Pony. For example, on Friday, Hasbro and Lionsgate announced that British actress Emily Blunt will lend her voice to a character in the upcoming My Little Pony animated movie. 
It may also have a sleeper product hit looming amid a tie-in with Trolls, a DreamWorks Animation (DWA) movie that will launch in early November and boast pop star Justin Timberlake's music and voice for a character.
Said Goldner, "Trolls will be a big hit for DreamWorks, and we have a very robust pipeline for it."


Hasbro's new Marvel Legends 12 inch figures -- with removable body parts -- debut this coming fall.
Longer-term, Hasbro is not yet done trying to profit from the popular Transformers movie franchise. During a presentation to investors on Friday, Goldner said Hasbro will likely have toys based upon three additional Transformers movies arriving in theaters in 2017, 2018 and 2019.
Meantime, one possible obstacle standing in the way for Hasbro and rival toy makers such as Mattel (MAT) - Get Mattel, Inc. Report are a large number of bricks and mortar store closures in the U.S. Big box giant Walmart (WMT) - Get Walmart Inc. Report recently shuttered 154 under-performing stores in the U.S. Sears (SHLD) said it plans to close about 50 poorly-performing Sears and Kmart stores in 2016, following another year of mass closures for each brand. Toys R' Us just waved goodbye to its giant New York City flagship store due to sky high rent costs. Target (TGT) - Get Target Corporation Report has even recently vacated 13 stores in the U.S. Walmart, Toys R' Us and Target represent about 16%, 9% and 8%, respectively, of Hasbro's consolidated global net revenue.
But, Goldner doesn't believe the store closures present a serious challenge. "Remember, we are doing a lot more sales online -- our online sales at POS [point of sale] have grown at three times our regular [store] POS -- we are seeing an acceleration of our online business."