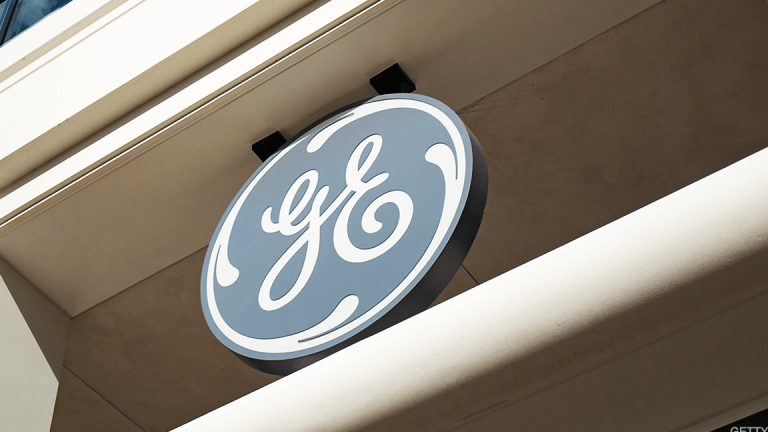 Publish date:
Has Wall Street Completely Lost Its Mind on General Electric?
General Electric continues to struggle with its operations and overall identity. Yet, Wall Street is by and large upbeat on the stock.
General Electric continues to struggle with its operations and overall identity. Yet, Wall Street is by and large upbeat on the stock.
Wall Street equity research is supposed to be a value-add to clients. 
But, one has to wonder what value analysts are providing to their trading desks on struggling General Electric (GE) - Get Report . In fact, one has to wonder how many clients have been hurt by wrong calls on what has amounted to an industrial stock value trap. 
Out of the 21 sell-side analysts that cover GE 53% rate the stock a hold, according to Bloomberg data. That's 53% of a well-paid group of I-bank number crunchers that have been unable to make a clear decision on a stock that has crashed 50% inside of a year. Average 12-month price target by Wall Street on GE: $16.30, or a full two bucks above current levels.
Mind-boggling.  
Only four sell-side analysts rate the stock a sell, while six believe it or not view it as a buy. Interestingly, as GE's fundamental situation has deteriorated over the past year, more analysts have moved to a wishy-washy hold rating rather than lower the boom all the way (see graphic below). 
Sell ratings are often tough to slap on high profile stocks as it could lead an analyst being shut out of meetings with top executives. But when the situation warrants a sell rating, it warrants a sell rating. 
Wall Street's weak stance on GE is especially pertinent right now. 
GE shares crashed more than 7% on Wednesday following a flubbed presentation from one-time aspiring journalist turn GE lifer turn CEO John Flannery. 
Flannery spoke at the Electrical Products Group Conference and gave a sobering reminder on how rough a shape the industrial giant is in. 
Flannery stated his intention to restructure GE. He plans to make corporate smaller. This, he believes, will maximize the company's growth and stabilize it. 
He believes that reducing complexity will help make the management of the company smoother. He plans to "shift the mindset" of the company.
Flannery believes that combining the restructuring with his plans to pay off GE's debt levels and improve the capital will improve the company overall. 
But, don't expect changes to gain hold overnight.
"This is not going to be a quick fix," Flannery conceded. 
When asked about selling off assets and cutting the dividend again, Flannery responded that those actions would only be taken by the company after a long process of inside negotiation. He further stated that the company would take those considerations very seriously.
If only Wall Street took them seriously.