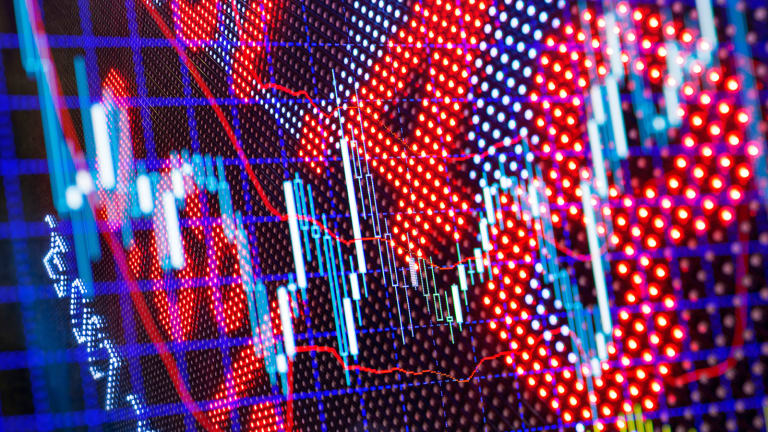 Publish date:
Has the Correction Started? It's Not Too Late for This Proven Hedge
Signs are emerging that Wall Street's party is ending. We provide a proactive, protective trade that also offers growth.
Signs are emerging that Wall Street's party is ending. We provide a proactive, protective trade that also offers growth.
No one bangs a gong to announce the start of a correction. Tuesday's carnage begs the question: has the long-awaited market downturn finally started? It would be foolhardy to try to time the day of reckoning, but it's also reckless to remain unprepared.
Below, we spotlight an easy proactive measure to guard your hard-earned wealth. This investment should also generate big gains in the turbulent months ahead. But first, we examine the increasingly dangerous investment context.
U.S. stocks on Tuesday posted their biggest decline in five months, as health care legislation supported by President Donald Trump encountered ferocious opposition in Congress from both sides of the aisle. Trump's blustery threat that GOP lawmakers who voted "no" would lose their seats in 2018 was met with derision even by conservative lawmakers.
Trump's political miscalculations on Capitol Hill, combined with his disastrously low approval ratings, are making Wall Street sit up and take notice. Traders now wonder: can the unpopular president deliver on any of his promises? Even his vows of tax cuts, deregulation and fiscal stimulus are being called into question.
The financial services sector plunged on Tuesday, as it became apparent that Democrats in the Senate would fight back against Trump's plans to deregulate banking. Sen. Sherrod Brown (D-Ohio), the top Democrat on the U.S. Senate Banking Committee, flatly stated on Tuesday that his party would oppose sweeping changes to Dodd-Frank.
Since Nov. 9, bank stocks have soared as traders expressed optimism that the new administration would repeal Dodd-Frank and other rules that Wall Street finds onerous.
Perhaps the party is over. Bank stocks on Tuesday suffered their worst day in nine months, as it dawned on bankers that perhaps Trump can't deliver. KeyCorp (KEY) - Get Report fell 6.5%, the biggest loss in the S&P 500 (SPY) - Get Report . Other major bank losses included Bank of America (BAC) - Get Report (-5.8%), Morgan Stanley (MS) - Get Report (-4.33%), Goldman Sachs (GS) - Get Report (-3.77%), Wells Fargo (WFC) - Get Report (-3.09%), JPMorgan Chase (JPM) - Get Report (-2.9%) and Citigroup (C) - Get Report (-2.60%).
Transportation companies, including airlines and railroads, also plummeted, as did small stocks. The S&P 500 plunged 1.1%, its biggest drop since Oct. 11. Stocks have now declined for four days in a row.
As a hedge against a correction, conventional wisdom dictates that your portfolio should contain 5% to 10% in precious metals. Gold is an obvious choice, but have you thought about silver?
The silver strategists at investment bank HSBC (HSBC) - Get Reportmake the bullish argument for silver:
"In our view, any resurgence in investor uncertainty or 'safe-haven' demand, possibly based on geopolitical concerns, will bolster silver in 2017 ...
We also base our expectations on solid fundamentals, as mine supply is likely to contract while industrial and jewelry demand should increase. HSBC estimates that the silver supply deficit was 116 million ounces in 2016 and should reach 132 million ounces in 2017."
Rekindled inflation only makes the case more compelling. The Consumer Price Index increased 2.74% in February 2017 over the same month a year ago. Silver not only provides ballast and an inflation hedge to your portfolio, but it's set for outsized growth amid a broader market that's dangerously overvalued.
Investors are catching on to silver's appeal. The benchmark iShares Silver TrustETF (SLV) - Get Report has generated a year-to-date return of 14.96%. The time to buy shares in this exchange-traded fund is now, before the overall market's risks become more apparent and silver prices get bid sky high. SLV's expense ratio is a reasonable 0.50%.
It's Not the "Next Big Thing." It's the ONLY Thing.
Forget Facebook and the one billion people who log in to their accounts every day... Forget Netflix and the 10 billion hours of video users stream every quarter... And forget Amazon and the one trillion files customers have stored in its "cloud"... These corporate giants (and thousands like them) depend on ONE company to survive. And even though you've probably never heard its name, it may be the most exciting - and profitable - tech investment in decades. Click here for the full story.
John Persinos is an analyst at Investing Daily. At the time of publication, he owned stock in Wells Fargo.
Action Alerts PLUS, which Cramer manages as a charitable trust, is long KEY, WFC and C.