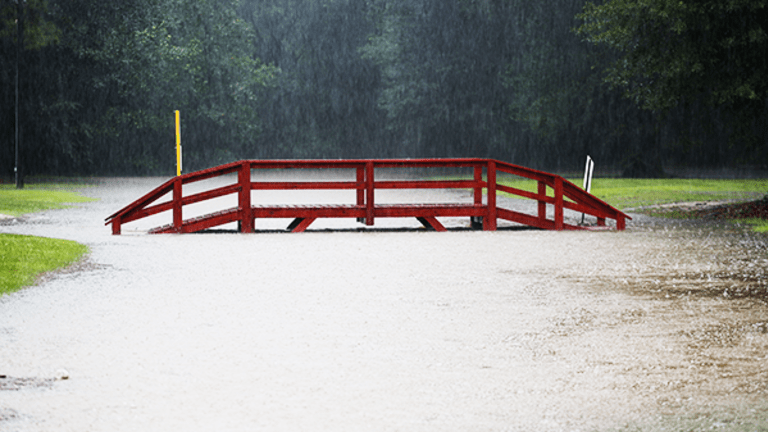 Hurricane Harvey to Bring Up to $20 Billion in Insurer Losses, JPMorgan Predicts
Losses from flood-related damage in the aftermath of Hurricane Harvey could be far higher than many investors are expecting, writes JPMorgan analyst Sarah DeWitt.
Losses from flood-related damage in the aftermath of Hurricane Harvey could be far higher than many investors are expecting, writes JPMorgan analyst Sarah DeWitt.
Chubb Ltd. (CB) - Get Report , Travelers Corp. (TRV) - Get Report  and other insurers could face as much as $20 billion in losses from Hurricane Harvey, as extensive flooding in the Houston area leads to big claims on commercial-property policies, JPMorgan Chase & Co. has warned. 
At a minimum, insurance-industry losses from Harvey and its aftermath will total at least $10 billion, making it one of the 10 costliest storms in U.S. history, according to the New York-based bank. Prior estimates of the damage had been far lower, limiting declines in insurance-industry stock prices as the hurricane made landfall on Friday.
Barclays, the British bank, had projected that insured damages would not exceed the $12.5 billion wrought by Hurricane Ike in 2008.    
Property insurers' stocks have tumbled this week as the scope of the flooding became evident. 
"We think the storm will be more of a flood event," JPMorgan analyst Sarah DeWitt wrote in a report Monday. The storm "continues to linger and is far from over."
Hurricane Harvey is the strongest hurricane to make landfall in the U.S. since Charley in 2004, killing at least six people, injuring at least 14 more and forcing about 30,000 people into shelters. The Houston area has received more than two feet of rain in the storm's wake, with another foot to two feet still expected this week, the National Hurricane Center predicts.
Why Hurricane Harvey Is Going to Pummel You at the Gas Pump
The National Weather Service has described the storm as "unprecedented," and consultant Aon Benfield said in a report Monday that rainfall totals are on track to break the national record for a tropical cyclone and its remnants, in data going back to 1950.  
"The majority of the damage inflicted by Harvey was as a result of catastrophic flooding inflicted by the combination of a large storm surge and prodigious amounts of rainfall," according to the Aon Benfield report. There "remains a catastrophic risk of flooding given extremely saturated soils and elevated river levels," and trees have become vulnerable to toppling even at slower wind speeds. 
The storm inflicted widespread damage on autos, infrastructure and agriculture, in addition to the structural damage to buildings. The storm isn't forecast to dissipate until later this week. 
Gale-force winds and the accompanying storm surge as Harvey came ashore inflicted an estimated $1.2 billion to $2.3 billion of damage, catastrophe-modeling firm AIR Worldwide said Monday. Most regular homeowner policies lack flood-insurance coverage, though auto, commercial-property and business-interruption policies typically include it.
What to Do After a Catastrophic Hurricane Harvey Type Flood Damages Your Home
According to JPMorgan's DeWitt, insurance stocks staged a "relief rally" on Friday as wind damages appeared limited. But as the storm stalled, the flooding has taken a far greater toll.
"We think the loss estimates are misunderstood," DeWitt wrote.
According to her report, insured homeowner damage excluding flooding could total $1 billion to $5 billion, with another $8.5 billion to $13 billion in losses for commercial-property insurers and reinsurers, which backstop the industry with supplemental policies to cover catastrophic events. Insured auto losses could range from $500 million to $2 billion.
Chubb could see losses of as much as $779 million, and Travelers could face as much as $650 million, she wrote. Insured damages could reach $468 million at Allstate Corp. and $257 million at reinsurer XL Group Ltd. (XL) - Get Report  . 
"This would likely result in losses that are slightly less than a quarter's worth of earnings," DeWitt wrote.
Standard & Poor's said in a report Monday that primary insurers, as opposed to reinsurers, would probably take the majority of losses as long as they remain at $6 billion or lower. That's because reinsurance typically only kicks in after the primary insurers shoulder the first leg of losses, similar to a deductible. 
More of What's Trending on TheStreet:
The 30 Nastiest Storms in Recent U.S. History Have Caused Mind-Blowing Damage