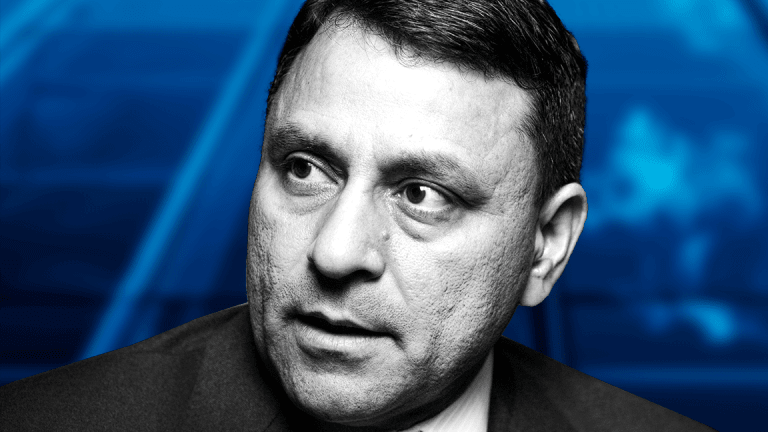 Harman CEO Talks Self-Driving Cars, Voice Assistants and More with TheStreet
Dinesh Paliwal's firm sees an opportunity to sell automakers powerful 'digital cockpit' systems. a cloud service that accesses multiple voice assistants, more
Dinesh Paliwal's firm sees an opportunity to sell automakers powerful 'digital cockpit' systems. a cloud service that accesses multiple voice assistants, more
Though he thinks fully-fledged autonomous driving will take a while to take off, the CEO of Samsung's (SSNLF) Harman unit is optimistic about the impact of several other automotive technologies over the next few years.
As was the case in 2018, I had a chance to talk with Harman CEO Dinesh Paliwal at CES about how his company -- a major supplier of infotainment systems, stereo systems and other electronics for the auto industry, as well as of headphones and home audio hardware -- is evolving its product line as automakers try to pack more powerful entertainment and connectivity subsystems within their cars. I also had a chance to ask him more broadly about industry trends.
Harman, as a reminder, was acquired by Samsung for $8 billion in 2017. While Samsung's phone and memory businesses have been having a rough time lately, Harman has continued seeing fairly steady and moderate growth: In Q3, its revenue rose 6% annually to $1.97 billion (KRW2.22 trillion).
Here's a look at Paliwal's thoughts on some subjects of interest.
Autonomous Driving
Paliwal has a measured view of the near-term impact of Level 4 and Level 5 autonomy (that is, cars able to fully take over from drivers in most or all conditions); he estimates such solutions will account for less than 10% of industry revenue in 2030. Likewise, though Samsung and Harman are investing heavily in their DRVLINE autonomous driving hardware and software platform (it was announced a year ago), Paliwal suggested the project will take several years to bear fruit.
On the other hand, much like processor suppliers such as Intel (INTC) - Get Report  and Nvidia (NVDA) - Get Report , Paliwal is optimistic about the market opportunity over the next few years for Level 2 and Level 3 systems that can automate driving activities to a greater degree than standard ADAS systems, albeit without fully taking over from human drivers. He added that Harman is partnering with several Israeli firms to create solutions that can perform sensor fusion (i.e., the processing of data from sensors such as radar, LIDAR and cameras) for Level 2 and Level 3 cars.
Supporting Alexa, Google Assistant and Other Third-Party Cloud Services
At CES, Samsung and Harman announced that Harman would be integrating Samsung's Bixby personal assistant within a new "digital cockpit" system that can power multiple car displays and personalize things such as seat height, lighting and music playlists for drivers and passengers. However, Paliwal insists (echoing prior remarks about Harman's neutrality) that Harman is just as comfortable supporting third-party assistants when automakers request it.
"Harman is an independent entity of Samsung...we treat Samsung as a supplier," he said. Paliwal also highlighted the recent unveiling of Harman's Intelligent Reasoning Assistant (IRA), which can connect with Amazon.com's (AMZN) - Get Report Alexa, Alphabet's (GOOGL) - Get Report Google Assistant and various other cloud services to fulfill user commands. With the companies behind popular voice assistants often reluctant to let their assistants, as well as many of the services that they leverage, play nice with rival platforms, Harman sees value in a solution that can work behind the scenes to integrate multiple assistants.
Harman is also looking to support third-party services via its newly-launched Ignite Marketplace, which provides infotainment systems using it with access to a marketplace of apps and cloud services on a white-label basis.
Amazon.com and Alphabet are holdings in Jim Cramer's Action Alerts PLUS member club. Want to be alerted before Jim Cramer buys or sells AMZN or GOOGL? Learn more now.
New Display, Audio and Driver-Monitoring Technologies
As automakers show a lot of interest in rolling out infotainment and digital cockpit systems that feature quite a lot of screen space, Harman sees its relationship with Samsung, the world's biggest OLED panel manufacturer and also a major LCD panel supplier, as a major strategic advantage. "We are now part of one of the world's largest display technology companies," Paliwal said. He also noted that in addition to traditional displays, Harman is investing in creating more advanced heads-up display solutions for drivers; this is a field where interest in solutions that can deliver an augmented reality view of a driving environment is growing.
With regards to audio tech, Paliwal noted Harman has been working on a solution called Personi-Fi, a personalized audio solution which (among other things) creates a better audio experience for older consumers who have suffered from hearing loss. He also mentioned the company's work on a push-to-talk solution meant to help a driver or passenger in the front of a noisy car talk with someone in the back.
Like others in the industry (see Nvidia's Drive Autopilot solution), Harman is also working on offerings that can detect when a driver is, say, distracted or tired, and issue alerts. When asked about the risk that some consumers could find such solutions too invasive or themselves distracting, Paliwal said Harman is being thoughtful about how it implements them. "We're not rushing it," he insisted.
Keeping Hardware Costs Down
While plenty of powerful digital cockpit solutions were shown off at CES, many of them appeared to be quite expensive, and meant for the time being to go into high-end cars.
When asked about the degree to which cost concerns will restrict how widely some of the technologies Paliwal discussed are adopted, he asserted keeping costs down is a major priority for Harman, but also noted total manufacturing costs aren't in his control. "Car companies have to become a lot more efficient. I feel it, and I think all [tier-1 auto suppliers] feel it," he said, while adding that the auto industry's traditional "silo-based" approach to developing different parts of a car is getting in the way.
Notably, Paliwal argued Tesla (TSLA) - Get Report is an exception to the rule here. "I give credit to Elon Musk. We can debate whether we like him or not. [But] he has really shaken things up," he said. Chinese automakers such as BJEV (the electric car unit of automaker BAIC) and Great Wall Motors were also credited for thinking outside the box with regards to vehicle development.