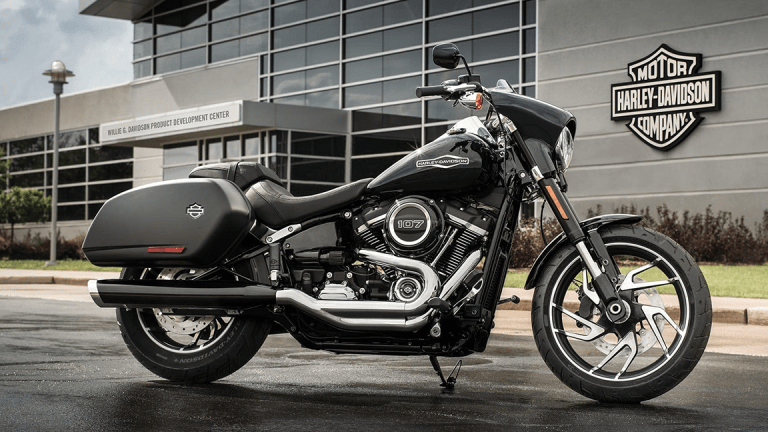 Harley-Davidson Falls for Second Day After Trump's Insults and Threats
Harley-Davidson shares fall after President Donald Trump berates the motorcycle manufacturer for its plans to move some production overseas and threatens to punish the company with a tax increase.
Harley-Davidson Inc. (HOG)  fell 0.7% on Tuesday, June 26, bringing its two-day decline to 6.7%, after U.S. President Donald Trump berated the motorcycle manufacturer for its plans to move some production overseas and threatened to punish the company with a tax increase.
Trump said the Wisconsin-based company was surrendering amid the president's trade war with Europe and predicted Harley-Davidson would lose its "aura" if it produced bikes overseas.
"If they move, watch, it will be the beginning of the end - they surrendered, they quit!" Trump wrote in a tweet. "The Aura will be gone and they will be taxed like never before!"
Harley-Davidson said Monday, June 25, that it would move some of its production abroad in response to retaliatory tariffs that the European Union imposed in response to Trump's imposition of levies on imported steel and aluminum. Instead of forcing European buyers to pay an estimated $2,200 more per imported motorcycle, Harley said it would shift some of its production to its plants outside the U.S. to avoid the tariffs.
Trump accused Harley of using the trade dispute as an excuse to send offshore more jobs following the recent construction of a plant in Thailand.
Harley has not said where it will build the bikes for the European market or how many lost jobs in the United States might occur as a result.
E-mails to Harley's media representatives weren't immediately answered.
Trump also warned Harley-Davidson that it would have to pay for moving manufacturing abroad.
"Harley must know that they won't be able to sell back into U.S. without paying a big tax!" the president said.
That threat seemed not to take into account the fact that Harley will use its overseas facilities to make motorcycles that are sold outside the U.S., not to be imported back into the country. U.S. customers will continue to be sold domestically made Harleys.
Speaker Paul D. Ryan, the Republican from the company's home state of Wisconsin, said on Monday that Harley-Davidson's move was a sign that unilateral tariffs do not work, The New York Times reported.
Trump's decision to pull the U.S. out of the Trans-Pacific Partnership already had prompted Harley to close a plant in Missouri and build one in Thailand.
Harley-Davidson fell 31 cents, or 0.72%, to $41.26 at midday Tuesday.
Expert Advice for a Risky Market. We asked top experts from Bank of America, Fisher Investments, Invesco and Wells Fargo what smart investors should do right now. Click here and register for free to watch what these market watchers recommend.