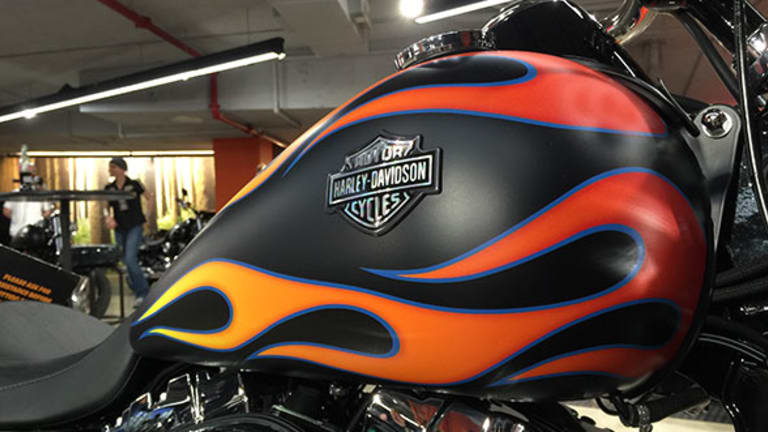 Harley-Davidson CEO: We Need to Raise Our Game
The motorcycle maker severely disappointed investors this week with its earnings, but its CEO has a plan to right the ship.
Harley-Davidson (HOG) - Get Free Report this week missed earnings expectations and reduced its sales expectations for the rest of the year, sending its stock plunging, but the storied motorcycle maker's CEO isn't too worried. 
"It's unfortunate, we're not proud of it, but it is what it is and we're resetting our business and we're going to drive forward," said CEO Matt Levatich in an interview. 
The continued strength of the U.S. dollar has made it easier for Harley's foreign rivals to cut prices and take market share away, but Levatich said that "what this environment has really accelerated things for us is the need to raise our game in the marketplace in order to compete." 
For Levatich, this means shifting its previous focus on product and manufacturing to "driving demand" by spending more money and resources on marketing, distribution, and growing the sport of motorcyling overall.
The operating environment Levatich is referring to is one that could be best characterized as ultra-competitive. Japanese motorcycle manufacturers such as Honda, Suzuki and Kawasaki have been able to price their bikes more competitively in the U.S. for over a year due to their currency's weakness. According to Bloomberg data, the U.S. dollar has risen about 15% this year versus the Yen. 
Meanwhile, a key U.S. competitor to Harley-Davidson in Polaris (PII) - Get Free Report , which sells Victory and Indian motorcycles as well as an "autocycle" called the Slingshot, is finding success across much of its product line.
Harley's share of the U.S. motorcycle market, where it gets about two-thirds of all sales, has declined to 50% from 53.5% last year, according to Levatich. "Everybody's taken a little bit of our share," said Levatich. 
And as Harley's market share has taken a hit, so has the storied bike manufacturer's financials. On Tuesday, the company reported third quarter earnings of 69 cents a share, falling shy of Wall Street estimates of 79 cents a share. In the U.S., Harley dealers sold 48,918 new bikes in the quarter, down from 50,167 a year earlier.

Harley now said it expects to ship 265,000 to 270,000 motorcycles to dealers and distributors this year, down from a previous estimate of 276,000 to 281,000. Operating margins for the year are seen in the 16% to 17% range compared a prior forecast of 18% to 19%.
Investors have subsequently fled Harley's stock, sending it down about 16% since third quarter results were announced on Tuesday.
To right the ship, Levatich and his team are taking several aggressive measures.
In 2016, Harley-Davidson will increase its marketing spend by 65% year over year. The company will be placing extra emphasis on getting its loyal customer base of baby boomers and forty-somethings to consider buying a new bike.
Explained Levatich, "There are a fair amount of our customers that are quite happy with their 10 year old motorcycle, [but] they don't know the features of our new touring bikes and why they may want to own one. We haven't done enough of a job growing share of voice in marketplace telling them they need to check this thing out."
It will also work on getting first-time riders, especially women, interested in buying a Harley by offering and promoting training classes for getting a motorcycle license. Harley is also boosting its investment in new product development next year by 35%.
One thing the company won't be doing to regain its footing is dropping prices. "We have to maintain our premium brand," says Levatich, adding "We don't see the need in the near-term to have products priced below the Street bikes, nor the need to reprice our line which goes all the way up north of $40,000 for a custom touring bike."
That said, Levatich said there continues to be a "perception issue" among prospective bike owners in the U.S that buying a Harley is not within their reach. "You can get a great Harley for less than $20,000", said Levatich, citing the company's new Street bikes that start at around $7,500.