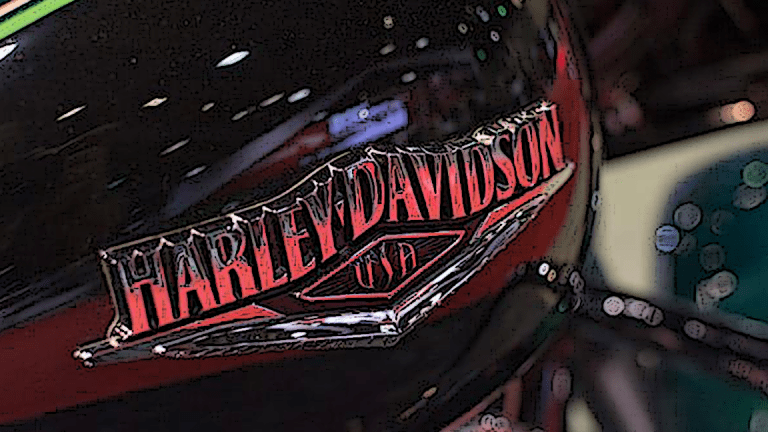 Harley-Davidson CEO: Bold Actions to Boost Performance Coming This Summer
Harley-Davidson CEO Matthew Levatich talks to TheStreet about the company's first quarter and what's in store for the rest of 2018.
Harley-Davidson (HOG) - Get Harley-Davidson Inc. Report  investors are riding right into an interesting summer. 
The iconic motorcycle maker posted first-quarter earnings of $1.24 a share, running over estimates for $1.11 a share. Earnings beat despite another challenging quarter for sales as the U.S. bike market remained soft. U.S. retail sales fell 12% from the prior year, marking the thirteenth quarter out of 14 in which domestic sales have dropped. 
Shares still rose 4% in Tuesday's session.
"I mean the entire industry has been challenged for much of the past 18 months, Harley's not alone," William Blair analyst Sharon Zackfia told TheStreet. Zackfia says she was pleasantly surprised by sales strength overseas, namely Europe and Latin America where sales popped 6.8% and 7%, respectively.
But all eyes remain on turning around Harley's all-important U.S. business.
To combat stalled U.S. sales, Harley teased several actions to be unveiled in the summer designed to jump-start growth. Harley CEO Matt Levatich tells TheStreet the actions will be "bold", but in keeping with Harley's mission to cultivate the next generation of riders.
"The frustrating part is that there's no detail on that right now," Zackfia says. "But that is probably welcome news -- just kind of a recognition of the tough environment domestically and perhaps management having to think more outside of the box about how to drive growth in future years."
TheStreet talked with Levatich about the quarter and what Harley has up its sleeves for the summer. What follows is an edited and condensed version of the interview.
TheStreet: When do you think efforts to build new riders in the U.S. will show up in the quarterly numbers?
Levatich: We were very clear in framing this rider creation effort as a ten-year journey because we have to address some underlying trends in consumer preferences, how people are spending their time and money. In our view, you can't wave a magic wand and address problems like that in an instant. It takes a lot of very foundational blocking and tackling work over a sustained period of time to open up people's minds to what they are missing in not considering motorcycling in their life choice set.
People have a lot more demand for their time and in some cases, their time and money are more limited than ever before.
TheStreet: How do explain the sales gains overseas vs. the United States? What is working there?
Levatich: It's not as simple as saying international. The markets internationally are quite diverse. We have developed and mature markets like Canada and Japan. Much of Western Europe is experiencing different economic and generational challenges. We have emerging markets that also have quite a bit of volatility. So it's difficult to say there is one thing going on internationally. 
But when we look at markets like Western Europe that are very highly developed and competitive and product oriented, our soft-tail bikes are a bigger part of our mix. We have made a tremendous investment in the soft-tail platform, and it has been incredibly well-received in Europe. We picked up 1.3 points of market share in Europe on the heels of this investment. 
TheStreet: What did Harley mean on today's press release when it called out a focus on high growth spaces will be talked about in the summer? 
Levatich: We understand the broad-based fundamental appeal of the Harley-Davidson brand promise, freedom, individuality, and self-expression. We are at our strongest when we are in the motorcycle space and are very clear on delivering on that for riders. We are creating riders, but we see opportunity in product, distribution channels and partnerships to do more of that faster. That's what we are working on and will talk more about in the summer. 
TheStreet: Is there something radical coming or is Harley still a bike company first?
Levatich: It is very much in line with our 2027 objectives to build the next generation of riders, to do it through high impact product, to do it with superior shareholder returns, to be mindful of sustainability. To be clear, we are using every weapon that we have to create the next generation of riders. 
I think it will be bold in that context. 
TheStreet: Any update on the electric bike? Last time we talked in February I believe you mentioned it would be ready in 18 months. 
Levatich: We are progressing to that plan and we are excited about that product. We continue to see electric vehicles as a tremendous opportunity. These motorcycles are easier to ride than bicycles, they lend themselves to urban environments where our product is maybe less targeted or less suited. They are suited to a generation of people that don't have the mechanical depth of experience that maybe boomers had with manual transmissions and clutches. 
TheStreet: Since we last talked, lots of news around steel tariffs and aluminum actions. Is it becoming tougher to be a U.S. manufacturer in this type of environment? 
Levatich: Those are good examples of what I think is generally difficult about business today, the pace of which things change is unprecedented. Look how dynamic markets and customer preferences and regulations have become. It requires that businesses are absolutely on their toes and are able to adapt quickly to changing circumstances.
That I think impacts everybody, and we are no exception to that.
-Kinsey Grant contributed to this story.