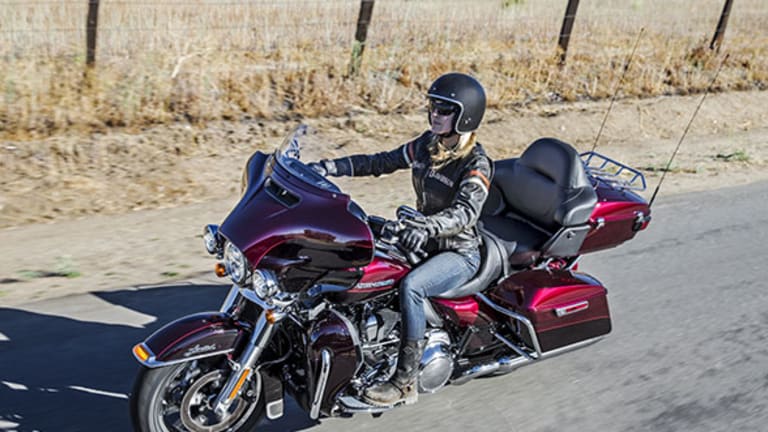 NEW YORK (TheStreet) -- Matthew S. Levatich, the 21-year veteran at Harley-Davidson (HOG) - Get Harley-Davidson, Inc. (HOG) Report who took over as president and chief executive of the storied motorcycle maker in May, said that he never pushed his wife and two kids to ride Harleys. 
But over time, they became enthusiasts, with his wife enjoying an occasional ride on a Harley and one of his sons catching the bug after starting college.
"We are trying to erase the perception that Harley is just for old white guys," he said.
If initiatives by Levatich and his team to open the brand up to a wider audience of consumers prove successful, it could help restore some needed momentum to Harley-Davidson's stock, which is down about 18% from its peak at the end of April 2014. Over the past five years, however, shares of Harley-Davidson have gained an impressive 133%, outperforming the S&P 500's increase of 96.2% and the Dow Jones Industrial Average's advance of 72.3%. 
Some of the company's recent weakness has been due to a tough set competitors that are keen on moving bikes at all costs, even at the expense of profit margins.
Japanese bike manufacturers such as Honda Motor (HMC) - Get Honda Motor Co., Ltd. Sponsored ADR Report, Kawasaki Heavy Industries (KWHIY) and Suzuki Motor have historically discounted their motorcycles, Levatich said. 
A visit to Honda's website shows that the manufacturer is giving $500 to $1,000 off to those who buy some of its touring or sport models. And the recent weakness in the yen vs. the dollar means that Japanese makers can afford to cut prices even more. 
For its part, Harley-Davidson steadfastly refuses to discount its products sold in the United States or abroad, which has led to market share losses. The rampant industry discounting has also led to concerns that Harley-Davidson will need to sell cheaper bikes, hurting longer-term profits.
In the United States, Harley-Davidson is trying to fend off ATV manufacturer Polaris Industries (PII) - Get Polaris Inc. Report, which produces Indian and Victory motorcycles.
Like Harley-Davidson's Japanese rivals, Polaris Industries is offering plenty of discounts on its bikes. Polaris Industries has also found success with its new Slingshot, a three-wheeled "bike" with side-by-side seating that sells for about $20,000. 
Harley-Davidson's second-quarter retail sales in the United States declined 0.7%, in large part due to the impact of the heightened level of industry discounts. Executives noted a market share loss in the second quarter, though at a slower rate than what was seen in the first quarter.
The company has said consistently that it won't play the discount game because it would erode the brand's value perception among consumers.
Instead, Harley-Davidson has opted to focus on marketing to new demographic groups, especially millennials and women, as well as increasing its appeal to its core market of boomers.
"These are people that have started to settle down and now want to play a bit," said Levatich when asked about the opportunity to sell bikes to millennials who are migrating to the cramped roads and living quarters of major U.S. cities.
Enter a sleek-looking bike like the Harley Street 750. Starting at $7,499, the bike is easy to maneuver and a reasonable first-time splurge for a 30-something.
Harley-Davidson's line of affordable Street models has already proven to be a success among millennials and other first-time riders.
About seven of 10 Street motorcycles sold in the United States in the past year were to customers new to the brand, according to the company.
In the second quarter, sales of Harley-Davidson's small cruisers, to which the Street models belong, increased by a double-digit percentage year over year.
In the short term, however, catering to budget-minded millennials does have drawbacks.

"Going after younger people could be successful, but the pricing has to be more competitive," said Michael Millman, founder of Millman Research Associates and a longtime Harley-Davidson watcher.
"The problem with going after younger people is that the profits are much less than on traditional cruisers," he said.
That is why Harley-Davidson is fortunate to have a legion of retiring, free-spending boomers to whom it can sell beefy-looking hogs even as it tries to establish a foothold with their offspring.
These boomers have fond memories of the rebellious Harley-Davidson brand from the 1970s and are now purchasing expensive cruising bikes for weekend road trips. And unlike previous generations nearing retirement, the boomers are still very active.
"We have lowered the seats and improved the position of the handlebars," said Levatich, referring to design changes made on some Harley-Davidson models to cater to the new demands of boomers.
Boomers serving as loyal Harley-Davidson customers is something that is unlikely to change anytime soon.
Between 1990 and 2020, the population of those 65 to 74 will grow 74%, according to U.S. Census Bureau data.
Finally, Harley-Davidson has also made a considerable push in recent years to attract more female riders, a huge potential market that until recently was somewhat ignored.
To entice female consumers, Harley-Davidson dealers recently started hosting women-only "garage parties," held in the evening when the stores are closed. The parties are a no-pressure, fun environment where women can wander the store, sit on various bikes and ask questions about the brand and motorcycling in general.
A recent garage party held at Harley-Davidson's New York shop in the trendy TriBeCa neighborhood featured hors d'oeuvres, free massages, a raffle for Harley-Davidson gift cards and a chance to speak with company salespeople -- most of whom were female -- about how to start riding.
The party included a mix of women ranging from their late 20s to 50s. Some fit the heavily tattooed stereotype of what a motorcycle rider looks like, while others were less-obvious folks interested in riding.
To appeal to the next generation of riders, Levatich is seeking to reach this digitally savvy segment where they spend the most time: glued to a screen.
Harley-Davidson's first-ever electric bike called the Livewire was ridden by Black Widow, a superhero played by Scarlett Johansson, in the hit movie Avengers: Age of Ultron. The menacing, virtually silent Harley-Davidson electric bike could be poised to officially hit the market soon after touring the United States to gain valuable consumer feedback.
In June, the company also debuted a sponsorship with ESPN's X Games, a program that is widely watched by the digital generation. Called "Harley Davidson Flat Track Racing," riders on high power-to-weight-ratio motorcycles race counter-clockwise around dirt ovals.
A key ingredient to Harley-Davidson's success will be appealing to future riders' sense of individuality and thrift, according to Paul Teutul Jr. who runs his own shop designing custom motorcycles after starring on the Discovery Channel show, American Chopper.
The original custom cycles, known as "choppers," were based heavily on Harley-Davidson models and even now they use the v-twin engine popularized by the company.
"I think the younger generation is always interested in motorcycles," Teutul said.
"Motorcycles are always sexy, they're always Americana, they always speak of freedom. Everybody wants to ride a motorcycle, especially young men," Teutul said.
"It's really about how these bigger companies market to this younger generation, and customization -- their ability to put their spin on it -- is the key," he said.
Whether Harley-Davidson can succeed in convincing new generations of customers to keep paying a premium for its products will be crucial to its future.