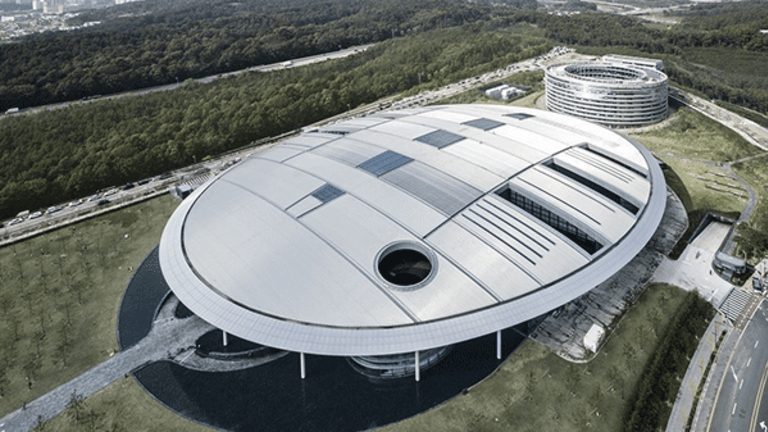 Hankook Tire Opens Korean Tech Center in Push Toward Global 'Top Tier'
Seventh in global market share, Hankook soon will increase production in the U.S.
In a global tire business dominated by names like Bridgestone, Michelin, Continental and Pirelli, the South Korean brand Hankook doesn't quite leap to the mind of U.S. motorists. At least not yet.
Hankook Tire nonetheless is clawing its way toward the global top tier, in the manner of two other ambitious industrial empires from South Korea, namely Samsung Electronics (SSNLF) and Hyundai (HYMLF)  . Hankook got closer Tuesday to its goal with the opening of a $235 million "Technodome" research and development center in Daejeon, a two-hour drive from Seoul.
The company's tires are coming equipped lately on German premium and other luxury cars. BMW's new 7-Series flagship is the latest example, a coup for a company that until a decade ago was trying to gain a market foothold with a strategy based on low-priced tires with a name no one knew. Hankook's leaders agreed that route was a dead end, producing little profit and increasingly vulnerable to lower-priced tires from developing nations.
To challenge the leaders and command better prices, the company's tires needed top technology, more features such as the ability to "run flat" following a puncture and higher quality. Much of that technology has already been introduced; company leaders said more is on the way.
"Hankook Technodome is equipped with the high-tech facilities and the optimal work environment to strengthen our global competitiveness through innovation," said Seung Hwa Suh, chief executive, "while actively dealing with rapid changes in the business environment and delivering products optimized for various customers' needs."
The white futuristic Technodome is crammed with equipment and testing laboratories, and test tracks nearby, for developing tires that last longer, are quieter and can perform at higher speeds and on rougher pavement than low-priced versions. The building employs 750 staff, likely to rise to 1,000 in a few years.
Hankook hired Foster + Partners, the British architectural design firm recruited by the late Steve Jobs for Apple's Cupertino, Calif. campus 2, perhaps to put the global auto industry on notice that it is sparing no effort or expense to achieve first-rank status. Currently, the company is seventh in global market share, measured by units sold.
Europe is Hankook's No. 1 region for sales, with North America not far behind. In April, the company's new $800 million tire plant in Clarksville, Tenn., is expected to begin producing, with the goal of boosting its share of the market for new vehicles, as well as for replacement tires. Hankook's North American headquarters moving to downtown Nashville, about an hour's drive from the plant.
The first phase of the highly automated plant likely will be followed by two more expansions, eventually leading to employment of 2,000, Hankook said.
It can hardly be coincidental that by moving to Nashville, Hankook places itself into the back yard of a renowned tire company already in the top tier, global leader Bridgestone (BRDCY) . Yes, the same Japanese tiremaker that bought Firestone in the 1990s. Bridgestone Americas is building a gleaming new office tower in Nashville that will be ready in 2017.
Doron Levin is the host of "In the Driver Seat," broadcast on SiriusXM Insight 121, Saturday at noon, encore Sunday at 9 a.m.
This article is commentary by an independent contributor. At the time of publication, the author held no positions in the stocks mentioned.