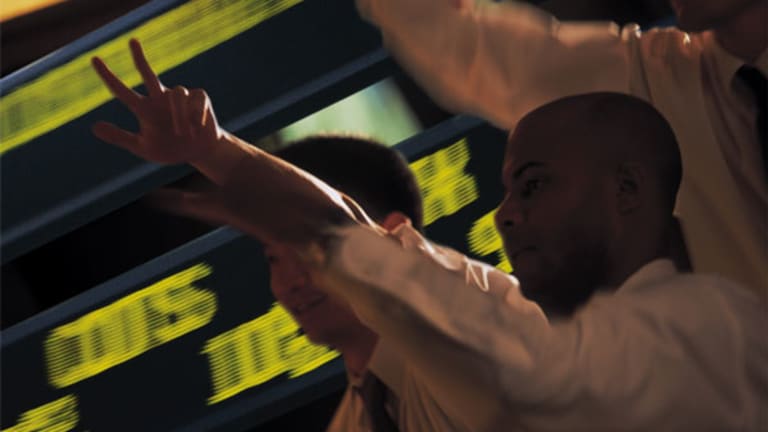 Hang Back for This One
<I>Real Money's</I> Jim Cramer says we were due for a negative event. It could be a one-two punch of both Cyprus and the Fed.
Cyprus is a real conundrum. There are some people who categorically believe this is the real deal, the big one, the one we prudent people have all been waiting for. These people believe the U.S. market is about to start the Giant Repeal of the gains it's made. They want to sell the market wherever it opens, and then double-sell for good measure.
Others say that, until this weekend, you didn't even know Cyprus exists. They say it is all a one-off event, because its banks had been well-known hideaways for Russian mafia money, and everybody knows that except the lowly Cypriots who are stuck having to bank there. You literally came to the nuisance. These people are looking to buy the dip and end up longer than they were going into the session.
Then, somewhere in between, there are the ironic historian types. These people say that, when you go all moral-hazard and hurt innocent people, like the million Cypriots who use their native banks, you are triggering "a Lehman." That's correct if you decide the collateral damage of hurting innocent depositors is a small price to pay when teaching a lesson to a totally rogue banking system. In that case, you have to expect that the "better but not great" banking systems of Spain and Italy are next -- even though they have almost nothing in common at all with that of Cyprus.
This article originally appeared on March 18, 2013, on RealMoney. To read more content like this + see inside Jim Cramer's $3 Million portfolio for FREE Click Here NOW.
To me the whole thing is a bit of an abstraction. As I told our colleague Doug Kass this weekend, never forget that the average portfolio manager in this country is thinking, rightly or wrongly, "What does this Cyprus thing have to do with the price-to-earnings ratio of
Bristol-Myers
(BMY) - Get Free Report
?"
In other words, when the smoke clears, we will want to know why we sold Bristol-Myers because the European authorities put a tax on the depositors in a renegade banking system. Portfolio managers are tired of selling U.S. stocks for non-earnings-related issues like European banks, or sequestration or fiscal cliffs. They do, however, respect the idea of selling if
Fed
chief Ben Bernanke stops providing liquidity, as he might when we hear from the Federal Open Market Committee Wednesday.
Normally, I am the first to embrace the "P/E of Bristol Myers" argument. I say "normally," though, because all last week I said I was willing to miss the last couple percent of this rally because of the parabolic moves that so many stocks have made, and that I wanted to stay away from the almost-daily new highs and cycle into less elevated stocks.
Still, I would be wrong to say I saw this one coming, and that's a real danger, because if you didn't see it coming it is hard to say, "OK, now this is what I have been waiting for." I was worried about a Fed-induced correction, and now if you buy Monday you have to be worried about a double-whammy come Wednesday.
In other words, after the run we have seen in the market, we were due for a negative event, and I fear that event could be a one-two punch of both Cyprus and the Fed.
Let's pull these two apart, though, and make some sense of them as distinct entities, and then overlay them on the charts that I studied this weekend.
First, I think Cyprus has a rogue banking system. I don't like the idea of making smaller depositors pay anything, even though Cyprus had offered a juicy and unsustainable 5% interest rate on deposits, which meant that the whole banking system was like that of the hot-money-seeking savings-and-loans banks from the S&L bailout era. That's when the certificate of deposit rates varied widely, and the weaker banks paid through the nose to get deposits. Many of them ended up failing when that hot money departed.
That's how the Cyprus banks look to me now. You would no more blow out of your own local bank because of that S&L crisis than you would take your money out of
Santander
(SAN) - Get Free Report
because of Cyprus. We did see huge bank runs in Spain during May of last year, but that was forestalled by the government, and then later by the "by any means necessary" words from the European Central Bank's Mario Draghi.
Of course, the big issue in Europe is that the economies of the nations there are getting weaker, not stronger, as austerity continues to drag them down. We have to expect a further leg down now as capital flows get all mixed up and the weaker countries sustain another shock to their business confidence. That's the more logical takeaway and lasting impact of Cypress -- not runs on the weaker Italian and Spanish banks to put money in
Deutsche Bank
(DB) - Get Free Report
, and not any fleeing from the euro to the pound and the dollar.
Now, we have to recognize that something has changed between the two continents. We are seeing a stable to expanding economy here in the U.S., while Europe remains unstable and in contraction. With the exception of the big international banks, like
JPMorgan Chase
(JPM) - Get Free Report
and
Citigroup
(C) - Get Free Report
, our banks are much better-capitalized by rigorous standards, as compared with the light touch -- some would say ridiculously light touch -- of the European authorities.
So the spillover is contained, and much more so than it was last year or the year before. In other words, Europe can't take us down one-for-one, but it will continue moving the flows into more domestic companies and small-caps, particularly related to healthcare, regional financials, oil-and-gas and the transports, which have been totally on fire.
Which brings me to the real issue that I fear. The reason I've said I don't want to get to the last 1% to 2% of the rally is precisely because so many stocks are too hot.
Let me give you a sense of what we are up against. Whole sectors of this market have just gone totally parabolic, with a completely unsustainable set of moves that have to be repealed before they can be bought on weakness.
I am thinking here of almost every healthcare and healthcare-related stock, from the major pharmaceuticals that have run so much to the biotechs that are crazy hot to the ancillary-medical-device names and hospitals. The charts of such stocks as
Becton Dickinson
(BDX) - Get Free Report
and
Stryker
(SYK) - Get Free Report
are insanely overextended.
Second, we've seen tremendous moves in the regional banks and insurers and other financials largely unconnected to Cyprus. I am talking about companies like
CME Group
(CME) - Get Free Report
, or
IntercontinentalExchange
(ICE) - Get Free Report
, or
Chubb
(CB) - Get Free Report
and
American Express
(AXP) - Get Free Report
, or
Discover Financial
(DFS) - Get Free Report
,
Torchmark
(TMK)
,
State Street
(STT) - Get Free Report
and
Unum
undefined
. Have you looked at names like
Metlife
(MET) - Get Free Report
and
Allstate
(ALL) - Get Free Report
? These are trading like junior growth stocks on steroids.
Then there are the oil-and-gas stocks like
Southwestern
(SWN) - Get Free Report
or
Cabot Oil & Gas
undefined
and
Range Resources
(RRC) - Get Free Report
. These stocks have to be anticipating bids that won't come. There are dozens of them.
The transports, particularly the rails, freight-forwarders and truckers, have put on nosebleed moves.
The industrials, like
Ingersoll-Rand
(IR) - Get Free Report
; anything similar to
Rockwell
(ROK) - Get Free Report
, the
Roper
(ROP) - Get Free Report
,
Johnson Controls
(JCO) - Get Free Report
; and such names as
Honeywell
(HON) - Get Free Report
and
Mead Westvaco
(MWV)
, and
International Paper
(IP) - Get Free Report
, and
Boeing
(BA) - Get Free Report
, are acting like short squeezes. The natural-gas beneficiaries, such as
WestLake
(WLK) - Get Free Report
and
Lyondell
, are acting as if they are growing at 15% to 20% when the reality is that their raw-cost feedstocks have been in decline.
Then, last week, the not-so-hot techs, like
Cree
(CREE) - Get Free Report
,
Micron
(MU) - Get Free Report
,
SanDisk
(SNDK)
,
Texas Instruments
(TXN) - Get Free Report
and
Western Digital
(WDC) - Get Free Report
, just exploded.
On top of all that, we saw a level of toppiness in the earlier leaders:
Clorox
(CLX) - Get Free Report
,
Kimberly Clark
(KMB) - Get Free Report
,
General Mills
(GIS) - Get Free Report
,
Kellogg
(K) - Get Free Report
,
Hershey
(HSY) - Get Free Report
,
Pepsico
(PEP) - Get Free Report
,
McDonald's
(MCD) - Get Free Report
and
McCormick
(MCK) - Get Free Report
. (What the heck is with that last one? I liked it lower.) All of these have started rolling over.
Of course, anything housing-related has had such a run that who knows where you can step in and buy a name like
Sherwin-Williams
(SHW) - Get Free Report
or
Whirlpool
(WHR) - Get Free Report
.
So it's not as easy as to say "go buy them." The "them" might be some of these incredibly overextended stocks that I just detailed.
Plus, the dividend-yield support now seems to be gone for all of them.
So what does it mean? I think the stocks you would normally run to -- those early leaders, the ones that had a second leg up after the
Heinz
(HNZ)
bid by
Berkshire-Hathaway
(BRK.A) - Get Free Report
-- are vulnerable. I believe the red-hot financials could cool a bit and that the transports be rolled back, particularly because they are dependent on overseas markets coming back, and those will now take another dip.
That's why my take is to do very little, except to continue selling the consumer-products-company stocks that were starting to roll over, and to be very careful of the parabolic moves that are all over the place. Those stocks are just too hard to buy. They are all better sales, for the most part, until they get to lower levels.
Now, I am not joining the negativists who think this is the real deal downturn that will wipe out everything. For the most part, those are people who missed the last 4,000 points in the Dow, or at least the last 2,000.
However, I see no rush to buy anything unless it has a higher yield -- perhaps a clobbered master limited partnership or real estate investment trust.
Health Care REIT
(HCN)
,
American Realty Capital Properties
( ACRP) or
Enterprise Products Partners
(EPD) - Get Free Report
come to mind.
For the others, I would prefer to wait until they help the cost basis. For myself and Stephanie Link, co-portfolio manager at
, that means a decent pullback.
If, instead, the market hangs up here and doesn't go down, I would like to take more profits vs. money I put to work. Remember, this is for Action Alerts PLUS, where we have kept pace with the market. That gives us a slightly clearer head than those who need this market to be much lower in order to save their numbers for the quarter.
All in all, a cautious approach is warranted. Not extreme caution, but certainly no enthusiasm. I didn't like the last 1% to 2%, so I can't suddenly like it now. We were trimming a lot of the big gainers last week, and that looks right.
Putting the money back in a hurry will look wrong until more is known and more erosion talks place.
At the time of publication, Action Alerts PLUS, which Cramer co-manages as a charitable trust, was long BMY.