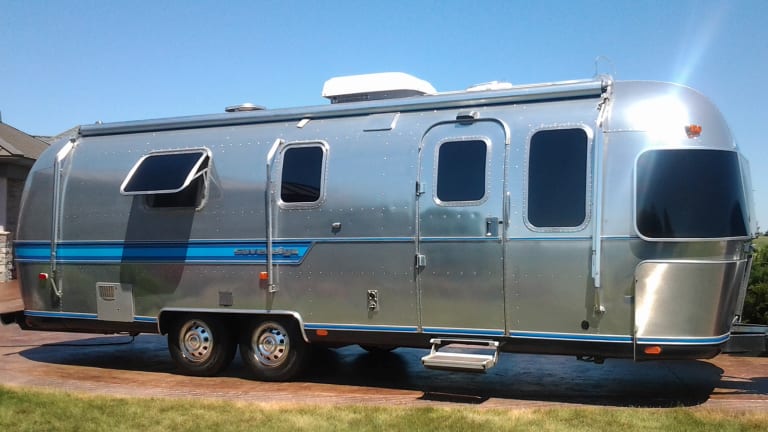 Hammer Out Your Portfolio With Thor Industries
The RV maker trades at a bargain following a marginal fiscal second-quarter earnings beat.
The RV maker trades at a bargain following a marginal fiscal second-quarter earnings beat.
It's a great time for RVs, or recreational vehicles. Gas prices are stable, and financing rates are good for purchasers. Plus, there's hope that the American economy will regain vigor and the job market will only grow stronger.
Despite that air of positivity, RV specialist Thor Industries (THO) - Get Report saw its shares fall by 18.3% in March from $115.40 to $94.25. Investors can now buy shares in the company at an attractive discount.
Thor's second-quarter fiscal 2017 results barely beat earnings per share and revenue estimates, which disappointed investors and sent the stock plummeting. And since Thor was trading at all-time highs, what unraveled next was the usual profit-taking from investors who watched Thor's stock increase more than fourfold over the last five years.
That said, this is an interesting time for the stock, and a smart move would be for long-term investors to get in on the dip.
Over the past decade, Thor Industries has been on an unstoppable acquisition streak. Thor bought companies like SJC, Heartland, Krystal Infinity, Livin' Lite assets, Bison Coach, K-Z, Postle Aluminium and Jayco. The result is an RV company with massive scale that is boldly pushing for market share in the $10 billion RV industry.
Thor has numerous brands and subsidiaries under its control and as always the numbers don't lie. Over the last decade, the company has more than doubled annual sales to $4.5 billion and improved operating margins from 6% levels to nearly 9%.
Thor's fourth quarter of 2016 and first quarter of 2017 reports showed that it beat consensus EPS estimates by a hefty margin. Year-over-year industry growth in most product categories and the rising demand for affordably priced travel trailers and motorhomes put the spotlight firmly on Thor, pushing expectations through the roof.
We believe this lack of calibration made second-quarter earnings look bleak. Second quarter EPS of $1.23 beat estimates by a mere penny and revenue of $1.59 billion beat estimates by only $80 million. However, investors failed to focus on the 63% year-over-year revenue increase for the quarter.
Meanwhile, the RV market has been on a high of its own. Thor, Winnebago (WGO) - Get Report and Drew Industries (DW)  are recognized market leaders, along with other contenders like Polaris Industries (PII) - Get Report , which also jostles for space.
We believe Thor's numbers will eventually allow it to locate its momentum again. Towable and motorized RVs are bringing in healthy gains.
Thor is expanding its production capacity across its brands including Keystone, Jayco, and Heartland. The production ramp up is a good indicator that the company expects long-term revenue growth.
Revenue trends show that Thor still had a great quarter despite not crushing analysts' expectations. The company's management said that "motorized RV backlog nearly doubled to $766.9 million from $396.8 million a year earlier, reflecting the inclusion of Jayco's $138.1 million motorized backlog."
By the sheer virtue of its scale and indomitable size, Thor remains a preferred pick in its sector. Its premium valuation of 13.5 times forward earnings is clearly justified.
With the stock seeing a recent selloff, Thor can be bought at an attractive discount. The eight analysts covering the stock have a median 12-month target of $120 a share, indicating an 18% upside from current levels of around $98.
---
As we've just explained, Thor Industries is an excellent growth opportunity. If you're looking for other growth opportunities, we've found a genius trader who turned $50,000 into $5 million by using his proprietary trading method. For a limited time, he's guaranteeing you $67,548 per year in profitable trades if you follow his simple step-by-step process.Click here now for details.
The author is an independent contributor who at the time of publication owned none of the stocks mentioned.