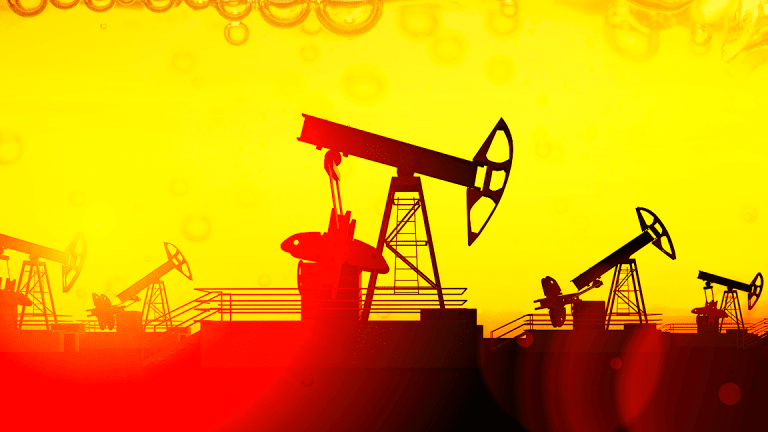 Oil Giant Schlumberger's Stock Chart Looks Sloppy
Halliburton might be the better choice than Schlumberger for several reasons.
Halliburton might be the better choice than Schlumberger for several reasons.
U.S. oil production increased by an astounding 1.3 million barrels per day in January. At that growth pace, America is expected to surpass Saudi Arabia in the near future to become the world's second-largest oil producer (trailing only Russia).
What this means is that at oil's current levels, the U.S. shale crowd is making money and getting aggressive. I think oil services is where it'll be at in 2018 for the energy crew.
I already own Action Alerts Plus holding Schlumberger (SLB) - Get Report , which I consider the industry's elite name and about as well managed as a firm can be. But its chart shows some problems:
What a sloppy chart! All three of the tactical indicators -- the Relative Strength Index (RSI), Chaikin Money Flow (CMF) and Moving Average Convergence Divergence (MACD) -- look awful.
You can see that a positive spike after the "golden cross" in mid-January that quickly evaporated. But there's still at least one positive -- some high volume seen during Friday's bottoming and rebound.
However, I don't like Schlumberger's performance vs. the stock's Fibonacci levels at all. The severity of SLB's February breakdown took the name well below all but the 100% retracement level.
Does this mean that we'll eventually see a retest of the stock's late Autumn lows? Possibly. But I'm more concerned that stiff resistance might reside between $68 and $68.50.
I won't be getting completely out of Schlumberger any time soon, but I might use any short-term strength to spread the risk across both Schlumberger and Halliburton (HAL) - Get Report .
(A longer version of this column appeared at 8:30 a.m. ET on Real Money, our premium site for active traders. Click here to get great columns like this from Stephen "Sarge" Guilfoyle, Jim Cramer and other experts throughout the market day.)
Watch TheStreet's investing interviews on Youtube
At the time of publication, Guilfoyle was long SLB, although positions may change at any time.