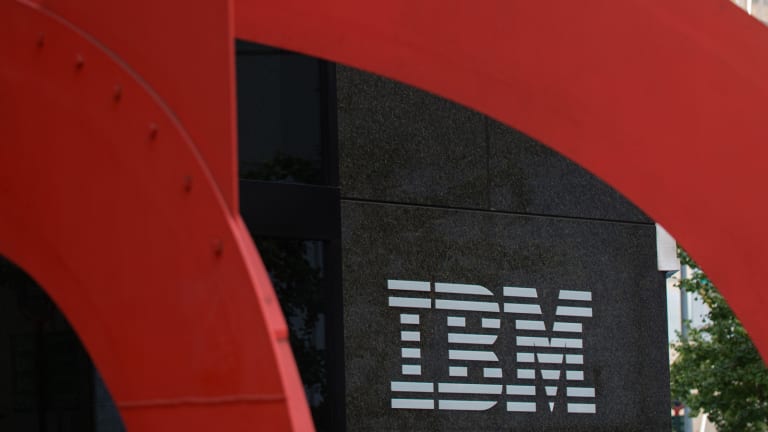 IBM: Has Big Blue Become Big Red?
My thoughts are that Wall Street has been patient enough with IBM.
Big Blue, also known as International Business Machines (IBM) - Get International Business Machines Corporation Report , reported their third quarter Tuesday night. The first thing that catches the eye is not the EPS beat of two cents. It is not even the revenue miss, which would be bad enough, falling $330 million short of consensus. The item that catches my eye is the minus sign in parenthesis that comes just after the print of $18.76 billion. That's -2% year over year. Yuck.
My first thought after that... I wonder if CEO Ginni Rometty has a problem. I mean the firm had returned to growth after six years in the hole. Expectations were that the firm could stay there. Even more alarming in my opinion would be that the group that IBM refers to as it's "strategic imperatives", which includes the cloud, only pulled in $9.3 billion. This is down from $10.1 billion in Q2, and makes up less than half of the firm's revenue for the quarter. A contracting slice of a growing business for a well known firm. That's ugly.
Getting even more granular, the "Cognitive Solutions" segment of the business, which would include artificial intelligence and the Watson supercomputer saw revenue decline significantly, about 5% year over year. The firm explained this as seasonal and does expect it to rebound in the current quarter. Hmm.
What I Think
My thoughts are that Wall Street has been patient enough with this name. That does not mean that there is no opportunity here. I see that RBC is out defending the name this morning. RBC cites stabilized margins and improved performance from the services segment. RBC also maintained the stock at an "Overweight" rating, as well as their $175 target price. Stifel Nicolas was also out this morning, acknowledging the weakness in software, but also citing the improved performance from "services."
I, as an investor, am drawn to the suddenly improved 4.6% dividend yield, and I am likely to get myself long a rough 12.5% of what I would consider a full position in this name if I can get what I consider to be a steal at some point today.
Possible Trade
I am only doing this if I can get in below $132.50 later. If the shares drop to that level, I will consider pulling the trigger, but only if I can simultaneously sell a like amount of January puts at $1.50 or greater, which would drop my nest basis to $131-ish. If I can not do this, I'll just take a hike. Plenty of fish in the sea.
At the time of publication, Stephen Guilfoyle had no position in the securities mentioned.