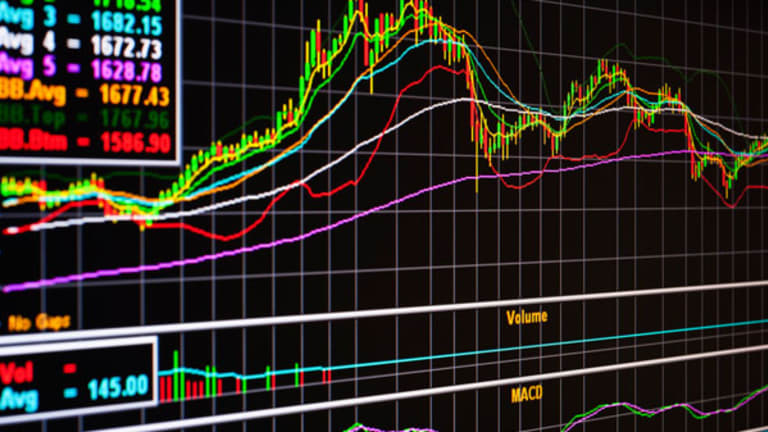 Hack Earnings Season With These 5 'Serial Surprisers'
It's earnings season -- and that has some big implications for the stocks in your portfolio.
BALTIMORE (
) -- It's earnings season -- and that has some big implications for the stocks in your portfolio.
>>5 Hated Earnings Stocks You Should Love
Big earnings numbers can trigger a buying frenzy in a top-performing name, and they can spur a selloff when a firm's fundamental results fall short. But all of that volatility isn't random. In other words, there's a way to harness big moves in earnings season stocks in 2013.
The fact is, earnings themselves don't matter much. Instead, whether a stock pops or drops comes down to whether the firm
surprises
Wall Street with its results; after all, expectations are already priced into shares in the weeks and months leading up to an earnings call. Firms that surprise analysts and investors tend to do it repeatedly, so by focusing on names that are already predisposed to besting expectations, we can spot some interesting buying opportunities.
This quarter is already shaping up to be a strong surprise quarter overall. Of the 284 S&P 500 stocks that have already reported their performance for the quarter, more than 75% have bested analysts' estimates.
>>5 Stock Trades to Take This Week
Some sectors are more predisposed to earnings surprises than others. Consumer stapes, industrials and health care are getting some of the biggest price moves from their earnings beats. Information technology stocks are showing investors the worst this quarter.
With all that in mind, here's a look at
five "serial surprisers" that have upcoming earnings dates
. These five stocks have historically tended to give investors positive earnings surprises quarter after quarter -- and they're stacked in the sectors that are paying off the most right now.
Here's everything you need to know.
D.R. Horton
$6.4 billion homebuilder
D.R. Horton
(
) tops off our list. Thanks to a combination of muted expectations over housing stocks and rip-roaring real estate values, D.R. Horton has managed to churn out average EPS surprise of 81% in the last several years. And so, with earnings slated for Nov. 12, it makes sense to take a closer look at DHI again this week.
>>5 Big Stocks to Trade for Big Gains
D.R. Horton is one of the largest homebuilders in the country, targeting low-to-mid-price buyers with an average home price of just over $200,000. Around half of the homes that Horton sells each year are spec -- that is, homes built without a specific buyer in mind. While that type of exposure slammed the firm when the real estate market suddenly went soft in 2008, it's paying off in spades for the firm now that buyers are bidding up new home prices faster than other inventory nationwide.
I'll admit that D.R. Horton isn't my favorite homebuilding stock right now, but that has little to do with its earnings surprise potential. Financially, DHI typically carries more debt than peers -- the result of that hefty spec-building and an internal mortgage arm. But that balance sheet leverage, coupled with exposure to a buyer that's more sensitive to economic headwinds, means that analysts are more apt to underestimate this company's performance.
Profitability has been excellent in recent years, and until Wall Street wises up, it's going to keep providing DHI shareholders with buying opportunities around earnings announcements.
GameStop
It's been a blockbuster year for video game retailer
GameStop
(
); shares of the $6.5 billion stock have rallied more than 120% since the first trading session in January, besting the broad market's impressive run by a factor of 5. But earnings on Nov. 11 could provide another pop for shares. GameStop has been good for earnings surprise in 16 of the last 20 quarters.
>>5 Rocket Stocks Worth Buying This Week
GameStop has a lot of challenges ahead of it. The firm lacks the pricing power of online-only stores like
Amazon.com
(
), and it's getting squeezed by online game distribution that cuts out retail altogether. But GME has one big ace in the hole: It owns 80% of the market for used video games. Having a big brick-and-mortar presence is critical for the used-game business, and all of that traffic (and all of that game credit for sellers) provides big sales opportunities.
GameStop also stands to benefit from the upcoming releases of next generation gaming consoles from
Microsoft
(
) and
Sony
(
). New console releases typically drive windfall sales for retailers.
That doesn't mean that GME is eschewing online sales. GME has been working to send people to its online store through a rewards program and an online distribution network. While the firm lacks some of the advantages that console makers have, its coverage of gaming through stores and online gives it a niche that isn't going away anytime soon.
Constellation Brands
Alcoholic beverage firm
Constellation Brands
(
) isn't the biggest in the business, but it is the most diversified. The firm owns a vast portfolio of wine, beer, and spirits brands that get sold all over the world. The bargain-priced acquisition of Crown Imports' U.S. business dramatically increased STZ's scale this year, boosting exposure to the best corner of the sector at the same time.
Constellation owns a powerful collection of labels, ranging from Arbor Mist and Robert Mondavi wine to Corona beer, Svedka vodka and Cook's champagne. Alcoholic beverages have seen stellar growth over the last decade, particularly in the craft and small-batch segments, which Constellation is under-exposed to. That presents a big growth opportunity for STZ if the firm invests in new craft brands.
After the Crown Imports acquisition, Constellation controls six of the country's top 20 import beer labels. The fact that the acquisition basically took place at a forced bargain price adds a lot of value for shareholders -- and it's fresh enough that investors haven't really gotten a good look at the combined firm's earnings potential.
Historically, Constellation has one-upped analysts' expectations, so now, the firm's next quarterly earnings call on Dec. 9 could come with earnings surprise power.
Humana
As the political fights over "Obamacare" continue on Capitol Hill, healthcare stocks are getting caught in the crossfire. One such stock is $14 billion health insurer
Humana
(
). Humana is another name that consistently dishes out positive earnings surprise to Wall Street, and the firm gets its next shot on Nov. 6.
>>5 Stocks Set to Soar on Bullish Earnings
To be fair, calling Humana a "health insurance" company is a bit of a misnomer. That's because around 75% of Humana's members are actually covered by government-sponsored plans, with Humana as the plan administrator. By becoming the go-to expert in programs such as Medicare and Medicaid, HUM has carved out an attractive niche, especially as a steamroller of new regulations complicate things for less entrenched competitors.
Humana's size is one of its biggest advantages. Because it can spread administrative costs across its 9 million members, the firm is able to keep its costs per capita low, which keeps its costs low and free of new regulatory limits on admin costs. As an aging baby boomer population increases their healthcare needs in the coming years, the case for owning Humana increases in kind.
Macy's
Last up is department store chain
Macy's
(
). Despite a slow recovery for typical mall anchor stores, Macy's has managed to stay a step ahead of analysts' expectations in the last several years, averaging a 33% higher profit each quarter than Wall Street was expecting. That's why the firm's earnings call on Nov. 13 could provide a big upside catalyst for investors in the near-term.
>>4 Big Stocks to Trade (or Not)
Macy's owns more than 850 Macy's and Bloomingdale's department stores spread across the country. 2008 was a wake-up call that jolted management into changing a lot of the firm's internal processes. For example, the firm has centralized many tasks that were previously replicated regionally, and the My Macy's initiative has brought more unique merchandising to each individual store. The end result is a more svelte retailer that earns enviable net profit margins.
Those margins have helped to shed around $2 billion in debt from the firm's balance sheet, all the while paying out a solid 2% dividend yield to investors. As Macy's continues to chip away at its debt load, the firm should be able to return more cash to its shareholder base directly. Even though some of Macy's rivals have shown trouble executing in this environment, M isn't.
To see this week's trades in action, check out the
Earnings Season Surprisers portfolio
on Stockpickr.
-- Written by Jonas Elmerraji in Baltimore.
RELATED LINKS:
>>3 Hot Stocks on Traders' Radars
>>5 Stocks Under $10 Set to Soar
Follow Stockpickr on
and become a fan on
Facebook.
At the time of publication, author had no positions in stocks mentioned. Jonas Elmerraji, CMT, is a senior market analyst at Agora Financial in Baltimore and a contributor to
TheStreet
. Before that, he managed a portfolio of stocks for an investment advisory returned 15% in 2008. He has been featured in
Forbes
,
Investor's Business Daily
, and on
CNBC.com.
Jonas holds a degree in financial economics from UMBC and the Chartered Market Technician designation. Follow Jonas on Twitter @JonasElmerraji