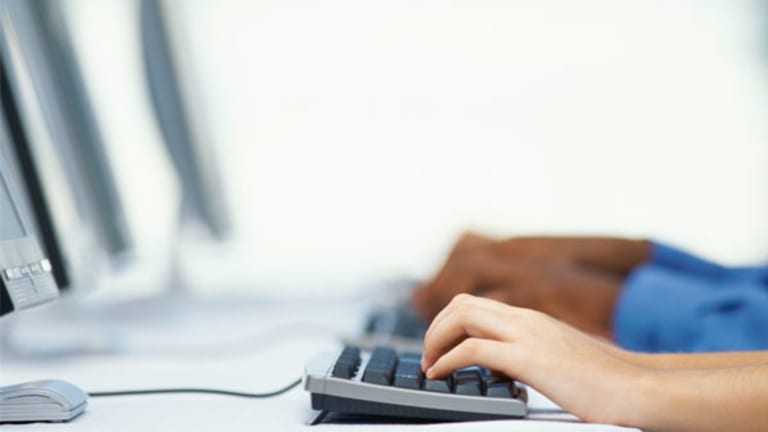 Publish date:
H-P's Nailing It
We'll see just how solid the company's revenue growth is with today's earnings.
We'll see just how solid the company's revenue growth is with today's earnings.
So much for suspense.
Last week
Hewlett-Packard
(HPQ) - Get HP Inc. (HPQ) Report
accidentally sent an internal email bearing the quarter's financial results to an unidentified outsider, a gaffe which forced H-P to show its hand to the rest of the world and preannounce its earnings ahead of schedule.
The move spoiled the
big upside surprise that H-P achieved during its fiscal second quarter.
That doesn't mean there won't be other important revelations when H-P officially delivers its results after Wednesday's market close.
For one thing, investors should get a better sense of the decidedly un-H-P-like growth in the top line.
H-P said sales in the fiscal second quarter will come in well ahead of analysts' expectations and range between $25.5 billion and $25.55 billion -- roughly a 13% jump year over year.
That's nice growth for any company, let alone a massive entity such as H-P, which models 4% to 6% revenue growth.
Those modest growth targets are one reason H-P's stock trades at a 15 times multiple on forward earnings, compared with the 17 times multiple commanded by rival
Dell
(DELL) - Get Dell Technologies Inc Class C Report
. If H-P is suddenly capable of notching up double-digit growth after all, its current multiple could prove inadequate.
Of course, the second-quarter growth spurt is not all organic, as H-P had not yet acquired software maker
Mercury Interactive
at this time last year. And foreign currency effects also likely helped move the needle in the Palo Alto, Calif., company's latest results.
But even with those factors taken into account, H-P still beat its initial second-quarter guidance by a whopping $1 billion.
What's more, H-P said the growth came from strong results in its PC and server businesses. That's interesting, because the early months of the year generally have been a lackluster period for PC sales.
And many of H-P's peers such as
IBM
(IBM) - Get International Business Machines (IBM) Report
,
EMC
(EMC)
and
Sun Microsystems
(SUNW) - Get Sunworks, Inc. Report
have spoken about weak demand from the U.S. businesses that buy servers and other high-tech gear.
"It's pretty obvious," says American Technology Research analyst Shaw Wu. "H-P is taking a lot of share, particularly from Dell."
Dell was dethroned by H-P as the world's No.1 PC manufacturer last year, and the latest numbers from industry research firm Gartner suggest that H-P
continues to gain ground.
According to Gartner, Dell's unit shipments declined by 7.8% in the first three months of the year, while H-P's saw its PC shipments surge 28.7%.
Wu doesn't see any near-term end to that imbalance, and so believes that a floundering Dell will continue to provide H-P with easy share gains. That means H-P can count on high single-digit and occasional double-digit revenue growth for several more quarters to come, Wu believes.
"Dell's still a very big company, so in our view, there's still a lot of room
for H-P to grow," says Wu.
Other analysts are less convinced that H-P has suddenly morphed into a faster-growing enterprise.
"You might have a little blip that lasts a quarter or two, but it's nothing that's sustainable to a large extent," says one analyst at a Wall Street brokerage firm. Even if Dell's comeback is not a smashing success, it should at the very least slow down Dell's share loss to H-P, the analyst reckons.
Shares of H-P closed Tuesday's regular session down 27 cents, or 0.6%, to $44.75. The stock's price peaked at $45.30 on Friday.
A trio of key metrics in H-P's financial report will also receive a good deal of investor scrutiny.
Cash flow, gross margin and inventory all
raised flags on The Street when H-P delivered its first-quarter results in February. The second-quarter results will signal whether the negative trends in each of those categories was a one-time anomaly, as H-P has suggested, or the early manifestations of something more serious.
Gross margin should prove particularly interesting.
The recent drop in prices for key PC components -- from DRAM memory chips to microprocessors -- should help H-P's gross margin. And H-P's lucrative printer supply business should also push up the profit margin, as consumers buy new inkjet cartridges for the printers that they bought or received during the holidays.
On the other hand, H-P has seen new competition -- namely from
Eastman Kodak
( EK) -- on the inkjet cartridge front.
In April, H-P said it was introducing a new, low-cost line of inkjet cartridges, presumably to better compete against Kodak, but potentially cutting into H-P's margins.
Notably, H-P did not cite gross margin expansion in explaining the EPS upside in its preannouncement, pointing instead to top-line growth and share buybacks as the source of the earnings upside.
H-P may have already spoiled the ending, but investors have only seen half the story.