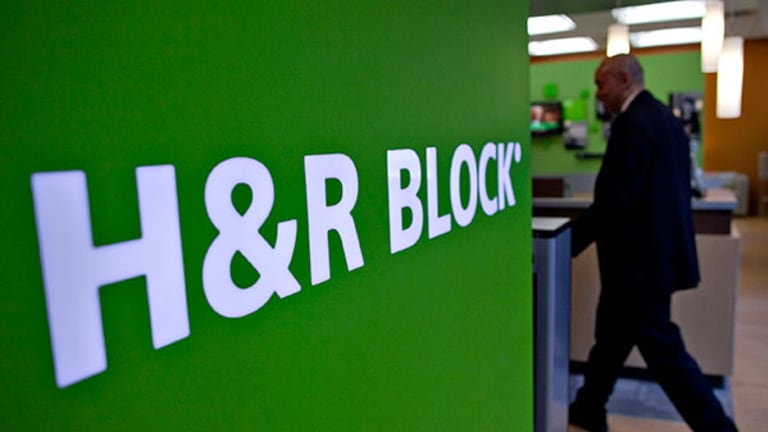 H&R Block's Ambitious Plans for New Advisors Brand
H&R Block CEO William Cobb expects Block Advisors to play a key role in the company's future growth.
H&R Block (HRB) - Get H&R Block, Inc. Report CEO William Cobb intends for his company's new corporate offshoot Block Advisors to be more than merely a chip off the old block.
"It's for a small business client who wants tax planning and has a more complicated situation," said Cobb. "We have private offices, year-round service and tax advisors with an average experience of 15 years, so we can compete with anybody."
Block Advisors currently has over 280 offices nationwide. About half of its advisors are Certified Public Accountants, Enrolled Agents or have received H&R Block's highest level of certification, Master Tax Advisor.
Cobb expects Block Advisors to play a big role in the company's growth plans over the long run. In the near term, the tax preparer is trying to drum up business with a daily sweepstakes. H&R Block has been awarding $1 million a day since the start of tax season - or "refund season" as Cobb calls it -- in the company's "1000 Win $1000 Daily" sweepstakes. A total of 32,000 people will win a combined $32 million over the course of the contest, which ends Feb. 19.
Shares of H&R Block are up 4% so far in 2016.
Cobb also said an additional form and higher penalties due to the Affordable Care Act will also affect taxpayers this season, as well as increased fraud protection due to the preponderance of identity thieves stealing tax refunds.
"The I.R.S. is working in conjunction with the tax preparation companies to make it tougher on criminals," said Cobb.
As for the proposals coming from the campaign trail to simplify the tax code, Cobb said the core of the candidates' concerns are valid considering the tax code now runs more than 70,000 pages. Still, he said politicians often neglect the fact that the government administers its social programs like education and child care through tax returns.
"They need to come up with a plan for those programs as opposed to saying they are just going to rip up the tax form," said Cobb.