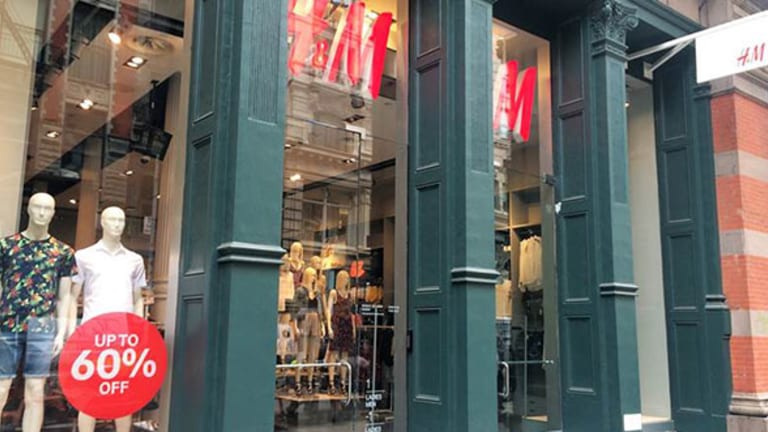 H&M Stock Falls Sharply After Sales Growth Misses Estimates
H&M sees sales rise 9% in November but falls shy of analysts' forecasts.
H&M (HNNMY) stock dropped markedly in the first hour of trading in Stockholm after it reported sales growth that missed analysts' expectations as retailers deal with a tough European trading environment.
H&M stock was down 4.6% at SEK260.60 each by 08:45 GMT, extending the year-to-date loss to 10.26%. The Stoxx Europe Retail Index has lost 4.9% year-to-date.
The Swedish fast-fashion said sales in November were up 9% in local currency terms compared with the same time period last year. A Reuters poll of analysts had been expecting a rise of 15%.
For the three months ending Nov. 30 the fashion retailer saw sales increase by 7% to Skr61.1 billion ($6.5 billion), this was higher than last year's figure but below the forecast of Skr53.5 billion.
Sales in the financial year from Dec. 1, 2015 and Nov. 30, 2016 were up 7% in local currency terms, amounting to Skr222.8 billion.
The company did not make any comments about the sales.
The sales figures come at odds to one of its biggest competitors Inditex (IDEXY) . The Spanish owner of brands including Zara reported double-digit sales growth in the first nine months of the year.
Inditex, the world's largest fashion retailer by market value, saw net sales rise by 11% in the nine months between Feb. 1 and Oct. 31 to €16.4 billion ($17.4 billion). In constant-currency terms, top line growth was 15%, "underpinned by solid same-store sales growth," the company said in its earnings released on Wednesday.
The Spanish group also noted that in-store and online sales increased 16% in constant currency terms between Nov. 1 and Dec. 12.
Inditex stock was down marginally at €31.95 in Madrid on Thursday. and has gained 0.98% since the start of the year.