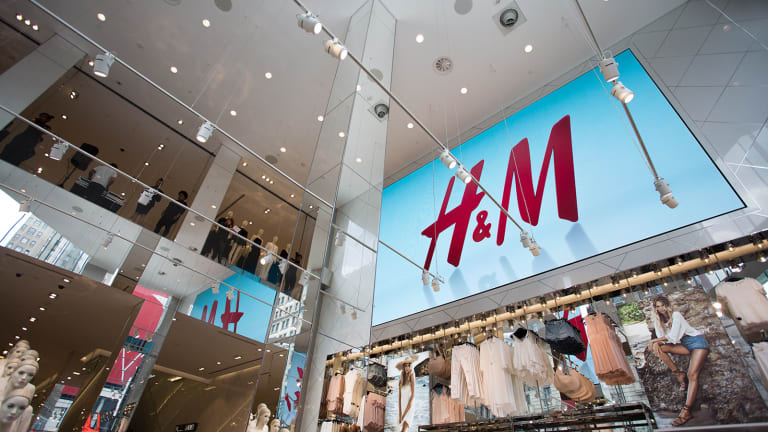 H&M Stock Down on January Sales Miss
H&M reports an 8% rise in sale in January, slightly lower than a preliminary figure released in January.
H&M (HNNMY) on Wednesday reported an 8% rise in sale in January, slightly lower than a preliminary figure released in January.
H&M stock fell 1.10% to Skr243.50 in Stockholm at 9:50 am GMT amid buoyant European trading, extending the shares' 7.32% loss recorded over the past three months.
"Sales in January were negatively affected by approximately 2 percentage points," the company said on Wednesday.
The Swedish fast-fashion retailer said in late January that it expected sales in the month to be about 11%.
H&M, the world's second biggest clothing retailer by sales behind Zara-owner Inditex (IDEXY) , is targeting annual local-currency sales growth of 10-15% and expects to be within that range for the year.
The company said it had 4,380 stores open in Jan. 31 compared with 3,958 at the same time last year.
The company is losing ground to Inditex, which regularly reports double-digit sales increases. Inditex stock was up 0.05% to €31.34 at 9:20 am GMT, shares have gained 0.02% over the past three months.
H&M in January said sales between Dec. 1, 2015, and Nov. 30, 2016, increased 7% in local currency terms and 6% when converted to the Skr192.3 billion ($21.7 billion) total, a figure that was broadly in line with analysts' expectations. Gross profit for the period increased by 2.9% to Skr106.2 billion, the company said, corresponding to a gross margin of 55.2%, down from 57%.
The retailer said it would upgrade its supply chain to boost speed and flexibility, investing in RFID and automated warehouse technology in a bid to better compete with Inditex. The upgrades will also allow for new options for customers including next day and time-slot deliveries.
The company will also clarify its omni-channel strategy integrating the digital and physical world. "This includes online purchases and online returns in stores, click & collect, mobile payments, further development of the customer club and use of the mobile in stores for increased service," the company said at the time.
H&M's first quarter earnings will be released on March 30.