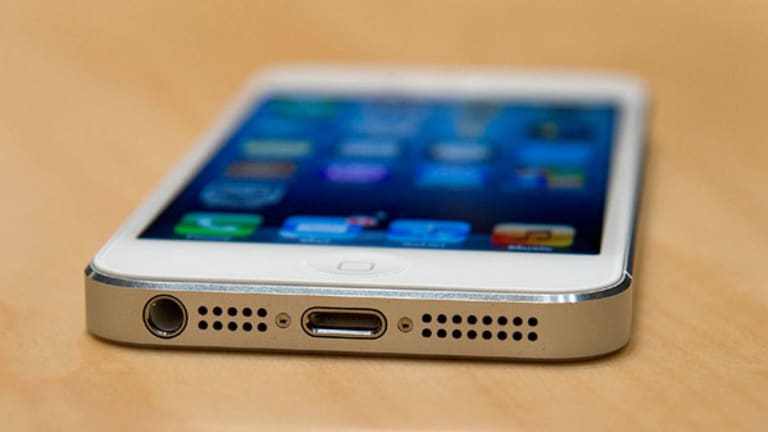 Gundlach: 'We Own Apple' (Update 2)
DoubleLine's Jeffrey Gundlach says in an exclusive interview that his portfolio owns Apple, and the stock is priced for no new products.
Updated from 10:33 a.m. EST to provide comments from Brendt Stallings in the fourth and tenth paragraphs and change fund to portfolio.
NEW YORK (
) --
Apple
(AAPL) - Get Report
finally has a friend in Jeffrey Gundlach.
In an interview Thursday with
TheStreet
at
DoubleLine Capital's
Los Angeles headquarters, Gundlach said that the investment firm actually owns Apple in one of its equity portfolio.
"We bought it at $405 the first time, and I think our average cost is below $425. I said Apple would go
. I wasn't committed to buying it, but I think Apple is an interesting play," Gundlach said during the interview. DoubleLine Equity's portfolio managers bought the shares as part of their equity strategy.
In a separate interview, DoubleLine's portfolio manager Brendt Stallings noted that Apple was bought in its Equities Growth Portfolio for its "free option on the next product." Stallings noted that Samsung has some great products and is taking share, and that Apple is not going to maintain its dominance in the smartphone market. However, at the valuation it was at (average price is around $420), "we're basically getting a free option that they
Apple come out with another product."
Also see: Kass: Apple Is Ripe for a Buy >>
With Apple shares down 16.9% year to date, Gundlach noted that Apple has become detached from the stock market, which has rallied strongly this year. The
Nasdaq
is up 14.5% year to date, while the
S&P 500
is up 17.77%.
Apple shares were higher in Friday trading, up 0.29% to $443.44.
"Apple's sorta cheap," Gundlach said. Excluding the company's enormous cash hoard, shares are trading at roughly seven times earnings, and are priced as if no new products are coming to market. "I sorta like Apple."
Rumors suggest that Apple will refresh its iPhone later this year. In addition to the
that may come with the latest iPhone, iOS 7 is getting a major revamp, with Jony Ive, Apple's senior vice president of industrial design, now taking a more active role in software. Ive is responsible for the hardware designs Apple has released in the past, but with the management shakeup in 2012 that led to Scott Forstall's ouster Ive now has a more active role as it pertains to software.
Also see: Google May Follow Apple on Tax-Dodging Dividend >>
On Apple's latest earnings call, CEO Tim Cook noted the company has some great new products scheduled for later this year and 2014. "Our teams are hard at work on some amazing new hardware, software, and services that we can't wait to introduce this fall and throughout 2014. We continue to be very confident in our future product plans," Cook said.
Stallings noted that Cook has a tough act to follow after Steve Jobs left the company, and that he was happy with the job Cook was doing as CEO of the tech giant.
With the recent run in equity markets and Apple lagging behind, Gundlach noted, Apple could outperform. He likes the equity better than the bonds, of which Apple raised $17 billion in a bond offering in
Despite his affinity for owning the stock, he noted the company's business is challenged. It's seen increased competition from the likes of
Samsung
and
Google
(GOOG) - Get Report
, and the company is greatly over-believed. The products are not advancing, Gundlach said, noting he thought the iPad mini, which Apple
in October 2012, was a "sure sign that the stock had peaked."
Also see: One of the Big Four Defense Stocks Is Priced to Buy >>
Gundlach pointed out the fact that Steve Jobs was against the iPad mini, though there are internal documents that Eddy Cue, Apple's senior vice president of Internet software and services,
to Jobs discussing the need for a smaller tablet, which Jobs agreed with.
The big question for Apple is what product is the next great hit for the Cupertino, Calif.-based technology giant. There have been rumors that Apple will announce an
later this year, as well as the oft-rumored
.
"I think at a 7 P/E, it's priced for no new product. It doesn't need a new product. It can keep selling a whole bunch of expensive new phones and iPads, and they'll be a cash cow," Gundlach said.
--
Written by Chris Ciaccia in New York
>Contact by
.