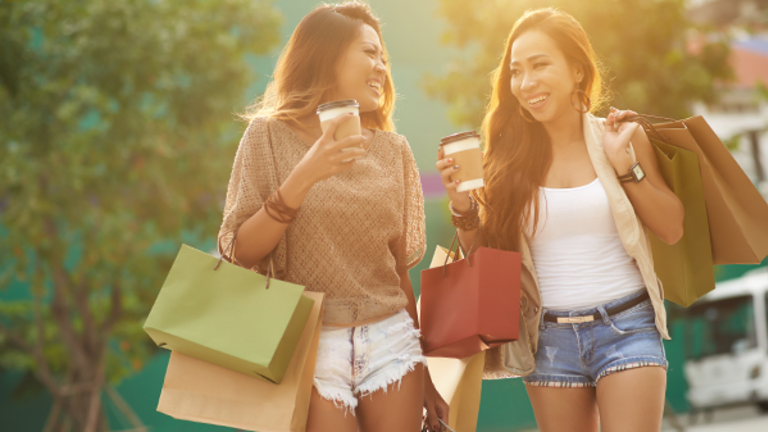 Wall Street Looks Obsessed With This One Luxury Goods Retailer
It pays to be in fashion, or so it seems.
Kering SA (PPRUY) , the owner of the Gucci and Saint Laurent fashion brands, is very much in style ahead of its first-half results with a trio of brokers on Tuesday, June 27, increasing their price targets and tipping the stock to smash its all-time record.
"We expect Kering to continue to deliver outperforming sales growth," wrote Goldman Sachs analyst as they increased Kering's 12-month price target to €337 ($377.15) up from €322. JPMorgan was equally bullish, increasing its target to €340, up from €305 a share, while Barclays raised its target a modest €5 to €335 per share.
Kering shares rose marginally in early trading before losing ground, along with the wider European markets, to trade at €308 each, in line with their Monday close and just shy of Monday's record high inter-day price of just over €312.
The bullish views on Kering are likely to provide a positive read across for other high-end fashion brands, which continue to benefit from accelerating sales growth in North America and China.
LVMH Moet Hennessy Louis Vuitton SE (LVMUY) shares hit their all-time high of €238 per share in May after the company posted a 13% increase in sales in the first quarter that easily topped analyst expectations of an 8% increase. LVMH shares traded Tuesday at €228.35, down just over 1%
Hermes International SCA's (HESAY) also hit a record high of €461 in April this year boosted by a 14% increase in the first quarter U.S. sales. Hermes stock traded Tuesday at €440.10, down almost 1%.
Those records have given some analysts pause. Credit Suisse warned last week that much of the expected growth in luxury sales was already priced into shares and downgraded the luxury sector to "benchmark" from "overweight", warning that a stronger euro could weigh on future growth.
Goldman said its support for Kering was based on company-specific sales- and margin-momentum, which it claims is being underestimated by the market. Goldman tipped margins at Gucci to rise 400 basis point to about 31.6%, while Saint Laurent margins are expected to gain 200 basis points to 21.9%.
The broker expects Kering's first-half 2017 EBIT to weigh in at €1.22 billion, up 45% on the same period last year and 11% on the second half of 2016. Kering is due to release its first half results after the market closes on July 27. 
Visit here for the latest business headlines.