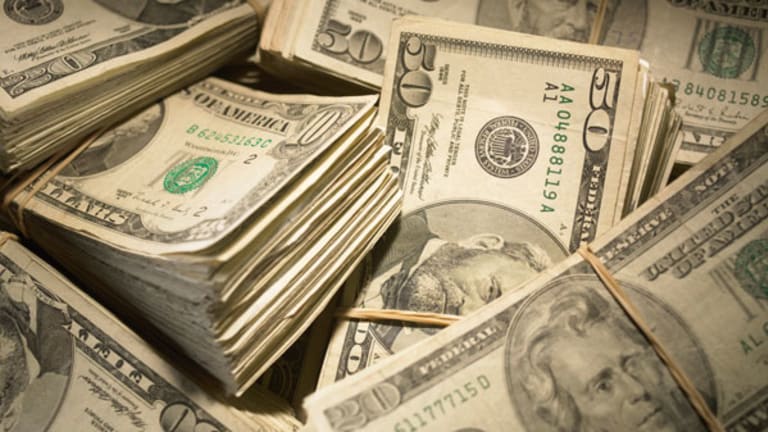 Growth Challenges Surround Dolby
Dolby is a great company, but given other considerations, the price is a bit too high to recommend.
The following commentary comes from an independent investor or market observer as part of TheStreet's guest contributor program, which is separate from the company's news coverage.
NEW YORK (
) --
Dolby Laboratories
(DLB) - Get Dolby Laboratories, Inc. Class A Report
is probably a familiar name to most investors. It is, indeed, the company behind the ubiquitous and eponymous audio technologies found in nearly all consumer electronics that play or record audio content, including PCs, DVD and Blu-ray players, digital music players, home theater receivers, game consoles, and so forth.
Dolby makes the lion's share (about 80%) of revenue from licensing its technologies to software makers and consumer electronics manufacturers. In effect, the company works like any IP patenting firm. Dolby develops and patents its audio technologies, then licenses the technology and the brand name to
Samsung
, for example, to build their digital televisions and Blu-ray players. Software programs that decode and play Dolby-encoded audio also need to license the technology.
Most of the remaining sales fall into the product category. Dolby makes digital media servers, which are needed to store and decrypt digital film files for presentation at the theater, as well as 3D display equipment. This division had ramped up rapidly in 2010 to $180 million (doubling from 2009), as theaters rushed to upgrade to digital and 3D capability. Now that that transition has mostly occurred, product revenue is falling back into the $100 million a year range.
Dolby also has a small (3% of sales) Services division, which supports content creators. It has not really grown in the past five years and is not really important in the larger scheme of things.
Follow
TheStreet
on
and become a fan on
IP licensing firms are a favorite of Magic Formula® Investing because of the very low capital business model. Once patented, it cost Dolby almost nothing to add new licensees -- gross margins for licensing are nearly 99%! This leads to huge returns on capital, nearly 60% after taxes.
Dominating the Field
Dolby also has a strong competitive position in the audio technology field. First, it's a small field, with only
DTS
(DTSI)
as a major competitor. Second, Dolby held a monopoly during the DVD age, and the huge legacy DVD inventory consumers own today ensures that backward compatibility will need to be maintained for some time, carving out a nice switching-cost moat.
Third, Dolby is a strong brand that consumers know and look for when buying electronics. Finally, patents on Dolby Digital Plus (the latest incarnation) don't begin to expire until 2018, giving the company some regulatory protections as well. That's a solid roster of competitive advantages.
The company is also quite attractive financially. The balance sheet is pristine, with $1.3 billion in cash and investments and no debt. The business model generates a ton of free cash flow -- about 40% of revenue is converted to free cash. Management has done a good job recently timing buybacks.So, we've established that Dolby is indeed a good, maybe even great, company. Now let's turn to the valuation.
A Bit Too Rich
At about $40, Dolby's enterprise value/EBIT earnings yield is almost 14%, which is very cheap by any comparison. However, after looking at the future prospects for the company, I actually believe the stock is about fairly valued at that price. As such, MagicDiligence will punt and give Dolby the "neutral" opinion tag. I would wait until (and if) the stock dips back under $30 to get interested again.
Growth potential is the main issue here. Dolby has a nice history of revenue growth, in fact over the past five years it has delivered a 16% compound annual rate. But going forward, there are serious challenges. The biggest is obvious: media consumption is moving away from physical media, where Dolby is entrenched. More and more people are streaming movies and other content, and much of that content is not Dolby-encoded. Entire business models are being built around streaming content, and tablets, smartphones, and now even many laptops are being delivered without optical drives. Early builds of Windows 8,
Microsoft's
(MSFT) - Get Microsoft Corporation Report
next big OS release, do not include Dolby support, which would hurt licensing revenue.
One could say that this transition is an opportunity, and there is merit there. Dolby will have their technology shipping in about 15% of smartphones this year, up from practically nothing a year ago. And the digital television conversion cycle still has legs overseas. Licensing revenue could conceivably grow 5% to 10% annually over the next few years. But product revenue clearly peaked in 2010 and I see no catalyst for it jumping back up in the near future. As such, it is unlikely that Dolby will return to its fast-growth days anytime soon. Revenue is actually forecast to be down slightly in 2012, and analysts don't see much of a rebound in 2013, either.
Great investments require both a great company and a great price. We've got one of the two here. Dolby is definitely a stock to watch list, but not a Top Buy at this point in time.
At the time of publication, the author owned MSFT, although positions may change at any time.
This commentary comes from an independent investor or market observer as part of TheStreet guest contributor program. The views expressed are those of the author and do not necessarily represent the views of TheStreet or its management.