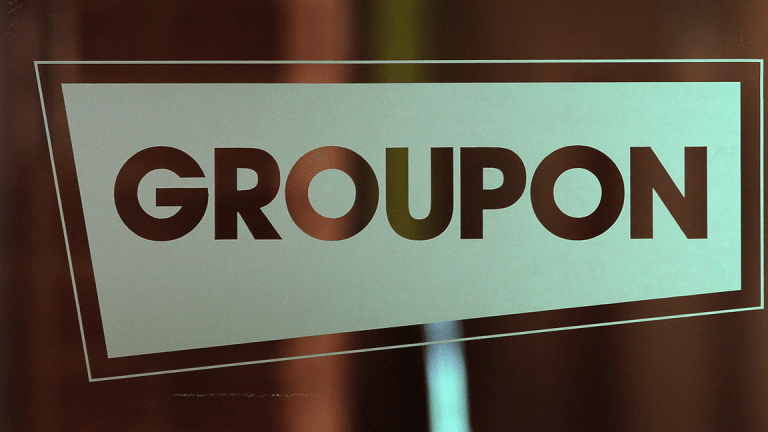 Groupon Acquisition Is a 'Discount Deal' for the Right Buyer
Recode reports management wants to sell the once-hot company.
Shares of Groupon (GRPN) soared as much as 13.8% Monday following a weekend report from Recode that GRPN executives have put the company up for sale.
GRPN stock stood at $4.83 at closing, up nearly 11 percent. Analysts went bullish on the stock after Recode, citing two people familiar with the situation, reported the company is looking to sell and has approached "several public companies" in the past month to drum up interest.
While a valuation in the $5 range reflects investors' downgraded expectations of Groupon the company is an appealing target to takeover because of its data on millions of users, Professor Erik Gordon of the University of Michigan's Ross School of Business.
Gordon said shareholders should probably get a 20 to 25 percent premium above the $4.83 closing price Monday in an acquisition.
Groupon could be and should be acquired," Gordon said. "I think as a standalone it is about as valuable as it can be expected."
Groupon typifies a class of companies which received high IPO valuations because they appeared to be cutting edge, Gordon said.
"It is really a discount deals company, and as good a discount deals company as you'll see," Gordon said. "What investors have learned from Groupon is that just because you do business on the Internet doesn't make you can Internet company that will have massive growth."
The $4.83 peak is about 20 percent below Groupon's 52 week high of $5.99.
Groupon -- which small merchants use to offer the public generous coupons, but which only apply if a large number of consumers sign up -- debuted in 2011 at $28, but has struggled in recent years. It's been trading for months at around $5 a share. The company claims 46.9 million active users.
Groupon's total revenue declined 17% in the first quarter, due to a decline in local and goods-derived revenues. After the first quarter of 2018, the company raised its full-year-adjusted EBITDA from $260 to $270 million to $280 to $290 million, prompting Gabelli & Co. to rate Groupon its, "Best Idea of 2018."
The company's international business proved more resilient: Groupon's international gross profit rose 19% in the first quarter and the international customer base expanded to 17 million.
Tom Forte of D.A. Davidson & Co. considers that unjustifiably low, even after factoring in Groupon's slow growth rate in recent years. He's a set a $12 price target on the stock, assuming a sale to a suitor like Priceline (PCLN) , Alibaba (BABA - Get Report) , Alphabet (GOOG - Get Report) , (GOOGL - Get Report)  or Facebook (FB - Get Report) . He added that even if GRPN isn't sold, it should still trade between $6 and $8 a share.
Forte sees five potential catalysts that could drive improved operating results at Groupon over the next year including a sale of the company, managing to drive full-price sales for small businesses, successful marketing efforts that push up gross profits well-positioned international efforts, and better profitability due to management cutting back lower-margin parts of the business.
"We would argue its North American business has never been in better shape and its international operations are well positioned, yet shares are trading under $5," Forte said in a note Monday morning. "If public markets are not giving the company the value we believe it deserves, perhaps maybe the right strategic buyer would."
(This story has been updated with additional details.)
What's Next for Groupon? Access Real Money's Analysis Here:
Priceline Could Be the Top Contender to Buy Groupon
Jim Cramer: It's Time to Recognize Groupon Has Become a Force
Groupon or My Old Beanie Babies: Which One Gets a Bid First?