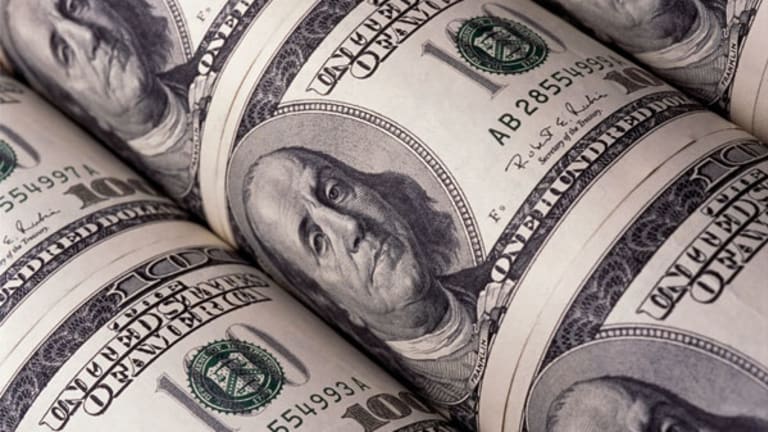 Group Stink; Good, the Bad and the Ugly: Doug Kass' Views
Doug Kass shares his thoughts on Facebook, Allergan and Apple.
Doug Kass shares his views every day on RealMoneyPro. Click here for a real-time look at his insights and musings.
'Group Stink' Offers Fragrant Trading Opportunities
Originally published May 4 at 8:39 a.m. EST
"Nor is the people's judgment always true, the most may err as grossly as the few."
--John Dryden
The value of contrarian opinion cannot be overstated.
Thursday morning, Twitter's (TWTR) - Get Twitter, Inc. Report shares are trading up again, to $18.75 from about $14.50 in mid-April.
The shares, stated simply, have gone from goat to hero in less than three weeks.
Until recently, Twitter's shares were the subject of disdain in the markets. Its operating strategy was widely criticized, as was the production of its financial results.
Few cared to consider the contrary--that the talking heads may be wrong, the failures of the company were likely discounted in the share price, and that Twitter's operating performance was bottoming and showing some signs of life. Also not considered, at $14.50 a share, was the potential business value of an exquisite canvas delivering information, news, live events and opinion to more than 300 million users.
Even founder Evan Williams was selling and numerous initial venture capital investors of the company had also sold their stock positions and were vocally critical of Twitter's management. These five recent videos ( here, here, here, here and here) from CNBC.com that show the market's and individuals' disdain for the shares.
Bucking the dominant and negative consensus, in March I placed Twitter on my Best Ideas List.
As means of background, here are three of my recent updates on Twitter:
1. " My Take on Twitter"
2. " Sweet Twitter News Worth Tweeting About"
3. " Shrinking Twitter Position"
Lessons Learned
"There's a broad market bias that's geared toward both consensus and the bullish thinking often delivered by Wall Street, the business community and the financial media.
I understand that there's a certain comfort in crowds, as well as a distrust of the remnants of individual opinion. I suppose that's a function of the human condition, human spirit and human nature.
But in today's interconnected world, all market, business and economic cycles arguably change with greater rapidity at any other time in human history. So, smart investors must be adaptive, anticipatory and stay on the alert."
--Kass Diary, "The Value of Contrarian Opinions"
To a large degree the business media and other platforms/venues perpetuate group think and coddle investors, often into a false sense of security: I call this " Group Stink."
This morning I want you all to consider the preponderance of bullish talk in the financial press and the overwhelming exuberance toward an 8-year-old bull market (see Investors Intelligence near-record bulls discussed Wednesday)
All too often the opinions of the media's guests who failed to see the crippling 2007-2008 drama are forgotten and some of the same--and previously wrong-footed--talking heads are paraded as seers in the media after continued market gains since the Generational Market bottom in March 2009.
Memories are short, especially of a media-kind. Nevertheless, if a criterion for appearances was accuracy, there would have been few available guests in 2009-10 qualified to appear on CNBC, Bloomberg and Fox Business.
Indeed, after eight years of market prosperity and with the S&P Index approaching 2400, the few investment bears remaining are often ridiculed openly by the business media in their limited appearances, reminding me of Mickey Mantle's quote, "You don't know how easy the game of baseball is until you enter the broadcasting booth."
Mainstream and consensus expectations are just that and, in most cases they are deeply embedded in today's stock prices.
After four decades of investing, I have learned that nothing is more obstinate than a fashionable consensus.
Diversity and independence (what I try to deliver in my Diary daily) are important because the best collective decisions are the product of disagreement and contest, not consensus or compromise.
The bottom line is that Group Stink provides opportunities on both the long and short side.
Case in point: Twitter's journey from goat to hero.
And, perhaps, the Group Stink expressed in today's market optimism and the never-ending dip buying should also be critically challenged.
Position: Long TWTR .
The Good, the Bad and the Ugly

Originally published May 3 at 4:12 p.m. EST
"It's not a joke, it's a rope, Tuco. Now I want you to get up there and put your head in that noose."

-- Blondie, " The Good, the Bad and the Ugly"
There was little to report--beyond what I already have done--in Wednesday's trading session.
So let's move to the abbreviated Monarch Notes form of "Takeaways," with "The Good, The Bad and The Ugly."

The Good
* Banks despite some buying in Treasuries.
* Insurance, with Hartford Insurance Group (HIG) - Get Hartford Financial Services Group, Inc. Report looking pretty, pretty good.
* Twitter (TWTR) - Get Twitter, Inc. Report --from goat to hero ... still!
* Alphabet (GOOGL) - Get Alphabet Inc. Class A Report continues to do the "monster mash."
* Apple (AAPL) - Get Apple Inc. Report a good rally off of last night's small selloff--almost back to even.
* Niles Rodgers, Journey and TuPac!
The Bad
* Nasdaq, though down some, still experienced its biggest daily decline in weeks--as evidence of the recent strength. (ProShares UltraPro Short QQQ (SQQQ) - Get ProShares UltraPro Short QQQ Report is my Trade of the Week).
* The Russell Index is not crowing.
* Biotech (Gilead (GILD) - Get Gilead Sciences, Inc. Report , Allergan (AGN) - Get Allergan plc Report (I continue to caution about short dated calls in this name after the great run)
* Target (TGT) - Get Target Corporation Report higher in a mixed retail sector.
* Big pharma weak poor (save Merck (MRK) - Get Merck & Co., Inc. Report ).
* Gold -$9.70. ( I am a $116 SPDR Gold Shares (GLD) - Get SPDR Gold Shares Report buyer).
* Facebook (FB) - Get Meta Platforms Inc. Class A Report and Tesla (TSLA) - Get Tesla Inc Report weaker ahead of EPS reports after the close.
* Chipotle (CMG) - Get Chipotle Mexican Grill, Inc. Report profit taking after a spectacular advance.
* REITs struggling (iShares US Real Estate (IYR) - Get iShares U.S. Real Estate ETF Report short remains on my Best Ideas List)
The Ugly
* Everyone's fave (but not mine!) Disney (DIS) - Get Walt Disney Company Report (-$3), Perrigo (PRGO) - Get Perrigo Co. Plc Report , Dupont (DD) - Get DuPont de Nemours, Inc. Report (as noted I have been steadily reducing the size on recent strength) and Akamai Technologies (AKAM) - Get Akamai Technologies, Inc. Report .
* Media conspicuously weak (again, small short DIS and Comcast (CMCSA) - Get Comcast Corporation Class A Report bad after a large advance).
* Speculative biotech schmeissed--for the second day in a row. (FibroGen (FGEN) - Get FibroGen, Inc. Report , Aerie Pharmaceuticals (AERI) - Get Aerie Pharmaceuticals, Inc. Report etc.)
* Copper, iron ore.
At 3:30 p.m. the S&P is off 3-4 handles and I have raised my net short exposure.
Position: Long DD (small), TWTR, AGN (large), HIG (large), HIG calls, SDS (large), SDS calls SQQQ (large); Short DIS (small), AAPL
Position: See above .
Action Alerts PLUS, which Cramer manages as a charitable trust, is long AGN, FB, AAPL, CMCSA and GOOGL.