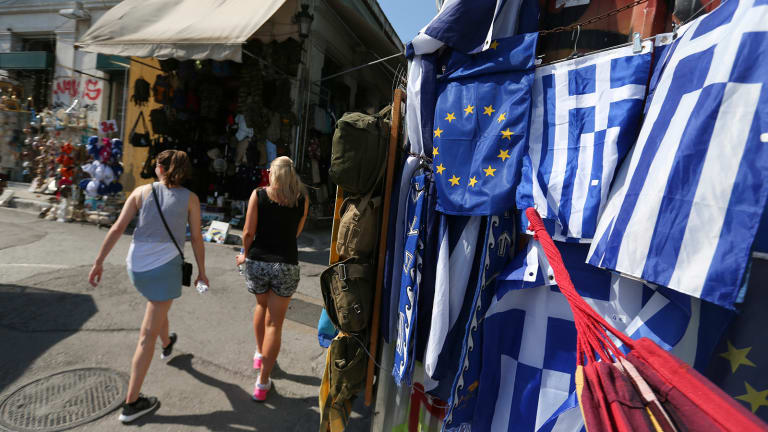 'Grexit' Still on the Table, Just Not in 2015, Market Strategist Says
While stocks rally following the apparent Greek debt deal, Michael Ingram of BGC Partners says it only delays a possible 'Grexit' until next year.
NEW YORK (TheStreet) -- U.S. stocks are shooting higher on Monday after Greece and its creditors finally came to an agreement on a new debt deal. 
The details are not yet known, but we have the broad outline, said Michael Ingram, a market commentator at BGC Partners. In any form, the deal results in "more debt being loaded onto the very narrow shoulders of the Greek economy," he said. 
Ingram said, however, that investors don't seem to be thinking the details all the way through and that a possible "Grexit" will be back on the table next year. 
Previously, debt deals in 2010 and 2012 that kicked the can down the road have failed to turn Greece's economy around, and so there's little reason to believe it will be different this time around, he said. 

Global X FTSE Greece 20 ETF GREK data by YCharts
The Greek government has done a poor job at policy-making, and just like the reworked debt deals, the new deal leaves plenty of doubt that it will change in the future, even with a new administration. 
While many investors are quick to brush off Greece's economy as "small and insignificant," the price action of stocks says otherwise, particularly of those in Europe, Ingram said. 
During the past several weeks, European stocks significantly underperformed U.S. stocks, as the S&P 500 has fallen only about 4% from its all-time highs in June.
Because European stocks have more risk thanks to Greece, they shouldn't trade at the same valuation that U.S. stocks do. Stocks in the U.S. is a safer investment at this time, Ingram concluded.
This article is commentary by an independent contributor. At the time of publication, the author held no positions in the fund mentioned.