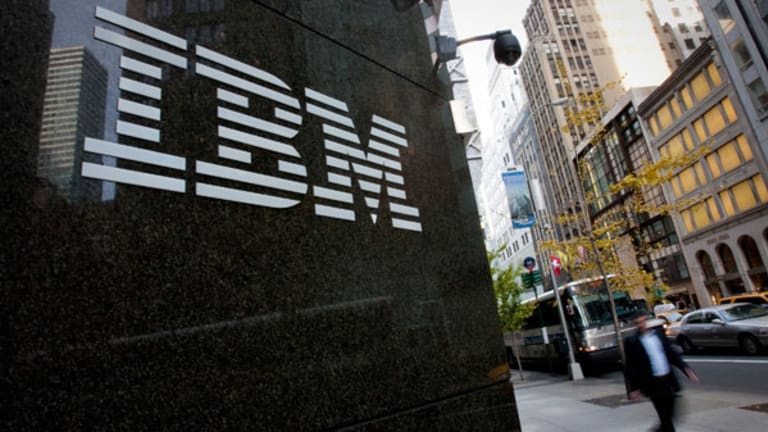 NEW YORK (Real Money) -- I have no idea why companies give short-term guidance, let alone long-term guidance -- let alone five-year forward guidance.
I've been harping on the danger and absurdity of IBM's five-year guidance for years.
To be clear, I'm not a fan of any guidance, because I believe it plays to the short-term trading mentality that Wall Street has overtaken Main Street -- and makes investing more of a game than a discipline.
Back in the day (in 2012), the issue for IBM (IBM) - Get International Business Machines (IBM) Report was that its sales were barely budging while Apple's (AAPL) - Get Apple Inc. (AAPL) Report were soaring. Yet both were trading at or near all-time highs. 
At the time, I wrote: 
"IBM gets a pass for one simple reason: For several years, it has boldly articulated a five-year 'roadmap' on how it will get its earnings per share to $20 by 2015. That's 49% higher than last year. It even breaks it down how it will get there by detailing how much will come from such things as base revenues, acquisitions and share repurchases.
All investors care about is that it's on track to meet or beat that 2015 number.
I've always been leery of long term, especially those five years out, because too much can happen between here and there.
And whenever a target is at stake, there's the concern that companies can resort to low-quality ways to hit the target."
At the same time, Fred Hickey of the High-Tech Strategist newsletter was raising alarms that IBM was getting aggressive with its accounting and resorting to low-quality earnings tricks to make sure it was meeting or beating earnings.
Again, as I wrote then:
"IBM, for its part, has told anybody who will listen that over the past 10 years it has been run for cash, with its profits reinvested in the business. The goal has been to avoid getting caught in a commodity trap like Hewlett Packard (HPQ) - Get HP Inc. (HPQ) Report . In response to Hickey's analysis, an IBM spokesman referred me to the company's road map in its annual report."
In that road map, IBM laid out cleanly how it would get to its target: through a combination of acquisitions and "shifting to faster-growing businesses," "operating leverage" (aka layoffs) and stock buybacks.
If only life were that neat and simple.
Trouble is, when a company sets itself up like that over the long haul, it also leaves little room for error.
Reality: On one hand there is IBM, which for years got in the habit of issuing long-term guidance. On the other is Google (GOOGL) - Get Alphabet Inc. Class A Report , which offers no guidance. The argument used to be that you had to offer guidance to give investors something to focus on and a reason to buy the stock. Not giving guidance seems to be working pretty well for Google.
At the time of publication, Herb Greenberg had no positions in any of the securities mentioned.
Herb Greenberg, editor of Herb Greenberg's Reality Check, is a contributor to CNBC. He does not own shares, short or trade shares in an individual corporate security. He can be reached at herbonthestreet@thestreet.com.