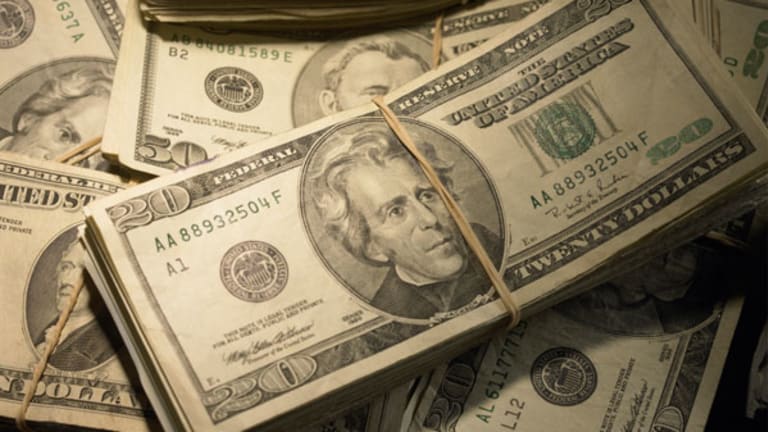 Publish date:
Greenberg: Clean Harbors Is Not Cleaning Up
The company trades like its former self, but for how long?
The company trades like its former self, but for how long?
About the only surprise about
Clean Harbors
(CLH) - Get Report
, the waste management company, is that almost every analyst who follows it still rates is as a Buy.
That's even after the company's most-recently-reported quarter, which included yet another in a series of sliced guidance, missed expectations or a combo of both.
.
Yet this is the same company:
That is still hoping for the best from its Safety-Kleen acquisition late last year, which hasn't generated the margin growth the company forecast.
That bought into the oilfield waste disposal and services business at the peak of the oil cycle.
Whose CFO (on the job when Safety-Kleen was bought) quit in February after less than a year on the job. He was replaced by the company's former CFO, who is also president. (It's often best when those two jobs are split.)
What many on Wall Street don't appear to have fully grasped is that thanks to a series of acquisitions, Clean Harbors has morphed from merely a hazardous waste environmental cleanup company, its legacy, into one whose fortunes are tied in a significant way to oil and gas exploration. As the result of a 2009 acquisition, it even operates lodging facilities for oilfield workers.
The strategy doesn't appear to have panned out the way the company had hoped, certainly not yet, evidenced by adjusted EBITDA margins, one of the company's favored metrics. (Actually any margins tell the same story.)
After peaking in 2010 at 18.2%, a year after the acquisition binge started, EBITDA margins have struggled to recover from first-quarter low of 12.9%. Last quarter's 16.1% was an improvement, but still well below a year ago, "primarily due to the weight of the lower-margin Safety-Kleen business," said Morningstar analyst Barbara Noverini.
Therein lies an important part of the story: It wasn't supposed to be this way.
The forays into the oil-and-gas-related services businesses were supposed to help leverage Clean Harbors' existing industrial base and create cross-selling opportunities while expanding its geographical footprint from its traditional base in the Northeast throughout the U.S. and Canada. It has had a steady success in Canada's oil sands.
The acquisition spree culminated with the $1.25 billion Safety-Kleen deal, which boosted revenue by more than 50%. It occurred just as the company's oil-and-gas business was losing steam. Four years out of bankruptcy and on the brink of going public, Safety-Kleen's two principal businesses -- re-refining recycled oil, much of it collected through its other business, and service station parts cleaning -- were expected to save the day.
When the deal was announced, CEO Alan McKim said it would be "immediately accretive."
It hasn't been. In fact, even with synergies from the acquisition, the company has struggled to keep its balance.
"We're disappointed with our performance compared to what the guidance and expectation was with the business," McKim told me in an interview.
It has become so unpredictable that Credit Suisse analyst Hamzah Mazari, who originally upgraded the stock in 2010, veered from the pack earlier this week and downgraded Clean Harbors to a Neutral. He called management's credibility with guidance "low," and said that as the company has become more cyclical, it faces "a higher risk of missing expectations." Anything short of that, he said, would require "flawless execution."
What Went Wrong?
In a nutshell: bad timing and even worse luck. If it weren't so serious, it could be considered a comedy of errors. (See our
for more.) Clean Harbors dove head first into the oil-and-gas industry, notably in shale areas, with a variety of services, just as natural gas prices were collapsing.
Source: U.S. Energy Information Administration
As gas prices fell, so did the demand for oil and the oil rig count in the U.S. -- and so did the need for Clean Harbor's services, which include oilfield related disposal and transportation. The company attempted to reposition itself in an effort to expand its customer base, moving into new oil producing regions -- from the Marcellus to Bakken -- looking for the kind of success it has had in Canada's oil sands.
Adding insult to injury, the Safety-Kleen acquisition was completed just as base oil prices tumbled. Base oil is the kind oil Safety-Kleen re-refines and sells. Typically it tracks crude. But just after the acquisition was announced there were three price declines in base oil, McKim says, "and when I talked to people at Safety-Kleen they said this was unprecedented. They said they had never seen it and that it will be temporary."
But the spread between crude and base oil, while narrowing a bit, remains wide. In retrospect, McKim says, "We bought Safety-Kleen and paid a lot of money and probably bought at the top. Who would've had a crystal ball on what would happen to the spread between crude and base oil."
McKim, who founded Clean Harbors 34 years ago, still believes the strategy will pay off. The company even bought another re-refiner recently, even though
Chevron
(CVX) - Get Report
is expanding its re-refining capacity.
Still, he said he sees margins improving, which they did last quarter, "because of the new markets we're going into."
As a silver lining of low natural gas prices, manufacturing in the U.S. is seeing a resurgence.
"We're seeing reinvestments in new chemical plants," he said. "Jobs are coming back and that will create more hazardous waste."
When Will It All Come Together?
"I don't think all cylinders are always operated at any business at the same time, he said. "And we don't need that to happen here for that to improve our margins."
Several other points addressed by McKim:
On the short-lived CFO. "He wasn't a good fit for the business."
On the Credit Suisse analyst's comments about the company's low-credibility in forecasting. "One of 14 analysts is not a trend. We believe there are a lot of folks out there who follow our company and believe in us." He adds that negative commentary by Mazari, the analyst, "invigorates me."
On his own recent sale of 143,000 shares. He said it was for estate planning and stressed he remains the company's second-largest holder.
In the end, McKim said he believes the company's guidance for next year, a reacceleration of sales sand EBITDA "is the message and is what we believe is proof that the strategy is working."
But can you take it to the bank?
Reality Check:
It's hard not to like McKim. He concedes what doesn't go right, and from someone who has tracked his company for years: "He's an optimistic guy, which is one of his strengths."
But, still, the company has missed forecast after forecast since acquiring Safety-Kleen, paying top dollar at the peak of a cycle for an industry that will see rising capacity.
That's after increasing the synergies from the deal, which in essence means that the extent of misses have been understated in estimates.
And that's after buying into the oilfield-services business just as it was rolling over.
Clean Harbors is a business whose growth traditionally tracked GDP, and whose stock rode the wave of oil spills. And many analysts who follow it are holdovers from the legacy waste days, which means they know the waste business, but not necessarily the nuances of oilfields -- which, as Mazari says, has made the company considerably more cyclical. It's also made it more volatile and commoditized. Oh, and more competitive.
Yet it still trades more like its former self, with a P/E of around 20 vs. the refiners, which hover closer to 6x to 8x earnings.
The question: How long can that spread last?
The best investors can hope for is that, in the long term, Clean Harbors' new strategy works as billed. Between here and there, any more nasty surprises with guidance and the answer to the question is likely to be "not long," because Mazari isn't likely to be the only analyst to lose patience.
Herb Greenberg, editor of Herb Greenberg's Reality Check, is a contributor to CNBC. He does not own shares, short or trade shares in an individual corporate security.