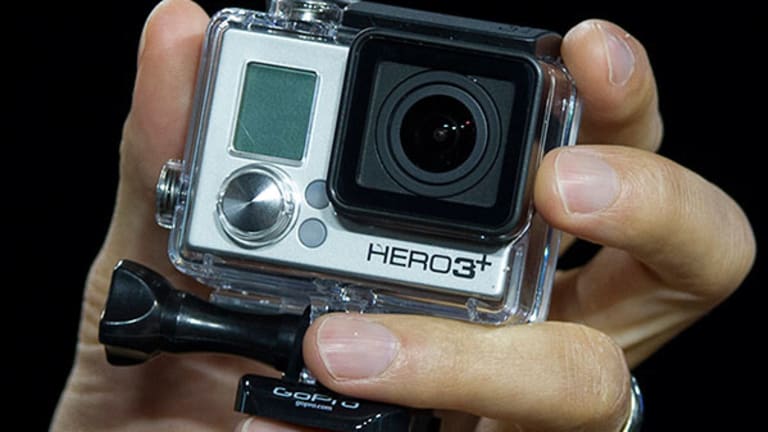 GoPro Shares Shoot Up After CEO Announces Plans to Make Drones
The company known for video cameras attached to snowboarders is getting into the drone business.
The company known for video cameras attached to snowboarders is getting into the drone business.
NEW YORK (TheStreet) -- Shares of GoPro (GPRO) - Get Report are rising on Thursday after reports that the video camera maker is getting into the drones business.
The stock was trading at $56.99, up 7%, on Thursday afternoon. The shares have almost doubled during the last year.
GoPro CEO Nick Woodman announced at the media and technology Code Conference in Rancho Palos Verdes, Calif., on Wednesday that the company is planning to make a "quadcopter," otherwise known as a drone, that will be outfitted with a camera. Woodman said the quadcopter will be focused on consumers and is expected to become available in the first half of next year.
Woodman called it "in some ways the ultimate GoPro accessory" and said the company will work with other manufacturers to provide cameras and software, although GoPro is developing the hardware itself.
The company is also planning to introduce a ball-shaped, six-camera attachment called the Six-Camera Spherical Array that would enable users to record 360-degree videos for virtual-reality purposes. The attachment would reportedly house six Hero4 cameras that shoot various directions simultaneously. The footage captured can then be stitched together to create a virtual-reality video.
Users would be able to view videos with virtual-reality headsets such as the Oculus Rift, Microsoft's (MSFT) - Get Report HoldLens, and Google's (GOOGL) - Get Report Cardboard or with smartphones or PCs via the Kolor app or YouTube 360.
With a mobile device, users will reportedly be able to physically turn to change the camera angle to look in any direction. Or PC users can use a cursor to change the view. The device will use technology developed by virtual-reality production company Kolor, which GoPro acquired in April. Kolor is a start-up that makes products that create panoramas, virtual tours and 360-degree videos.
The new devices are expected to be available in the second half of this year. Pricing has not yet been announced.
Brittany joined TheStreet TV in November 2006 after completing a degree in Journalism and Media Studies at Rutgers College. Previously, Brittany interned at the local ABC affiliate in New York City WABC-TV 7 where she helped research and produce On Your Side, a popular consumer advocacy segment.