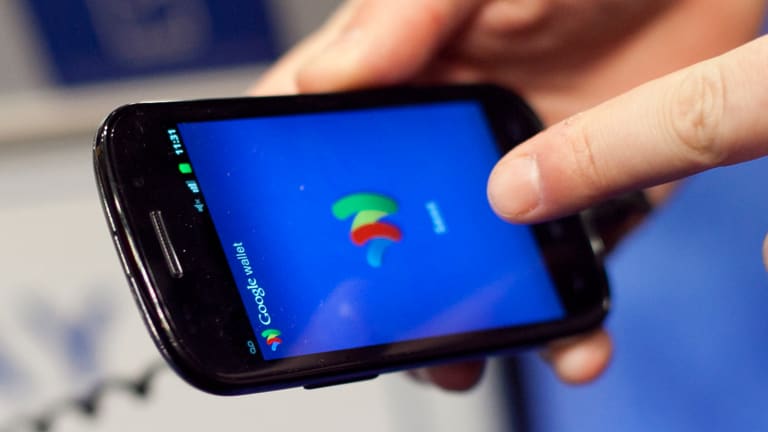 Google's Rumored Wireless Phone Service Sends a Strong Signal
Does Google really need to create its own phone service? Yes.
NEW YORK (Real Money) -- Tech headlines are aflutter this morning on reports that Google (GOOGL) - Get Alphabet Inc. Class A Report may launch its own wireless phone service. Considering the Internet company is continuing to expand its own fiber-optic business and looking to differentiate its Android-powered smartphone business while making it even stickier with consumers, this development is not that big a surprise.
One of the conspiracy theories surrounding Google's fiber business was how it was going to disrupt existing cable business models, like those offered by Comcast (CMCSA) - Get Comcast Corporation Class A Report and Verizon (VZ) - Get Verizon Communications Inc. Report. Given Google's flair for turning existing business models on its head, why would wireless be any different given its investments in Android? Of course, in February, a senior Google executive at the Mobile World Congress in Barcelona said that Google planned to offer its own U.S. cellphone network service in order to improve connectivity on mobile phones.
So if Google does indeed launch its own wireless service, what's going to be different? Ahead of any official word, the chatter points to a few things.
First is the notion that Google wants to charge customers only for the data they use, potentially giving refunds for unused data! Second, Google wouldn't really be building its own network but rather piggybacking off T-Mobile (TMUS) - Get T-Mobile US, Inc. Report and Sprint (S) - Get SENTINELONE, INC. Report. Both of these moves would pit the Google-Sprint-T-Mobile combo against AT&T and Verizon. Remember, Google's fiber business competes in certain markets with AT&T's U-verse and Verizon's FiOS.
We saw this mobile virtual network operator (MVNO) business model spread like wildfire several years ago, mostly thanks to Sprint. When push came to shove, however, competing with one's supplier didn't prove to be a good long-term business model.
Perhaps a better question is this: Does Google need to do this? In my view the answer is a resounding yes, and all you need do is look at the mobile explosion that is about to happen -- the Connected Car, the Connected Home, eHealth, the Internet of Everything and some other buzz phrases that you've probably heard. Much the way the mobile phone magnates of old -- Nokia (NOK) - Get Nokia Oyj Sponsored ADR Report, Motorola and Ericsson (ERIC) - Get Telefonaktiebolaget LM Ericsson Sponsored ADR Class B Report -- had both device and infrastructure businesses, operating a mobile network will shed much light onto the opportunities and pain points these new mobile markets will bring.
Should the rumor indeed become the news, I'd expect it to hit shares of AT&T and Verizon. But beneath the headlines and bluster, we won't know the real impact until we know how many markets and over what time frame said Google service will be deployed.
As always, the devil is in the details.
Editor's Note: This article was originally published at 10:30 a.m. EDT on Real Money on April 22.
This article is commentary by an independent contributor. At the time of publication, the author held no positions in the stocks mentioned.