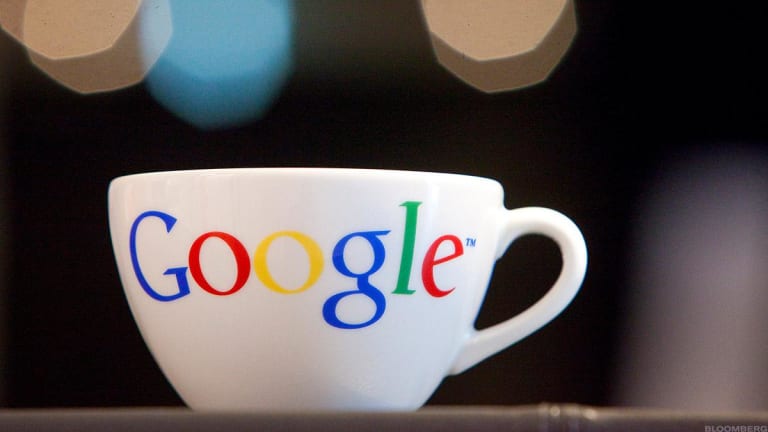 Google Slides in Spite of Topping Estimates: 5 Key Takeaways
Heavy spending led Alphabet's operating profit to fall short of expectations, even as revenue comfortably beat estimates.
As was the case for Amazon.com (AMZN) - Get Free Reportlast week, spending concerns are weighing on Alphabet/Google's (GOOGL) - Get Free Report shares following a revenue and earnings beat.
After the bell on Monday, Alphabet reported Q4 revenue of $39.28 billion (up 22% in dollars and 23% in constant currency and GAAP EPS of $12.77. Excluding traffic acquisition costs (TAC - ad-revenue sharing payments), revenue was $31.84 billion, up 23% and above a $31.3 billion consensus.
EPS, which benefited from a $1.3 billion gain related to a "non-marketable debt security investment," topped a $10.86 consensus. However, Alphabet's operating profit came in at $8.2 billion (up 7%), missing an $8.61 billion consensus.
Alphabet's Class A shares fell 3.1% in after-hours trading to $1,106.00, and its Class C (GOOG) - Get Free Report shares fell 2.8% to $1,101.10. Here are some notable takeaways from the Google parent's report and call.
1. All Three Google Reporting Segments Beat Revenue Estimates
Including TAC, ad revenue from Google's own sites and apps rose 22% to $27 billion, topping a $26.75 billion consensus. CFO Ruth Porat noted mobile search ad growth was once more the largest driver of top-line growth on Google's own properties, with YouTube and (notably) PC search ads also playing roles.
Thanks to mobile search and YouTube, paid ad clicks on Google properties rose a massive 66%, outpacing Q3's 62% growth. This was partly offset by a 29% drop in cost per click (average ad price), the result of smartphone and YouTube ads carrying lower average prices than PC search ads.
The Google Network segment, which covers ads sold on third-party sites, saw revenue grow 13% to $5.61 billion, beating a $5.56 billion consensus. "Google other" revenue, which covers businesses such as hardware sales, Google Play transactions, G Suite subscriptions and the Google Cloud Platform (GCP), saw revenue grow 31% to $6.49 billion, beating a $6.43 billion consensus.
2. R&D and Capital Spending Grew Rapidly
Alphabet's GAAP R&D spend rose 40% to $6.03 billion, a much faster growth rate than Q3's 24%. Porat noted headcount growth played a role -- Alphabet's total headcount rose by over 4,000 sequentially in Q4 to 98,771 -- as did the accrual of compensation expenses related to higher valuations for some of the businesses in Alphabet's "Other Bets" segment. Other Bets, which covers businesses such as Waymo, Google Fiber, the Verily life sciences unit and Alphabet's investment arms, officially posted a $1.33 billion operating loss on revenue of just $154 million.
Meanwhile, Alphabet's accrued capital spending rose to $6.8 billion from $3.8 billion a year ago. Not surprisingly, the spending is said to reflect "investments in office facilities, data centers and servers."
Porat says Google plans to continue growing headcount in "priority areas" in 2019, but expects the growth rate to moderate relative to 2018's 23%. Likewise, capex growth, which was boosted in the first half of 2018 by real estate purchases, is promised to "slow meaningfully," with a greater portion of capex going towards data centers relative to the hardware placed inside of them (this fits with recent comments from Intel (INTC) - Get Free Report , Western Digital (WDC) - Get Free Report and other chip and hardware suppliers).
3. Capex, Hardware and YouTube Content Weighed on Margins
Alphabet's cost of revenue rose 26% to $17.92 billion, outpacing revenue growth of 22%. As was the case in recent quarters, depreciation expenses recorded on recent capex played a role. Porat also indicated strong hardware revenue growth had a margin impact, as did content investments for both YouTube's ad-supported and subscription services. She added Q4 is a seasonally strong quarter for content spend.
4. TAC and Forex Pressures Were Less Than Expected
Though Google's ad revenue was higher than expected, TAC expenses (recorded within cost of revenue) came in at $7.44 billion, up 15% and below a $7.62 billion consensus. TAC equaled 23% of revenue, down from 24% a year ago, thanks largely to an ongoing mix shift towards ad sales on Google properties relative to ad sales on third-party sites and apps.
Porat did caution that TAC will continue to grow (on an annual basis) as a percentage of the revenue that Google gets from its own properties, due to the expenses associated with mobile search ad sales. In September, Goldman Sachs estimated that Google will pay Apple  (AAPL) - Get Free Report $12 billion in search ad revenue-sharing fees in 2019 (up from $9 billion in 2018) to remain the default search engine for the Safari browser and iOS and macOS' search functions.
Separately, though a strong dollar did have a 1-percentage-point impact on Q4 revenue growth, that was less than the 3-point impact that fellow online ad giant Facebook (FB) - Get Free Reportwitnessed in Q4. Google also expects forex to be a headwind in Q1, but isn't saying by how much.
Alphabet, Amazon.com, Apple and Facebook are holdings in Jim Cramer's Action Alerts PLUS member club. Want to be alerted before Jim Cramer buys or sells GOOGL, AMZN, AAPL or FB? Learn more now.
5. A Few Interesting Stats Were Shared on the Earnings Call
CEO Sundar Pichai mentioned that GCP more than doubled the number of $1 million-plus transactions it signed in 2018, and that there are now over 5 million paying clients for the G Suite (formerly Google Apps), up from over 4 million a year ago.
He also noted that YouTube now has nearly 2 billion monthly logged-in users (that compares with 1.8 billion as of last May), and that the number of YouTube channels with over a million subscribers nearly doubled last year. The number of YouTube creators earning five or six figures is said to have grown by nearly 40%.
The number of shopping daily active users (DAUs) on Google.com are said to have doubled during the 2018 holiday season relative to the 2017 holidays, and more than 20,000 merchants are now using Google's Smart Shopping campaigns solution, which launched last April and uses machine learning to automate the process of launching e-commerce ad campaigns.
At the same time, while Google is occasionally making some notable disclosures about these businesses, it still isn't breaking out its YouTube, cloud or hardware revenue. A year ago, Pichai disclosed that Google's total quarterly cloud revenue (GCP plus the G Suite) had topped $1 billion.
TheStreet's Eric Jhonsa previously covered Alphabet's earnings report and call through a live blog.