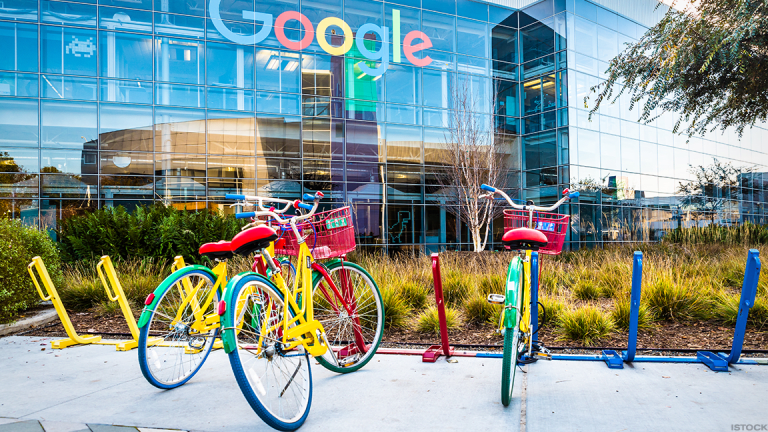 Google's New Cloud Moves Play to Key Strengths and Address One Big Weakness
At its annual cloud conference, Google has strengthened its reputation for being a friend to open-source and cloud developers. It has also promised to overhaul its enterprise sales efforts.
A revamped sales strategy and a slew of new offerings could help Alphabet/Google's (GOOGL) - Get Free Report cloud unit make some headway in its fight to gain ground against Amazon.com (AMZN) - Get Free Report and Microsoft (MSFT) - Get Free Report .
Where Google's Cloud Stands Today
Though seen as a top-3 public cloud services provider along with Amazon Web Services (AWS) and Microsoft Azure, the Google Cloud Platform's (GCP) market share is believed to easily be the smallest of the group. Research firm Canalys estimates Google had 8.5% of the 2018 market for cloud infrastructure (IaaS) services -- Amazon was estimated to have a 31.7% share, and Microsoft a 16.8% share. Synergy Research, which shares quarterly market share estimates, assigns Google a slightly lower market share than Canalys.
And in a recent survey of 786 technical pros, software firm RightScale found that only 19% of respondents said they use GCP, compared with 61% who said they use AWS and 52% who said they use Azure. On the bright side, in what's perhaps another sign of how GCP is well-respected by many of whose who don't use it, another 36% of respondents said they're either experimenting with GCP or planning to use it.
Over the years, GCP has earned a reputation for having superb offerings in a handful of areas -- notable examples include machine learning services that let developers take advantage of Google's AI-related investments in areas such as data analytics, photo and video analysis and language-translation, and solutions for big data/analytics projects such as the company's BigQuery data warehouse service. These services have made led many companies heavily relying on AWS and/or Azure to view GCP as a useful complement.
In addition, GCP's strong support for popular open-source software tools has helped it win over some cloud developers, and the platform's ability to leverage the same infrastructure Google uses to support its biggest consumer services has provided some performance and cost benefits.
At the same time, GCP's end-to-end feature set and ecosystem of software and professional services partners still aren't seen as being at the same level as AWS' and (to a somewhat lesser extent) Azure's. And in an enterprise IT world where having the best products and services often doesn't mean much if sales and support are lacking, Google's sales reach and execution have been criticized.
Google's Latest Cloud Moves
During this week's Google Cloud Next conference, new Google cloud chief Thomas Kurian has been going out of his way to insist that Google is now more serious about doing enterprise sales right. Kurian, who joined Google last fall from Oracle  (ORCL) - Get Free Report after having a falling out with Larry Ellison, predicts that while Google's cloud sales team is currently about one-tenth to one-fifteenth as large as AWS and Azure's, it will be more like half as large a couple years from now.
Kurian also promises more simplified pricing, and has highlighted efforts to get rid of pain points in the sales process. For example, the fact that providing a discount to a client has required a salesperson to get approval from numerous managers, as well as the signing of non-disclosure agreements.
Meanwhile, Google has -- with the help of some big-name partners -- used Cloud Next to unveil a number of new services that should collectively appeal to cloud developers and improve its sales pitch to CIOs.
Perhaps the biggest of these offerings is Anthos, a platform for deploying and managing apps in hybrid cloud environments that encompass both a public cloud infrastructure and a company's on-premise infrastructure. Without getting too technical, Anthos, which has its roots in a platform that Google had unveiled last year, leverages popular open-source software tools used to deploy and manage cloud apps, and also makes use of Google services that assist with managing a hybrid cloud environment and automating tasks.
Notably, though Google hasn't shared much yet about how such functionality will extend to various proprietary services provided by Amazon and Microsoft's clouds, the company says Anthos can be used to manage workloads on AWS and Azure in addition to GCP. It has also announced that Anthos has the support of IT hardware giants such as Dell Technologies (DELL) - Get Free Report , HP Enterprise (HPE) - Get Free Report and Cisco Systems (CSCO) - Get Free Report , as well as that of Intel (INTC) - Get Free Report and numerous software and IT services providers.
Microsoft, aided by solutions launched with server OEMs as well as efforts to integrate Azure with its on-premise server software, has made hybrid cloud support a key competitive strength for Azure. And though Amazon has been relatively late to the game here, the company has seen some traction for a hybrid cloud partnership launched with VMware (VMW) - Get Free Report and is five months removed from unveiling AWS Outposts, a solution for deploying AWS services within enterprise data centers that's fully managed by Amazon. With Anthos, Google now also has a unique hybrid cloud sales pitch to make.
In addition to Anthos, Google -- clearly well-aware of how many open-source software firms are displeased with AWS' use of their work to launch its own services -- has announced cloud partnerships with several popular open-source developers, including database software provider MongoDB (MDB) - Get Free Report and search/analytics software firm Elastic (ESTC) - Get Free Report . Among other things, Google says it will launch managed cloud services in tandem with these developers, as well as make it possible for companies to get a single bill from Google that includes the partners' services.
Google also revamped its offerings for the fast-growing field of serverless computing -- contrary to its name, serverless requires the use of servers, but it does let companies avoid having to provision and manage individual server virtual machines -- by launching a solution called Cloud Run. The company argues Cloud Run enables its serverless platform to provide more software flexibility than rival serverless offerings, and also makes it easier to port apps to a different environment.
The Big Picture
Google's latest moves don't guarantee major share gains against Amazon and Microsoft -- particularly not when Amazon and Microsoft both keep rapidly launching new cloud offerings as well. But they do put Google on better footing to sell to Global 2000-type companies, and also bolster its status as a developer-friendly platform with strong support for open-source tools.
And at a time when all of the big-3 cloud providers continue gaining share against smaller players that possess less scale, provide fewer services and have much smaller ecosystems (here's looking at you, Oracle), Google's moves should at least help it put more distance between itself and various smaller rivals.
Alphabet, Amazon.com, Microsoft and Cisco Systems are holdings in Jim Cramer's Action Alerts PLUS member club. Want to be alerted before Jim Cramer buys or sells GOOGL, AMZN, MSFT or CSCO? Learn more now.