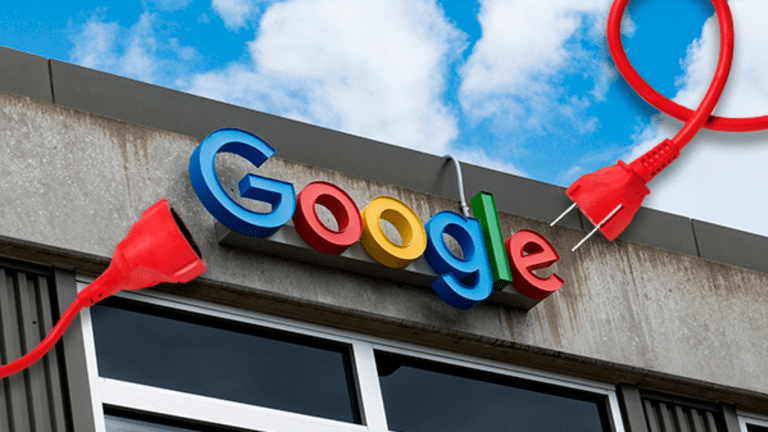 Google's Alliances With Big Mobile Carriers Could Spell Trouble for Cisco, Juniper and Others
The search giant wants to help carriers adopt technologies that make it easier to replace proprietary hardware with commodity servers and switches.
This column originally appeared at 10:31 pm EST Thursday on Real Money, our premium site for active traders. Click here to get great columns like this from Jim Cramer and other writers even earlier in the trading day.
For over a decade, Alphabet/Google (GOOGL) - Get Alphabet Inc. Class A Report has been at the vanguard when it comes to designing its own data center hardware using off-the-shelf components, rather than buying more expensive (and often proprietary) gear from established enterprise IT and telecom equipment giants.
That makes Google's efforts to share its networking know-how with major mobile carriers something that investors in major data center and telecom equipment suppliers, such as Cisco Systems (CSCO) - Get Cisco Systems, Inc. Report, Nokia (NOK) - Get Nokia Oyj Sponsored ADR Report and Juniper Networks (JNPR) - Get Juniper Networks, Inc. (JNPR) Report, should keep an eye on. Especially since Google seems to be prodding the carriers in a direction that some of them have already been moving in.
On Wednesday, Google announced it's teaming with major Indian carrier Bharti Airtel, top South Korean carrier SK Telecom and others to build "a platform for operators to run their network services." Importantly, the platform will make use of (among other things) software-defined networking (SDN) and network functions virtualization (NFV), two still-young technology concepts that Google has made heavy use of in its own infrastructure.
An SDN platform such as VMware's (VMW) - Get VMware, Inc. Class A ReportNSX shifts networking intelligence from switches to software-based controllers that set policies on network traffic flows. And decisions on where to send traffic on a network is shifted from actual switches to "virtual switches" embedded in server virtualization software, with the former simply forwarding traffic as directed by the latter.
Some of the benefits of this approach: Networks become easier to manage, resources become easier to provision for applications and services relying on a network, apps can be moved around a network without much hassle, IT admins can set policies that automate how different types of traffic flow through a network and advanced security techniques such as micro-segmentation can be attached to app workloads.
Another potential benefit: Since network intelligence is shifted to a controller, and physical switches are just forwarding traffic, there's less of an incentive to have all of a network's switches to come from one vendor whose systems can be trusted to play nice with each other. And there's certainly less need for these switches to consist of costlier, proprietary gear--the kind that Cisco sells many of--that feature specialized chips (ASICs) optimized to handle various advanced networking tasks. Commodity switches based on off-the-shelf chips from the likes of Intel (INTC) - Get Intel Corporation (INTC) Report and Broadcomundefined can often get the job done.
NFV, meanwhile, involves using software running on commodity servers to handle functions that service providers have historically used dedicated appliances to take care of. That can both lower costs and allow a service provider to launch and scale its services more quickly. Various SDN features can make it easier to deploy NFV, and vice versa, but neither technology is needed to adopt the other.
Google's main incentive for getting carriers to adopt its networking best practices is pretty simple: The company is obsessed with optimizing the performance and reliability of the various services--search, Maps, Gmail, YouTube, etc.--it delivers to consumers via wireline and mobile networks. And with mobile devices now producing over half of all search traffic and YouTube views, the financial incentive to improve mobile performance and reliability in particular is stronger than ever.
Google also suggests its work will augment existing efforts to develop programming interfaces (APIs) that let carriers offer services such as YouTube's Smart Offline--it lets phones in India automatically download video clips at times when data rates are cheaper. It could also create some goodwill as the company tries to sell its Pixel phones, deploy content caches and do much else in partnership with carriers.
It's worth noting some big carriers are already embracing SDN and/or NFV. AT&T (T) - Get AT&T Inc. Reportclaims SDN was used on 34% on its network as of the end of 2016, and (through its Domain 2.0 initiative) aims to virtualize 75% of its network functions by 2020. Verizon (VZ) - Get Verizon Communications Inc. Report has been launching new enterprise services with the help of SDN/NFV, and Telefonica (TEF) - Get Telefonica SA Sponsored ADR Reporthas partnered with Ericsson (ERIC) - Get Telefonaktiebolaget LM Ericsson Sponsored ADR Class B Reporton its ambitious UNICA NFV initiative.
VMware, for its part, recently reported NSX is on a $1 billion bookings run rate, as demand swells among both enterprises and service providers. Nicira, the VMware-acquired SDN startup whose software formed the basis of NSX, was believed to count Google as a client.
Those arguing major networking/telecom hardware suppliers can weather the threat often point that many types of hardware are difficult, if not impossible, to replace with commodity gear due to their performance and engineering needs. Base stations fit this description, as do high-end carrier routers. For this reason, NFV is focused on replacing things such as security, load balancing and broadband gateway appliances.
And as Ericsson's alliance with Telefonica shows, many equipment giants are making an effort to profit from SDN/NFV adoption. Cisco has seen a measure of uptake within its installed base for its ACI SDN platform, which works with Cisco switches and software. And Nokia offers a number of tools for carriers looking to deploy NFV.
But ultimately, a world where many proprietary data center switches and carrier networking appliances can be easily swapped out with commodity hardware is going to spell more intense competition and margin pressure in a slew of big markets. And Google's latest move certainly won't help matters.
Action Alerts PLUS, which Cramer manages as a charitable trust, is long GOOGL and CSCO.