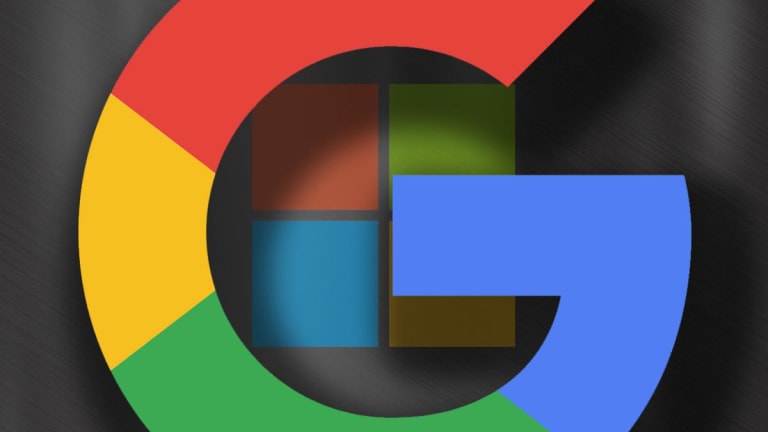 Google Reports Earnings on Monday: 6 Important Things to Watch
Ad sales trends, the growth of non-advertising businesses and stock buybacks are among the things to watch as Google reports.
Three months ago, Alphabet (GOOGL) - Get Alphabet Inc. Class A Report soared after it soundly beat Q2 estimates and made a host of other encouraging disclosures.
Investors are doubtlessly hoping for an encore performance when the Google parent, whose shares are up 22% on the year and once more within striking distance of their April highs, reports on Monday.
Excluding traffic acquisition costs (TAC - ad revenue-sharing payments to parents), Alphabet is expected on average by analysts polled by FactSet to post Q3 revenue of $33.07 billion (up 22% annually) and GAAP EPS of $12.32 (up 4% excluding a year-ago accounting gain). Inclusive of TAC, Alphabet's Q3 revenue consensus stands at $40.31 billion (up 20%).
TheStreet will be live-blogging Alphabet's Q3 report after the bell on Monday, along with an earnings call that's set for 5:00 P.M. Eastern Time. Please check our home page after the close to join in. 
Here are a few top things to keep an eye on:
1. Ad Sales Trends for Google Websites and Apps
Mobile search and YouTube ads have been Google's biggest revenue growth drivers for some time, and it's unlikely that Q3 was any different. Including TAC, revenue on Google properties, the lion's share of which is believed to come from search and YouTube, is expected to be up 18% to $28.4 billion.
Mobile search and YouTube have been driving strong paid ad click for Google properties, while also driving sizable declines in its cost per click (CPC), or average ad price. But both of these trends eased in Q2. Paid click growth slowed to 28% from a Q1 level of 39%, but Google's CPC decline narrowed to 11% from a Q1 level of 19%.
2. The 'Google Other' Segment's Performance
The Google Other segment, which cover non-advertising businesses such as hardware sales, Google Play transactions and cloud app and services revenue, has been gradually growing as a percentage of Google's total revenue. In Q2, Google Other revenue rose 40% to $6.18 billion. For Q3, the consensus is for Google Other revenue to be up 37% to $6.35 billion.
Also keep an eye out for any disclosures made about the performance of individual businesses within the Google Other segment. On the Q2 earnings call, CEO Sundar Pichai disclosed that Google's total "cloud revenue," which covers both G Suite app subscriptions and the Google Cloud Platform (GCP), is now on an $8 billion-plus annual revenue run rate, twice what it was at in Q4 2017.
Alphabet is a holding in Jim Cramer's Action Alerts PLUS member club. Want to be alerted before Jim Cramer buys or sells GOOGL? Learn more now.
3. TAC and 'Other Cost of Revenue'
Slowing TAC growth has been a tailwind in recent quarters. In Q2, TAC grew 13%, less than total Google ad revenue growth of 16%. For Q3, the consensus is for TAC to grow 14% to $7.48 billion.
On the flip side, Google's "other cost of revenue," which includes hardware production costs, content costs and (most of all) depreciation expenses related to capital spending, has been outgrowing revenue. In Q2, "other cost of revenue" was up 35% to $10.1 billion.
4. Capital Spending
On the Q2 call, CFO Ruth Porat disclosed that Alphabet's accrued capital spending totaled $6.9 billion during Q2, up from $5.3 billion a year ago. She also provided a little more color about where Alphabet's capex was directed than in the past -- Porat mentioned that Q2 saw a 60/40 split between capital spending related to office facility purchases and spending on "technical infrastructure" such as data centers and the hardware going inside of them.
Porat also reiterated that Alphabet's capex is expected to grow in 2019, but at a much slower pace than it did in 2018, and with a greater portion of its "technical infrastructure" spending tied to data center construction relative to servers. Notably, on its recent Q3 earnings call, Intel (INTC) - Get Intel Corporation Report , which counts Google and other tech giants among its biggest server CPU clients, indicated that cloud hardware capex was starting to pick up after an early-2019 slowdown.
5. The 'Other Bets' Segment's Losses
This segment, which among other things includes Waymo, Google Fiber, the Verily life sciences business and Alphabet's investment arms, is still producing substantial losses. In Q2, the Other Bets segment posted an operating loss of $989 million (up from $732 million a year earlier) on revenue of $162 million (up 12%).
For Q3, the consensus is for Other Bets to have an operating loss of $847 million (up from $727 million) on revenue of $168 million (up 15%).
6. Stock Buybacks
While Alphabet hasn't historically been a major buyer of its own stock (at least not relative to its size), the company is three months removed from adding $25 billion to its buyback authorization.
Alphabet can easily finance major stock buybacks if it wishes: The company is expected to produce close to $30 billion in free cash flow this year, and it ended Q2 with $117 billion in net cash (cash minus debt).