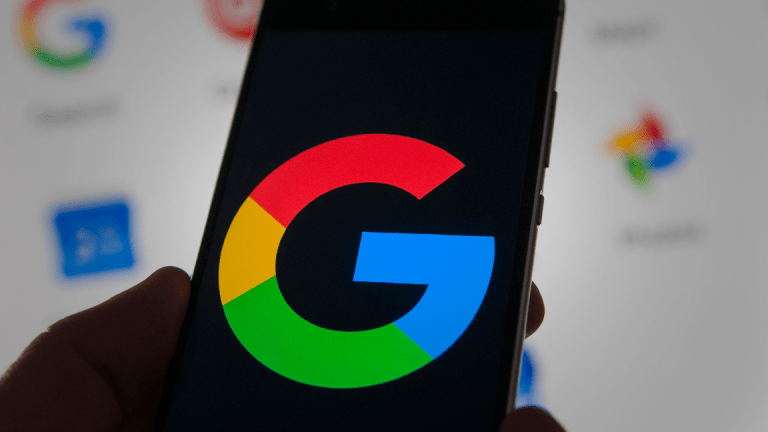 Alphabet Reports Earnings on Monday: 5 Things to Watch
Search trends, Waymo commentary and cloud momentum are among the things to keep an eye on as Alphabet reports.
There isn't much reason to expect a ton of drama from Alphabet/Google's (GOOGL) upcoming earnings report.
However, the web giant's report and earnings call should help answer an important question or two about its largest business, and maybe provide some useful details about how smaller ones are progressing.
TheStreet will be live blogging Alphabet's earnings report and call after the close on Monday. Please check our home page then for more details.
Google's Q2 report arrives after the close on Monday, and its call will start at 4:30 P.M. Eastern Time. Excluding traffic acquisition costs (TAC - ad revenue-sharing payments made to partners), the analyst consensus is for revenue of $25.58 billion (up 22% annually) and GAAP EPS of $9.66.
Shares are going into earnings close to a recently-set high of $1,204.50. Here are a few things for investors to keep an eye on as Google reports:
1. Search Ad Trends
Though getting much less media hype than some of its other businesses, search is still easily Alphabet's largest profit-creator. And that profit engine has been growing at a healthy clip: Mobile search ad growth was the biggest reason why ad revenue on Google's own sites and apps (TAC included) rose 26% in Q1 to $22 billion. A 59% increase in paid ad clicks more than offset a 19% drop in cost per click (ad price).
Q2 was likely another good quarter for search, given both its immense popularity as an advertising channel and the payoff Google is seeing from its various moves to make search ads more effective (mobile-friendly ads, new targeting and measurement tools, using machine learning to optimize ad campaigns). However, given how strong paid click growth was in Q1, a slight slowdown wouldn't be that surprising.
2. TAC Trends and the EU Ruling's Impact
TAC growth has been weighing on Google's bottom line, and this probably didn't change in Q2. In Q1, TAC payments equaled 24% of Google's ad revenue, up from 22% a year earlier. A revised search ad revenue-sharing deal with Apple (AAPL) -- Google gives Apple a revenue cut in exchange for being the default search engine for the Safari browser and iOS's core search feature -- is believed to be taking a toll.
Going forward, the adverse ruling Google just got from EU regulators over the bundling of Google Search and Google Chrome with its version of Android -- phone makers have to pre-install Search and Chrome if they want access to the Play Store -- might also lead TAC to rise, since it could give Android OEMs the leverage to demand higher payments in exchange for bundling Search and Chrome. Look for Google to get some questions about the EU ruling's impact on its earnings call.
3. GCP and G Suite Momentum
Though still only the #3 public cloud platform behind Microsoft Azure and 800-pound gorilla Amazon Web Services (AWS), the Google Cloud Platform (GCP) is believed to be gaining share with the help of some blue-chip customer wins. Likewise, though not in the same league as Microsoft's (MSFT) Office 365, the G Suite (formerly Google Apps) has been growing its enterprise footprint. And it was only a few days ago that Facebook (FB) was recently reported to be mulling a switch from Microsoft to Google, in response to employee discontent with Office 365.
Alphabet, Apple, Microsoft and Facebook are holdings in Jim Cramer's Action Alerts PLUS member club. Want to be alerted before Jim Cramer buys or sells GOOGL, AAPL, MSFT or FB? Learn more now.
Though Google doesn't break out its GCP and G Suite revenue -- it's grouped into the company's "Google Other" reporting segment, which also covers Play Store and hardware revenue -- it might share some details about their progress on the Q2 call. CEO Sundar Pichai disclosed on the Q4 call that GCP and G Suite are now producing over $1 billion in quarterly revenue between them, and stated on the Q1 call that G Suite growth had accelerated.
4. The Impact of the Dollar's Rally
In Q1, currency swings provided a 3-percentage-point boost to revenue growth. Google likely got less of a boost in Q2, given that the dollar has rallied against the pound, the euro and plenty of other currencies since April. And if the outlooks recently given by some tech firms are any sign, forex could turn into a headwind during the second half of the year.
That said, Google has historically done a good job of using currency hedging programs to limit the damage caused by unfavorable forex moves. And the company still gets about 45% of its revenue from the U.S.
5. Waymo Commentary
Following many years of being viewed as a giant R&D project, Waymo is on the verge of becoming a real business. Alphabet's self-driving unit has begun giving rides to consumers along designated roads in the Phoenix area, and aims to launch a commercial driverless taxi service by year's end.
While a taxi service launch will allow Waymo, part of Alphabet's "Other Bets" reporting segment, to finally start producing revenue, it also stands to boost its spending: Waymo has inked a deal with Fiat Chrysler (FCAU) to buy and retrofit up to 62,000 Chrysler Pacifica minivans, and also has a deal with Jaguar Land Rover to buy and retrofit up to 20,000 I-Pace electric SUVs. Pichai and/or CFO Ruth Porat could offer some comments on the call about how they see Waymo's expenses trending.
This column originally appeared on Real Money, our premium site for active traders. Click here to get more great columns like this.