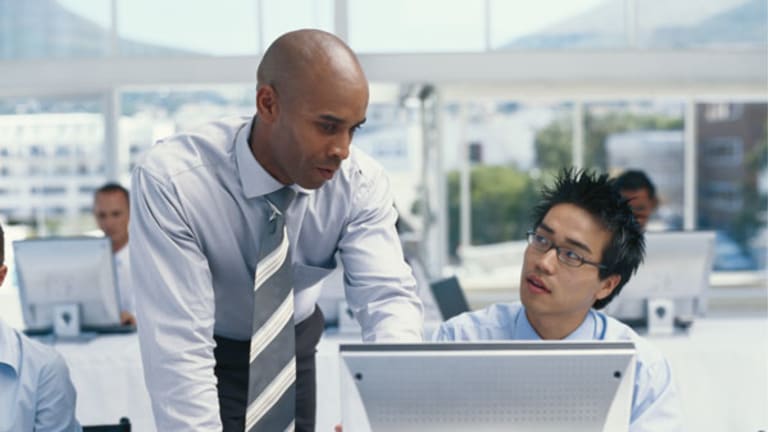 Google Not the Boss of eBay
The auction giant finds that it's getting by with very little help from its 'friend' Google.
Even if companies ranging from software giant
Microsoft
(MSFT) - Get Report
to old media's
Viacom
(VIA) - Get Report
are terrified of
Google
(GOOG) - Get Report
,
eBay
(EBAY) - Get Report
isn't.
The online auctioneer seems to have a way of getting the upper hand in skirmishes with the search giant.
The latest demonstration of this should render eBay investors more confident, because it eases fears that the company will eventually fall victim to Google's growing ambitions.
Google's recent heavy-handed
attempt to poach eBay users, however, seems to have backfired, with eBay deciding to pull its ads from Google in response.
And though Google quickly backed off and eBay resumed spending, the move also showed that the auction giant can get by just fine without Google.
Traffic to eBay didn't drop in the midst of the Google suspension, the company says. That spurred it to pull back from buying so many ads.
"We are using Google's ads at a much more limited level than we had before," eBay spokesman Hani Durzi said. "We found out we were not as dependent as many may have thought."
That runs counter to much of the conventional wisdom surrounding Google, says American Technology Research analyst Tim Boyd. "Who knew eBay had that kind of power over Google," he says.
"Everybody thought you needed Google, that if you try to go without them you will lose market share and not survive," Boyd says.
| | |
| --- | --- |
| Want more? Check out TheStreet.com TV video. Vishesh Kumar discusses why eBay might not need Google after all. | |
Curbing Ad Enthusiasm
For starters, eBay tends to rank highly in Google's search results as is, thereby curbing the need to advertise on the search engine, says Durzi. Google rivals such as
Yahoo!
(YHOO)
, Microsoft and
Time Warner's
(TWX)
AOL were also more than willing to step up and help eBay garner more traffic.
That's good news for eBay, because a showdown with Google is inevitable. With its auction business sagging and its Skype Internet telephony service still too young to really move the bottom line, eBay is now counting on its PayPal service to be its growth engine.
But the
Checkout service Google launched in 2006 to much fanfare competes directly with PayPal, which it was widely expected to sideline.
"PayPal has been undervalued since the first rumors that Google was going to launch Checkout," says Boyd. Still, despite aggressive pushing by Google,
PayPal has trounced Checkout thus far.
Google also has bigger e-commerce ambitions. The company recently stepped up its Product Search, which allows users to look for items, and tied it in closer to its main search engine.
For eBay, continuing to be the largest customer of a company that was increasingly becoming a bigger rival makes little sense. And eBay management's ability to sidestep Google's advances by focusing on the quality of the three products it has -- compared with the hundred or so that Google is developing -- should be commended.
All of which means that eBay, which has constantly defied critics by standing its ground in the face of Google as few can, warrants a closer look by investors.
Trading at 20 times forward earnings and with a
price-to-earnings to growth (PEG) ratio of 1.12, the company is among the most cheaply valued of the big Internet names. It closed Wednesday's regular session up 44 cents to $32.08; Google shares lost $3.97 to $526.29.
Boyd points out that the company may also get a bad rap because headlines frequently mention the company's lackluster seller listings number. But since the company has been striving for fewer, higher-quality listings -- which in turn have a greater chance of actually delivering a transaction -- focusing on listings numbers may be misguided.
"Part of the reason why the stock is weak is because of all the negative headlines," Boyd says.
But Boyd, who has a $43 price target on eBay, is expecting the company to deliver a strong second quarter and issue bullish guidance when it reports in mid-July.
Of course, eBay has its fair share of problems -- the foremost being finding new ways to reignite growth in its 12-year-old core business. But the company's other assets may not get their fair due because of that malaise.
For all of eBay's headaches, being held captive by a juggernaut that's increasingly encroaching on its turf does seems to be off the list for now.