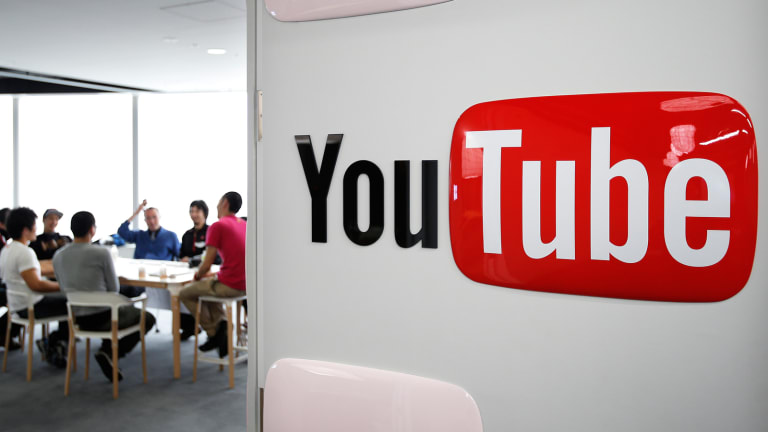 Google Is Betting YouTube Will Make You Want to Buy Things
Google is debuting a new feature to shorten your path to purchasing a product you see advertised on YouTube, by linking the ads straight to sales websites.
 NEW YORK (TheStreet) -- Google (GOOG) - Get Free Report wants viewers to buy more stuff. Through YouTube.
The search giant announced a new feature to shorten the path to purchasing a product you see advertised on YouTube. It displays product prices (and details) via a small panel and, if users click a link, redirects them to a shopping site.
The feature is designed to capitalize on "micro-moments" -- those brief "I want to know about something" instants that, in the modern world, usually lead to a quick Google search for an answer. By giving its viewers more information and a link, Google expects they might be more liable to go ahead and buy the product they were interested in right then.
It's an addition to the Mountain View, Calif.-based company's previous upgrade to its video advertising. Last month, it introduced interactive cards to ads on its TrueView platform that enable advertisers to add more information to their commercials. Those cards are where the links to shopping sites will now be found.
According to Ad Age, the search behemoth's move is a bid to increase its share of direct-response digital advertising, a category that garnered 59.1% of the $50.11 billion digital ad spend in the last year. Google reported declining rates for its search advertising category during its earnings call last month.  
"This [initiative] will definitely move the needle [for YouTube]," says Pieter Mees, CEO of Zentrick, which produces interactive elements for online video ads.
According to Mees, the success of these experiments depends on multiple factors, such as level of customization of ads and the visual execution. For example, the Call-to-Action or CTA (the screen element that exhorts the viewer to action, such as a click) for interactive cards in YouTube is located on the upper-righthand side of the screen. But Mees says that his company's experiments with CTAs find they get better results when the interactive element is in front of the viewer's eyeballs.
But adding interactive elements improves returns by "orders of magnitude," he said. While Google reported that the new ads have so far delivered three times more revenue than standard TrueView ads, Mees says his firm's similar experiments have resulted in ads that delivered five to 10 times better results. He added that the highest performance came from videos embedded on the brand's own online properties (as opposed to third-party platforms, such as YouTube).
Adding interactive elements may also mean increased rates for YouTube ads. "Most likely, they might be able to charge higher rates [for YouTube ads]," says Mees. The discrepancy in rates between YouTube and Google's search platform is a result of the difference in contexts for advertising. Search-based advertising is more effective because it works off a user's intent (expressed through the search term). On the other hand, YouTube advertising is similar to television advertising in that both are forms of blanket advertising, where the viewer's intent is not known.
If they are successful, both the interactive cards and shopping ads will boost YouTube's video advertising footprint in an increasingly crowded field. Google faces heated competition in this arena from Facebook (FB) - Get Free Report, which has unrolled video initiatives of its own, as well as Verizon (VZ) - Get Free Report, which is buying AOL (AOL) , a major player in the online video advertising industry.
This article is commentary by an independent contributor. At the time of publication, the author held no positions in the stocks mentioned.