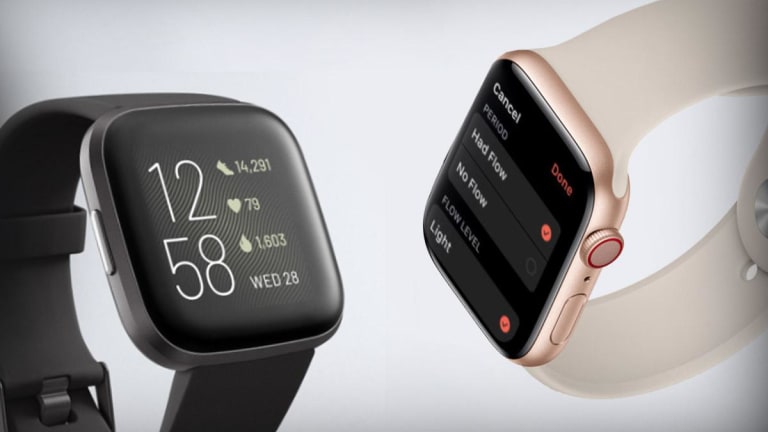 How Google's Fitbit Acquisition Could Measure Up Against the Apple Watch
Alphabet's acquisition of Fitbit will bring a portfolio of 28 million active devices, but the synergies with its core search and advertising business aren't immediately clear.
Alphabet's acquisition of Fitbit will bring a portfolio of 28 million active devices, but the synergies with its core search and advertising business aren't immediately clear.
With its buyout of Fitbit, Alphabet is aiming to challenge Apple's dominance in wearables.
The Google parent is set to acquire Fitbit for $2.1 billion in a deal that, when complete, will instantly boost Alphabet's presence in the growing wearables market with a well-known name and early leader in fitness tracking. Fitbit (FIT) - Get Report shares are up 14% since the deal was announced on Oct. 31, while Alphabet's (GOOGL) - Get Report are up roughly 3%. 
The acquisition is an obvious boon to Fitbit, which in recent years has struggled to sustain its footing amid the growing popularity of Apple Watch. Apple Watch is the market leader in wearables at roughly 30% market share, and is projected to sell more than 30 million smart watches in 2020. In the third quarter, Apple (AAPL) - Get Report reported 54% growth in its wearables business, which includes Apple Watch and Air Pods. 
"We've seen what Apple has been able to accomplish with their own wearables business and how popular the Apple Watch has become," said Zev Fima, analyst with Jim Cramer's Action Alerts Plus portfolio. "While Alphabet has a ways to go on the hardware side of things, I think this move provides them a strong base from which to further accelerate the growth in hardware and more importantly, wearables, which provides a meaningful offset to a mature smartphone market that Alphabet has only recently entered with hardware of its own."
Alphabet's has a spotty track record in hardware, with a handful of acquired and internally developed products, such as Nest, Motorola and Google Glass, widely viewed as failures. The Fitbit deal gives Alphabet access to a product line with strong name recognition with respectable market penetration: There are 28 million active Fitbit devices today, Fitbit reported in October, and its portfolio includes a range of devices at various price points.
"Google choosing to throw its hat in the ring is a strategic move that, if it's successful in having Fitbit meet or surpass Apple Watch capabilities, will raise the company's stature and establish it is a serious force to be reckoned with -- one that Apple, Amazon and the like will not be able to ignore," added Michael Abrams of the global healthcare consulting firm Numerof & Associates.
Several tech giants are staking out positions in the fast-growing marketplace for health technology. Apple was on track for a "perfect, almost uninterrupted takeover" of health-oriented wearables, Abrams added, while Amazon (AMZN) - Get Report has made inroads into prescription delivery, health clinics and delivering health information through Alexa. Alphabet doesn't have a clear position in consumer-facing health products -- despite a couple of software products, such as its Google Fit app -- but has made significant investments in health technology through Verily, its life sciences division, and other "moonshot" initiatives. 
In a blog post announcing the Fitbit deal, Google SVP of devices and services Rick Osterloh said that the goal of the acquisition is to "spur innovation in wearables and build products to benefit even more people around the world," by bringing together AI, software and hardware. He also specified that Fitbit data will not be used to sell ads and that users will be able to review, move or delete their health data -- though, with Google facing an antitrust investigation and questions into its privacy practices, the deal raised eyebrows in the press and among regulators. 
The Fitbit deal likely won't mean a ton for Alphabet's bottom line, at least in the near future. The $2.1 billion deal is a "drop in the bucket" for cash-rich Alphabet, Fima noted, which has $121 billion in net cash on its balance sheet. And the synergies with Alphabet's core search and advertising business, which makes up the vast majority of its overall revenue, aren't immediately obvious. 
Nonetheless, wearables is a "good place for them to be putting some of their massive cash pile to work," said Fima. Alphabet's stock isn't looking like the growth play it once was, with revenue in search and advertising business decelerating this year and shares tracking, not exceeding, the S&P 500 index year to date at 22% growth. And, as RBC Capital Markets' Mark Mahaney pointed out in a recent note on the Fitbit deal, the wearables category is an attractive market opportunity. Wearables present an opportunity to deliver personalized Internet services, which is one area Google may excel at given its prowess in collecting and synthesizing user data. 
"Though I don't think this alone is a reason to buy shares, I'm very excited to see what Alphabet does with this and believe that the increased competition for Apple will keep both companies innovating at the highest levels to the ultimate benefit of the consumer," Fima added. 
Google, Amazon and Apple are holdings in Jim Cramer'sAction Alerts PLUS Charitable Trust Portfolio. Want to be alerted before Cramer buys or sells these stocks? Learn more now.