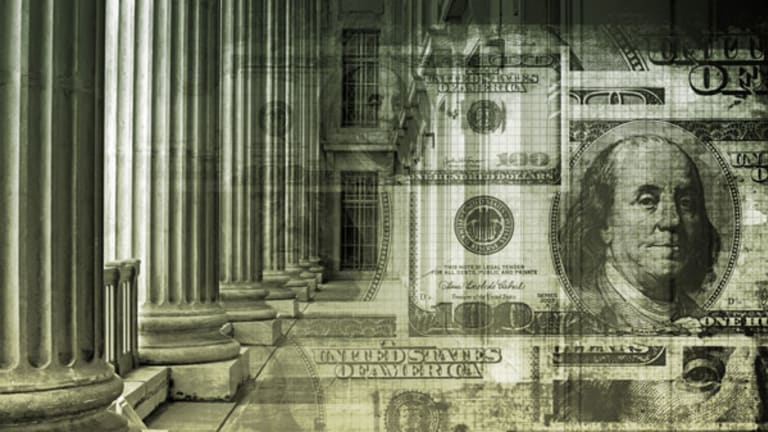 Google, Amazon, Pandora Seen With Potential for Upside Surprises in 2015
RBC Capital analyst kept outperform ratings on Google, Amazon and Pandora shares.
NEW YORK (TheStreet) -- Google (GOOGL) - Get Alphabet Inc. Class A Report , (GOOG) - Get Alphabet Inc. Class C Report , Amazon (AMZN) - Get Amazon.com, Inc. Report , Twitter (TWTR) - Get Twitter, Inc. Report and Pandora (P) are among the Internet companies that could have positive surprises in 2015, RBC Capital wrote in a note to investors today. There is a 30% or greater probability of these positive surprises occurring, according to the firm, which believes that the stocks should rise significantly if these events do occur.
WHAT'S NEW: Pandora could make a deal with music labels that would enable the Internet radio company to pay "reasonable" royalties for songs, RBC Capital analyst Mark Mahaney wrote in a note to investors. Such a deal would be a positive catalyst for Pandora's stock, since uncertainty over the royalty rates has been a major overhang on the shares, the analyst stated. Google could begin to return cash to shareholders, wrote Mahaney, who estimated that the search giant could have over $80B in cash and marketable securities at the end of next year. That's not much less than the roughly $100B that Apple (AAPL) - Get Apple Inc. Report had when it announced that it would pay a dividend, the analyst wrote. Google does pay attention to Apple's actions, Mahaney contended. Amazon's profit margins could start to rebound and its revenue growth could increase, Mahaney predicted. Among the factors that could boost Amazon's results are stronger demand for its offerings by consumers, driven by faster shipping times and its continued expansion into new types of products including apparel, Mahaney stated. Twitter's monthly average user growth could accelerate and it could gain traction with advertisers, Mahaney predicted. User interface improvements at the company could boost its popularity, the analyst explained.
WHAT'S NOTABLE: The analyst kept Outperform ratings on Google, Amazon and Pandora shares. He kept a Sector Perform rating on Twitter.
PRICE ACTION: In mid-morning trading, Pandora was little changed at $18.15, Google Class A shares were little changed at $541.50, Amazon rose 1.4% to $313.29, and Twitter fell 1.4% to $37.07.
Reporting by Larry Ramer.
The Fly
provides comprehensive coverage of stock news and Street research and delivers it in real-time. The Fly breaks market-moving news and explains sudden stock movements in a rapid-fire, short-form story format. Follow @theflynews on Twitter. For a free trial, click