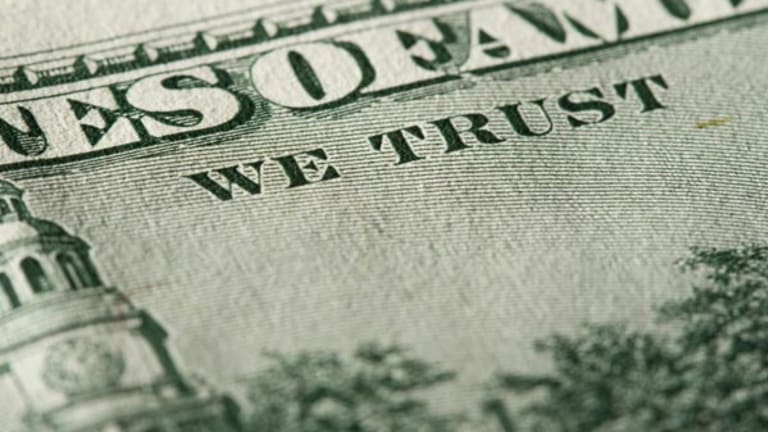 Goldman's 10 Best Stock Picks for 2011
Stocks in the Goldman Sachs <I>Conviction Buy List</I> may rise up to 36% next year.
BOSTON (TheStreet) -- Goldman Sachs (GS) - Get Goldman Sachs Group, Inc. Report updated its Conviction Buy List, a compilation of the Wall Street bank's favorite U.S. stocks, for 2011. Investors ought to review the following 10 picks, which offer the greatest 2011 upside potential, according to Goldman. Below, the stocks are ordered by return potential, from plenty to most.
10.
Digital Realty Trust
(DLR) - Get Digital Realty Trust, Inc. Report
is a data-center real estate investment trust, or REIT.
Goldman initiated coverage of this sub-industry in December with "favorable outlook" due to cloud-driven demand. It expects data-center REITs to generate the best profit growth among real estate stocks over the next few years. Digital Realty is Goldman's favorite stock in the group due to recent underperformance. Digital Realty missed third-quarter consensus earnings by 0.8% and its stock corrected 4.7%. Still, 65% of Wall Street analysts rate the REIT "buy."
9.
Crown Castle
(CCI) - Get Crown Castle International Corp Report
owns, operates and leases wireless communications towers.
Recent lease modifications with carriers, including
AT&T
, are expected to bolster 2011 revenue. Given the company's history of exceeding rental revenue guidance, Goldman is bullish on the company's growth prospects and is forecasting rental revenue 2% above the top threshold of management's guidance and 77 cents of earnings in 2011. Its $54 target was derived by combining free and discounted cash-flow analyses, implying 24% upside.
8.
Chicago Bridge & Iron
(CBI)
is an engineering and construction company, focusing on infrastructure projects for oil-and-gas companies.
Goldman views it as a levered oil play. Crude oil is trading above $90 a barrel, currently, and demand is growing amid the global recovery. E&C backlogs are inflecting and Goldman expects investors to start paying higher multiples for stocks in the sector, with Chicago Bridge & Iron offering the most upside. Its stock trades at a forward P/E of 14 and a cash-flow multiple of 15, 34% and 35% peer discounts.
7.
Sapient
(SAPE)
is a services company, selling advisory, analytics and consulting services to businesses and government agencies.
It also operates technology outsourcing centers in India. Goldman has a $15.50 price target on the stock, suggesting an impending 12-month return of 27%. The stock returned 47% in 2010 and has delivered annualized gains of 11% since 2007. Sales and net income advanced 16% and 171% a year, on average, over that span. The stock trades at a forward P/E of 24, a 32% industry premium. The company has $187 million of net liquidity (total cash minus debt).
6.
Blackstone
(BX) - Get Blackstone Inc. Report
is an alternative-investment company, structured as a publicly-traded partnership, which invests roughly $104 billion, of fee-generating assets, in private equity, real estate and hedge funds.
The firm also has an advisory unit, offering merger and acquisition, restructuring and reorganization assistance. Goldman expects several of Blackstone's funds to surpass so-called high-water marks and to resume charging performance fees in 2011. It thinks funds could attract another $7 billion, to boot. The stock commands a discount forward P/E of 9.8.
5.
Precision Castparts
(PCP)
makes metal components and castings, forgings and fasteners for aerospace and industrial companies.
Precision has significant fixed-costs, so incremental volume bolsters profit margins significantly. The company beat Goldman's fiscal second-quarter sales forecast by 3.5%. It expects Precision's stock to advance 28% to $128 within the next 12 months. Precision commands a premium of 93% over its aerospace peers, based on cash flow per share. Still, 75% of analysts covering Precision rate it "buy."
4.
Hasbro
(HAS) - Get Hasbro, Inc. Report
is a toy maker.
The company's new children-focused television network, The Hub, is demonstrating sequential growth in ratings, with all-day viewership of 34,000. Not only is this venture generating incremental advertising revenue, but offers a venue to market Hasbro's toys and games. Hasbro has grown sales and net income 3.9% and 11%, annually, since 2007. Its stock has risen 23% a year over that span. It trades at a forward P/E of 15, a modest peer discount. Goldman's target, echoed by
Sterne, Agee & Leach
, suggests a looming 12-month gain of 30% for the stock.
3.
Phillips-Van Heusen
makes clothing, including dress shirts, neckwear and shoes, under the Calvin Klein, Izod and Tommy Hilfiger brand names.
An inflationary environment will benefit the company, according to Goldman, which expects $15 million of cost synergies in 2011, resulting from expense leverage on market spending and "sourcing gains from larger scale and category expansion at
Macy's
."
Goldman values the stock at $85, suggesting 34% upside. Roughly 73% of researchers rank it "buy."
2.
Apple
(AAPL) - Get Apple Inc. Report
sells consumer electronics.
The company's stock returned 53% in 2010, topping the large-cap tech category. Apple is a consensus pick for 2011. Of analysts covering Apple, 48, or 91%, advocate purchasing its shares and five recommend holding. None say to sell.
Piper Jaffray
has the highest price target, expecting a gain of 36% to $438. Goldman believes, contrary to some analysts, that the gross margin has bottomed and could climb in the near-term. Its $430 target is equivalent to 20-times its 2011 earnings per share estimate of $21.46.
1.
Starbucks
(SBUX) - Get Starbucks Corporation Report
is Goldman's favorite pick within a restaurant industry that it believes has "the best supply/demand dynamics in 25 years."
The number of U.S. restaurants has fallen to 1986 levels, following recession closings. According to Goldman, Starbucks is due to return 36% in 2011 on multiple expansion and steady earnings growth. The bank thinks the Street is underestimating same-store sales growth for the coffee chain, forecasting a 7% to 8% uptick in 2011. Emerging market expansion will add fuel to the fire, bolstering 2011 sales.
-- Written by Jake Lynch in Boston.
Goldman's 10 Best Stock Picks Portfolio
RELATED STORIES:
Barclays' 30 Best Stock Picks for 2011
Morgan Stanley's 8 Best Stock Ideas for 2011
Become a fan of TheStreet on Facebook.
Disclosure: TheStreet's editorial policy prohibits staff editors, reporters and analysts from holding positions in any individual stocks.