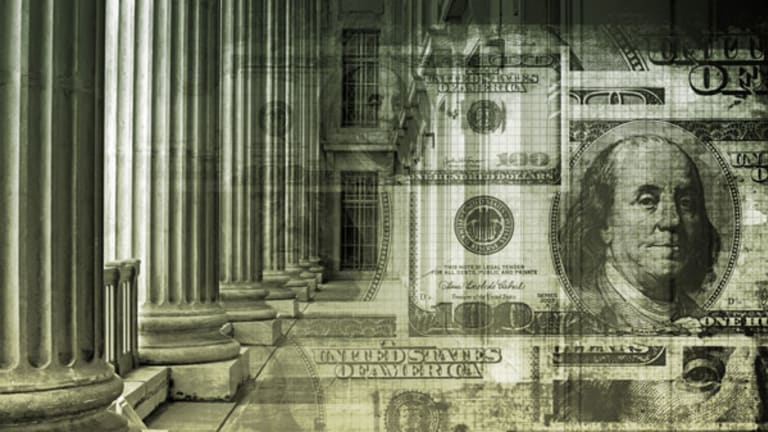 Goldman Sachs: How to Invest Like a Hedge Fund
Goldman Sachs has a list of the top 50 'VIP' stocks owned by hedge funds.
NEW YORK (
) -- If you've ever wanted to invest like a hedge fund,
Goldman Sachs
is giving you a chance to do so.
The New York-based investment bank has put out its "hedge fund 'very important position' (VIP) list," which is made up of the stocks that hedge funds have taken large stakes in, specifically betting on the fundamental outlook for a select group of companies.
The 50 stocks to make the Goldman list are chosen based on performance that drives hedge fund returns: Hedge funds with 10 to 200 positions are considered for the list, placing a greater weight on stocks in driving a fund's performance.
Is it worth "chasing" the performance of the hedge fund "VIP" stocks highlighted by Goldman?
Performance of the Goldman hedge fund stock list has done well over the past eleven years, outperforming the
by 0.54% on quarterly basis since 2001. In the past few years, though, performance has been spotty.
In the second half of 2008, the basket of names underperformed the S&P, falling 41% versus a 29% decline for the S&P 500. In 2009 and 2010, it handily beat the large-cap equity index, rising 40% and 19%, versus 27% and 15%, respectively.
Goldman's "VIP" stocks reverted back to under-performance in 2011, with the select list declining 3.1%, compared to a 2.1% gain in the S&P 500. The list has also underperformed this year, as of August 15, with its 12.4% trailing the 13.3% move up in the S&P 500.
Some of the Goldman VIP stock list stalwarts have also been a mixed bag performance-wise depending on the time period being considered: Among the 20 stocks that have made the list at least half of the time since 2001 are
Bank of America
(BAC)
, which has only been off the list twice, and
Citigroup
(C)
and
Pfizer
(PFE)
, which have been on the list 80% of the time. Over the past decade, shares of the big banks have lost more than three-quarters of their value, while Pfizer shares have a ten-year return of negative 28%.
Yet the names that have appeared most frequently among the hedge fund stock "VIPs" have done well more recently, returning on average 23% year-to-date, besting the 12% gain for the list and 13% return for the S&P 500. Both Bank of America and Citi have significantly outperformed the equity market this year.
There is certainly a large-cap bias to the list, with a median market cap of $35 billion, and a sector focus on consumer discretionary (24% of the list), compared with consumer staples accounting for just 4% of stocks held.
The list is rebalanced every quarter, and since 2001, on average, 17 new names have appeared every quarter. Goldman noted that turnover during the second quarter of 2012 was above normal, with 19 new names being added.
Drug prescriptions and technology are among the highlights of the newest hedge fund "VIPs," as well as the biggest of them.
Amazon
(AMZN)
,
Ariba Networks
(ARBA)
and
Citrix Systems
(CTXS)
were new entrants to the list in the second quarter.
Three of the top four Goldman "VIP" stocks are tech stalwarts --
Apple
(AAPL)
,
Google
(GOOG)
and
Microsoft
(MSFT)
-- making more interesting the lone non-tech company among the top four hedge fund "VIPs": pharmacy benefits manager
Express Scripts
(ESRX)
. Express Scripts peer
CVS Caremark
(CVS)
was also a new "VIP."
Express Scripts, which provides pharmacy benefit management services, appears 29 times as a top ten holding among hedge funds as of June 30. Express Scripts accounts for an average portfolio weighting of 7% among those top 10 holdings.
The company recently reached a 52-week high as the sector has experienced renewed interest now that "Obamacare" has upheld as law by the Supreme Court. Shares have gained 35.71% year-to-date.
TheStreet Ratings
rates Express Scripts a buy, due in large part to strong revenue growth, solid cash flow, and a reasonable valuation. Net operating cash flow increased 58.29% year-over-year to $726.1 million in the second quarter.
Interested in more on Express Scripts? See TheStreet Ratings' report card for
this stock
.
Follow TheStreet Tech
.
--
Written by Chris Ciaccia in New York
>Contact by
.
Follow @Commodity_Bull