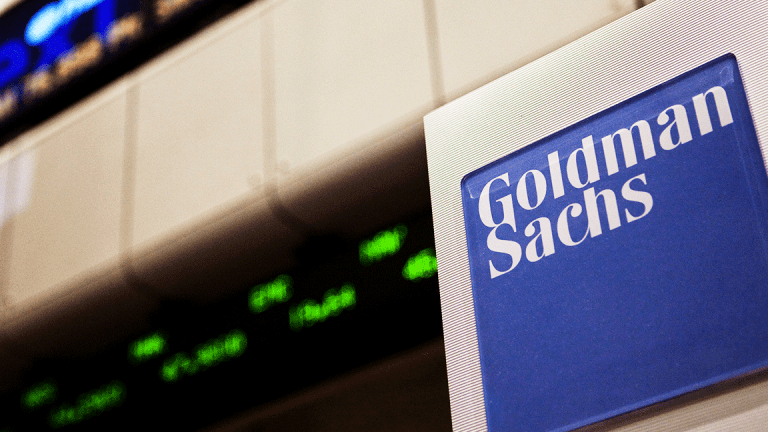 Goldman Shares Rebound after Credit Suisse Afternoon Upgrade
Goldman rose 1.6% after second-quarter profits, new CEO announcement and a Credit Suisse upgrade.
Goldman Sachs GS rose 1.6% on Tuesday, after declining as much as 1.9% after market close, less than two hours after Credit Suisse upgraded the bank.
Credit Suisse cited the bank's growth initiatives and bank's record high pipeline.
Analysts issued the upgrade shortly before 2:30 p.m., but left their target price at $280, about 20 percent higher than Monday's $231.44 closing price. Shortly after the note's release the stock rose from $227.85 before 2 p.m. to $230.40 at 3:45 p.m.
"Upside was revenue, expense, and tax rate driven," Susan Roth Katzke, an equity analyst wrote in a note Tuesday afternoon released at 2:27 p.m. "Better yet, for the forward look-time to start thinking about tomorrow-is the progress against the bank's previously articulated growh initiatives, the health of the bank's pipeline and the realization of operating leverage."
All told, Goldman earned $5.92 per share, better than analyst estimates of $4.66. First-half EPS also increased 42% to $12.93.
Wells Fargo analyst Mike Mayo said in a note that Goldman's two consecutive strong quarters in asset management, investment banking and investment and lending outweigh concerns about some softness in the firm's performance in equity trading. "We believe that management can address shortfalls in trading to close the gap with U.S. peers," Mayo wrote. "Operating leverage and capital returns via buybacks augment growth."
Meanwhile, Goldman formally announced that current Chief Operating Officer David Solomon will replace CEO Lloyd Blankfein, who will soon step down after heading the bank for 12 years. Solomon was appointed president and co-chief operating officer in 2016, and his ascension to CEO had been expected. Blankfein will retain the title of senior chairman after his retirement from Goldman Sach's board at the end of 2018.
(This story has been updated with prices after market close.)
More Coverage of Goldman, the Stock of the Day on Our Premium Site Real Money