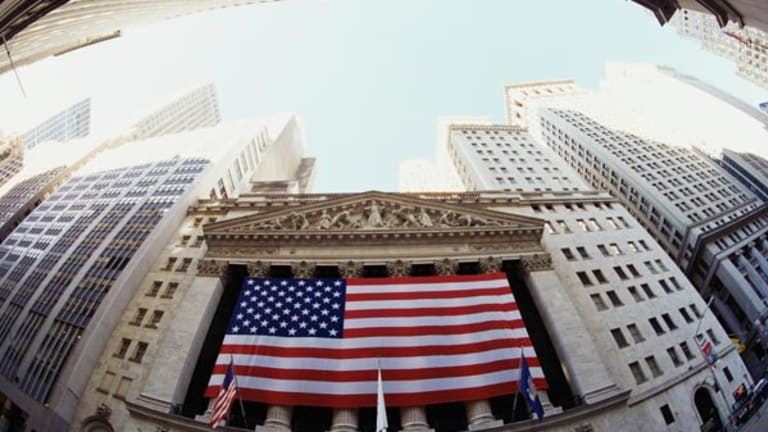 Goldman Sachs Sells Its 'Conviction Buys'
The bank pared holdings of more than half of its touted stocks, filings show.
E-Mail This Article to a Friend >>
BOSTON (
) -- A so-called Chinese Wall is supposed to exist between investment banks' research and asset-management divisions, but recent calls, especially coming from subprime-securites proponent
Goldman Sachs
(GS) - Get Free Report
, warrant further scrutiny.
Goldman helped to catalyze the recent commodity sell-off as its researchers expected little upside when the economy hit a soft patch. Crude oil tumbled beneath $100 on that report. Then, two days ago, with few fundamental changes in the demand outlook, Goldman reversed its stance, advising clients to buy.
This flip-flopping from Wall Street's most closely followed researcher is being perceived by some as client-fleecing since the bank is able to trade in proprietary accounts before it releases research and the markets react, as they often do to Goldman's calls.
Similarly, many sell-side researchers award stocks "buy" or "overweight" ratings even as their internal asset-management units unload shares, presenting a conflict of interest and ethical dilemma. Goldman's most famous front-runs to date were the Abacus transactions, through which the bank allegedly postured for high ratings for its mortgage-backed CDOs, sold them to clients and then shorted them.
News broke yesterday, or rather, a blogger pulled data yesterday to show that Goldman dumped 1,260,802 shares of
Apple
(AAPL) - Get Free Report
during the first quarter, even as its research division rated the stock "buy" and maintained its lofty $470 target. Little due diligence is done in the journalism community on the interplay between asset-management and research units.
To check up on the bank's activities, we tracked its 58 Conviction Buy List stocks, which are the equities that the bank claims that it is most optimistic about to clients, to see if it sold any during the quarter. The results are intriguing. Of the 58 so-called Conviction Buy stocks that Goldman recommended to clients during the first quarter, it sold 31, or more than half, according to its 13-F filing.
We did not include Goldman mutual funds in these calculations.
Of the 31 Conviction Buys that Goldman sold, it sold more than 1 million shares of 12 of those stocks, begging the question: How does Goldman define "conviction"? To most investors, it means putting your money where your mouth is.
On the following page is a look at 12 Conviction Buys that Goldman sold in bulk.
Sold 1,037,122 shares of Qualcomm (QCOM) - Get Free Report
Sold 1,037,646 shares of Viacom (VIA.B)
Sold 1,237,135 shares of Eaton (ETN) - Get Free Report
Sold 1,252,406 shares of Pulte Home (PHM) - Get Free Report
Sold 1,260,802 shares of Apple (AAPL) - Get Free Report
Sold 1,974,344 shares of Philip Morris (PM) - Get Free Report
Sold 2,388,016 shares of Wells Fargo (WFC) - Get Free Report
Sold 2,410,816 shares of Mylan (MYL) - Get Free Report
Sold 3,124,585 shares of EMC (EMC)
Sold 3,950,196 shares of Huntsman (HUN) - Get Free Report
Sold 4,200,009 shares of JPMorgan Chase (JPM) - Get Free Report
Sold 11,340,809 shares of Baxter (BAX) - Get Free Report

-- Written by Jake Lynch in Boston.
RELATED STORIES:
Wait for Favored Fertilizer Stock to Cool
Become a fan of TheStreet on Facebook.
Disclosure: TheStreet's editorial policy prohibits staff editors, reporters and analysts from holding positions in any individual stocks.