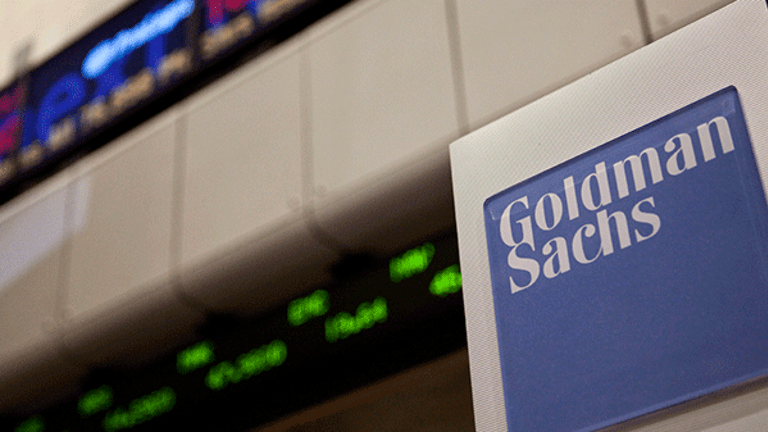 Goldman Sachs Has a Lot of Worries in 2017, and China's Just One
U.S. investment banks Goldman Sachs and Morgan Stanley face risks following a big stock rally in 2016, including lags in promised regulatory relief and barriers to new business in Europe.
For Goldman Sachs (GS) - Get Report and Morgan Stanley (MS) - Get Report investors, 2017 could bring a dose of reality following the election-fueled euphoria that has pushed the investment banks' stocks up more than 30% this year.
President-elect Donald Trump's promised rollback of stiffer banking-industry rules implemented after the financial crisis eight years ago could easily get bogged down in regulatory agencies or Congress. European officials may erect competitive barriers that might protect the region's weakened banks from market-share intrusions by U.S. investment banks. Escalated conflict in the South China Sea might roil capital markets, sending stocks plunging.
Those are the predictions of Ken Leon, a three-decade Wall Street veteran who now serves as a stock analyst at research firm CFRA in New York. The mounting risks are so great that he's turned pessimistic on the prospect for additional stock gains from Wall Street firms like Goldman and Morgan Stanley, which advise on mergers and underwrite stocks and bonds alongside their trading businesses.
"We're more bearish, particularly with the runup in the stocks," Leon said in an interview. "Without having strong growth in investment banking, it will be very difficult to sustain strong performance just on trading."
Bank stocks are coming off their best year since 2014, with much of the rally coming after the November election. Trump's nominee for Treasury Secretary is former Goldman Sachs executive Steven Mnuchin, who said a month ago that the 2010 Dodd-Frank Act -- the major law enacted in the wake of the financial crisis - was "way, way, way too complicated, and there's many aspects of it that we've got to kill."
Financial stocks got another boost from the Federal Reserve's interest-rate increase this month, especially with economists from the central bank projecting three more hikes in 2017. Many analysts say higher rates should lead to fatter margins for banks from lending out low-cost deposits and other funds.
Goldman's shares are now trading at a 25% premium to book value, or shareholders' equity, according to FactSet. Over the past five years, they've traded on average at a 5% discount. Morgan Stanley's trading at a 14% premium, compared with an average discount of 2%.
According to Leon, the stocks don't have much room to run.
The bets on a regulatory rollback are likely to be overly optimistic, Leon said, given the limited scope of what Trump could accomplish through executive orders without the approval of lawmakers or industry overseers such as the Fed, the Office of the Comptroller of the Currency, the Securities and Exchange Commission, the Commodity Futures Trading Commission, the Federal Deposit Insurance Corp. and the Consumer Financial Protection Bureau.
Any changes to the Dodd-Frank Act would have to be pushed through Congress.
"Once you get below executive authority, things take longer and there's more compromise," Leon said. "This regulatory lag could prove to be a negative. It wouldn't really change performance as much as investor sentiment."
While many investors have speculated that the weakened financial condition of Europe's banks might allow U.S. firms to gain more investment-banking or commercial-lending business in the region, they are likely to meet resistance from officials there who have shown protective tendencies in the past. Leon likened the response to Trump's pledge to build an "impenetrable wall" along the U.S. border with Mexico to keep undocumented immigrants out. Only in this case, it would be the Europeans keeping the Americans out.
The feeble condition of European lenders was highlighted this week when the European Central Bank said the Italian lender Monte dei Paschi faced a capital shortfall of more than $9 billion, almost twice as high as the bank itself had estimated in a government-backed rescue plan. UniCredit, Italy's largest lender by assets, announced earlier this month that it planned to cut about 14,000 jobs and raise almost $14 billion of fresh capital.
"We haven't seen it discussed as much about building higher walls in Europe, but the European Commission is very defensive, especially for very weak European banks," Leon said. "They're not shy about coming up with new regulations, or in some cases, outside of banks, to be very strict about mergers and acquisitions."
And then there's China, the world's second-largest economy. A growing number of investors suspect that the country's high debt load and real-estate bubble could trigger a financial crisis similar to the one that spurred the bankruptcy of investment bank Lehman Brothers in 2008.
Leon doesn't see a Chinese financial crisis as a big risk, given authorities' long track record of tightly managing the economy. More troubling is the recent escalation of Chinese military activity in the disputed territorial waters and islands of the South China Sea, an important international shipping route that's also believed to be a rich source of oil and natural gas.
China deployed its only aircraft carrier fleet to patrol the waters, officials said this week, a move interpreted as an attempt by the government to display its might in the region before Trump takes over in January, the New York Timesreported.
Earlier this month China seized a U.S. unmanned underwater vessel from international waters. China, Indonesia, Taiwan, the Phillipines and Vietnam have made overlapping territorial claims to the various parts of the sea.
In April, Trump told the New York Times that China's disregard for U.S. policy on the South China Sea shows "they have no respect for our country." More recently he's threatened to label the country a currency manipulator on his first day in office and impose steep tariffs on Chinese imports.
"China is definitely a potential risk and something to watch, and it could have unintended consequences," Leon said. "Markets are up as strong as they've been, and the flow of trading and investment-banking could certainly take a hit from military conflict."
What's more, Chinese companies have increasingly turned to domestic firms for investment-banking advice, depriving the the likes of Goldman Sachs and Morgan Stanley of what had been a significant driver of growth in revenue from mergers and initial public offerings, he said.
"Asia is no longer the tiger that's going to fuel investment-banking fees," Leon said.