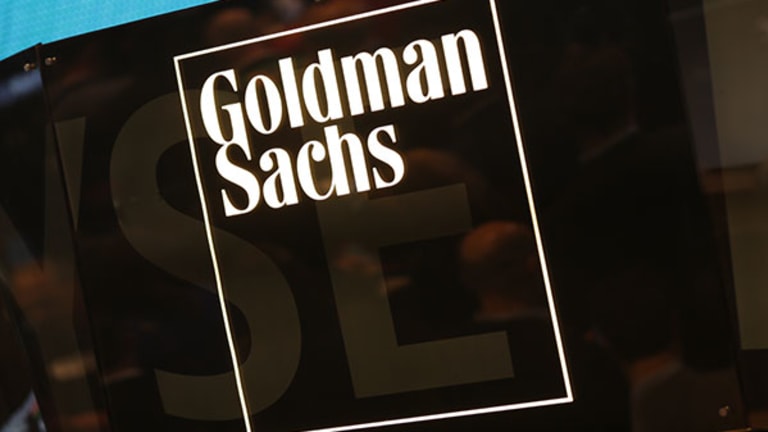 Goldman Sachs' Consumer Lending Foray Draws Skeptics
A foray into consumer and small-business lending would make Goldman Sachs more like other banks. The plan has drawn some skepticism.
NEW YORK (TheStreet) -- The Goldman Sachs (GS) - Get Goldman Sachs Group, Inc. (GS) Report brand has become synonymous with high net worth, and plans to broaden its reach into less lofty social strata are already drawing some skeptics.
The New York-based investment banking powerhouse is developing a unit that will make modest loans to individuals and small businesses, mostly online, in keeping with the bank's recent techno-evangelism.
It's a potentially lucrative business, even if it's at odds with Goldman's image, but at least one consumer advocate is wary. The lack of direct contact with customers is a "red flag for me," said Sister Nora Nash of the Sisters of St. Francis of Philadelphia.
Nash has spent the past three decades working with the Interfaith Center on Corporate Responsibility, an advocacy group that comprises about 300 faith-based organizations overseeing $100 billion in assets. The center uses its investments in publicly traded companies from Goldman Sachs to JPMorgan Chase (JPM) - Get JPMorgan Chase & Co. (JPM) Report and Chevron (CVX) - Get Chevron Corporation Report to urge changes it says would benefit customers and communities.
"Much of banking today is not real banking," Nash said in a recent interview. "The bank is there for the purpose of serving the people. That is really not happening."
Still, there are upsides to banks and finance companies relying more on technology in their lending decisions, said Sean Egan CEO of Egan-Jones Proxy Advisory and Ratings Co.
"We know our clients better now than we ever did, since we now know what they actually do and not just what they report," Egan said.
He isn't too quick to applaud Goldman Sachs' latest endeavor, since he sees some risks inherent in the bank investing in a space outside of its core business where there are already other established players.
"Since the days of the two Johns, John Whitehead and John Weinberg, the ethos of Goldman has been to put the customer first," Egan said, referring to two of the bank's best-known former top executives. "This policy and a lot of hard work have enabled Goldman to become 'a,' and in many cases 'the,' preeminent investment banker." 
To win consumer business, the bank would basically have to participate in a "beauty contest," he said.
Goldman Sachs' plans were described in a company-wide memo in May that announced the hiring of Harit Talwar, a former executive vice president and head of U.S. cards at Discover Financial Services (DFS) - Get Discover Financial Services Report. Talwar will lead Goldman Sachs' new initiative and, according to reports, has already assembled a team of a half dozen to assist with the effort.
Online loans are expected to be ready as early as 2016, though a spokesman from Goldman Sachs declined to comment on the timing of the program's launch.
"The firm has identified digitally led banking services to consumers and small businesses as an area of opportunity," CEO Lloyd Blankfein wrote in a memo to employees obtained by TheStreet. "The traditional means by which financial services are delivered to consumers and small businesses is being fundamentally re-shaped by advances in technology, maturity of digital channels, use of data and analytics, and a focus on customer experience."
For a bank that is so tied to the upper echelon of clients, making $15,000 to $20,000 loans may seem an odd move. Goldman Sachs' wealth management clients are typically expected to have investable assets of $10 million, for example, while most wealth management firms start with a more modest $1 million.
There are two reasons why a move into small ticket lending could be a boon for the bank, though.
First, like many other banks, Goldman Sachs has had to exit or alter some of its riskier -- though potentially highly lucrative -- operations in the wake of the financial crisis and the regulations that followed. It's not completely without risk, but online lending is a relatively straightforward business with high yields.
Perhaps more importantly, the move solidifies the bank's efforts to expand its digital footprint. In March, Goldman hosted a party at the annual South by Southwest festival in Austin, Texas, a gathering frequented more by hoodie-wearing developers than pinstripe suit-clad bankers.
Later, the bank held its annual shareholder meeting in San Francisco, where Blankfein acknowledged the region as a center of innovation. And finally, not only has the bank launched it's own podcast, but in an interview that was recorded in May, Blankfein said plainly: "We are a technology company."