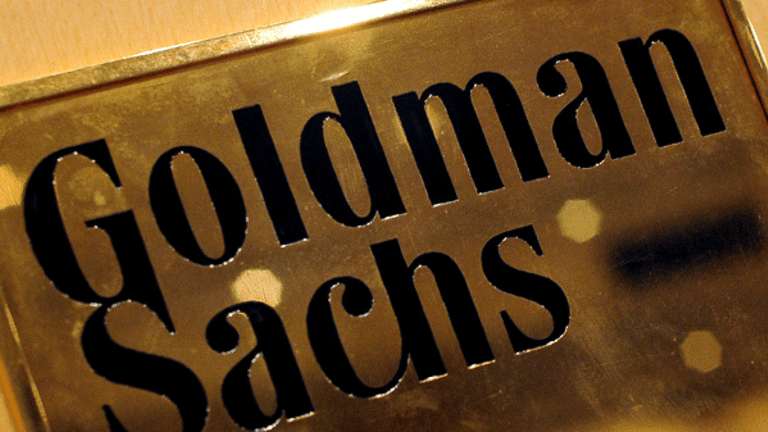 Goldman Sachs' Culture of Secrecy Draws New Skepticism After Trading Gaffe
Goldman Sachs doesn't like to give out details on its behemoth bond-trading business.
It's no fun being a CFO when things go badly. It's even less fun when you work for a company that shrouds itself in secrecy; you can't explain what went wrong.
So when Goldman Sachs Group Inc. (GS) - Get Goldman Sachs Group, Inc. Report CFO Martin Chavez hosted a conference call on Tuesday to field questions about the firm's second-straight quarter of lousy trading performance, it was never going to be fun.
Over the course of questions that stretched out for more than an hour, 11 analysts from Wall Street's biggest brokerage firms -- coincidentally also Goldman's competitors -- needled Chavez with questions about the New York-based firm's 40% plunge in revenue from the fixed-income business, which includes bond, commodities and currency trading.
The analysts wanted to know why Goldman had so markedly underperformed rivals like JPMorgan Chase & Co. (JPM) - Get JPMorgan Chase & Co. Report , Citigroup Inc. (C) - Get Citigroup Inc. Report and Bank of America Corp. (BAC) - Get Bank of America Corp Report in fixed-income trading. And they weren't content with Goldman's scant explanation: that markets were subdued. 
After back-to-back flubs in the fixed-income division, analysts are expressing growing skepticism of Goldman's historic prowess in trading -- and for good reason. Not only is the division Goldman's biggest single revenue generator, representing almost 20% of the firmwide total, it's also the least understood.
For years, Goldman has been loath to give investors and competitors any deep glimpses into its sprawling fixed-income business, which encompasses dozens of separate trading desks that wield big bets every day in fast-moving markets for U.S. Treasuries, corporate bonds, interest-rate derivatives, exchange rates, gold futures and crude-oil cargoes.
EXCLUSIVE LOOK INSIDE: Citigroup is a holding in Jim Cramer's Action Alerts PLUS charitable trust portfolio. Want to be alerted before Cramer and the AAP team buy or sell the stock? Learn more now.
On a standalone basis, the division produces annual revenue of $8 billion -- on par with the entirety of brokerage firm Charles Schwab Corp. (SCHW) - Get Charles Schwab Corporation Report  Yet typically Goldman condenses its fixed-income division's results into a few pat sentences in a press release. 
"It's not only the opacity of the press release but the opacity of the conference call," Ken Leon, an investment-banking analyst at CFRA Research, said in an interview. "They continue to have a Goldman approach to investor relations."
Goldman's stock price fell 2.6% Tuesday following the release of the dismal trading results, even though the firm's stock-trading and debt-underwriting units outperformed rivals; overall profit exceeded most analysts' forecasts.
There's a reason to care about the fixed-income division in particular. After all, some of the earliest signs of the 2008 financial crisis came when the once-thriving (and now-defunct) Wall Street firms Bear Stearns and Lehman Brothers began to crack under the strain of mortgage-bond losses.
Also, Goldman, unlike most of its big-bank rivals, lacks consumer-banking branches, credit-card businesses and big commercial-lending operations that could steady the overall franchise if markets suddenly turned volatile. So Goldman can't afford to mess up on trading. 
Which brings us to Chavez. On Tuesday's conference call, he answered analysts' questions with introductory phrases like "Great question" (five times) and "I would say" (seven times). Such time-stallers only served as painful reminders of how Chavez avoided answering the questions directly.
The CFO went out of his way to mention that Goldman had advised Swiss herbicide-maker Syngenta on its $43 billion sale to ChemChina. But nobody cared. The analysts just wanted to know what went wrong with trading.
At least one hard fact emerged from the conference call: Goldman's commodity-trading business had its worst performance in the 73 quarters since Goldman converted from a private partnership into a publicly traded company. Yet when UBS analyst Brennan Hawken asked if the commodities unit had lost money in the quarter, Chavez declined to say.
"There's a lot of reasons for that, but really we just think of it as a business that serves the clients holistically," Chavez said.
After that, it was mostly broad-stroke answers. Volatility was low, client activity was low, the market-making environment was difficult. That's all true; rivals reported a similar experience during the quarter. Yet JPMorgan managed a fixed-income trading decline of just 19%. Bank of America's fell 14%, Citigroup's slid 6.3% and Morgan Stanley's (MS) - Get Morgan Stanley Report just 4%.
By contrast, witness the optimism from Marianne Lake, JPMorgan's CFO, during her firm's own conference call: "We're exceptionally happy with the franchise we have and our competitive positioning, the completeness of the platform and the way our clients respond to the products we offer," she said.
At one point during the Goldman call, Chavez acknowledged that the firm didn't navigate the commodities markets very well. Upon hearing that, RBC analyst Gerard Cassidy asked how much of the downturn was due to low customer activity and how much was Goldman's fault.
"While it would be maybe a wonderful, utopian thing to be able to separate the two and say one is client activity and one is navigating the markets, they're really interwoven," Chavez said.
Clears things up.
To be fair, Goldman's rivals aren't much more forthcoming about their trading results.
"It's a good question," Chavez said when asked why Goldman's trading results were so much worse. "We don't have transparency into our competitors' fixed-income, commodities and currencies businesses, but I'll note that historically we've had strength in derivatives."
That remark led to a question from Nomura's Steven Chubak, who cited a U.S. government-commissioned report on the 2008 financial crisis, published in 2011, as stating that Goldman's fixed-income business got 50% of its revenue from derivatives (as opposed to actual bonds or physical commodities).
Not belaboring the fact that a six-year-old report (about a nine-year-old event) was the sole source of such a statistic, Chubak wanted to know if the ratio still held.
"Great question," Chavez replied. "We don't really break out the business in that particular way."
He acknowledged that senior executives and business managers have begun to analyze what Goldman might need to change in the trading division. Such a review is especially important now that hedge funds, ranking among Goldman's biggest trading partners, are in a slump.
Of course it's possible that Goldman's fixed-income division is so gigantic, technical and complex that analysts might not comprehend it all even if specifics were provided. And investors might not care anyway -- unless the slump continues.
"In bad times people jump all over you for everything," Dick Bove, a bank analyst at Rafferty Capital Markets in Lutz, Florida, said in an interview. "I personally don't really care about knowing what they're doing in municipal bonds versus Treasuries versus corporate bonds. What I want to see is numbers that are up."
More of What's Trending on TheStreet:
Game of Thrones Has Become Huge -- Here's How You Can Quickly Tell