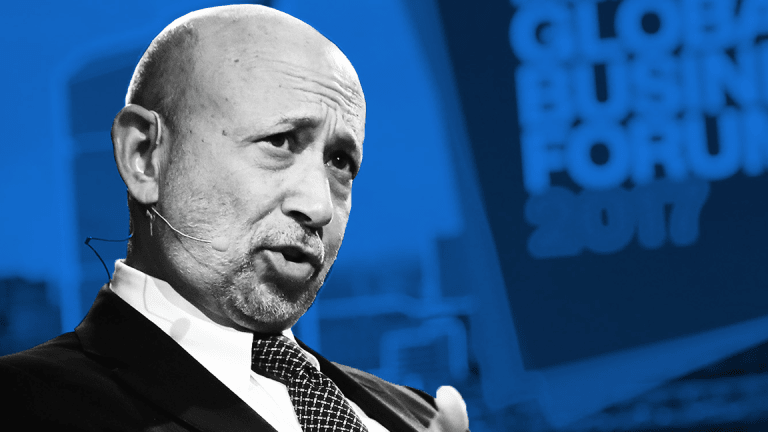 Goldman Will Pay Big Money for Cash -- Yes, Even Your Measly Savings
Goldman Sachs, the elite Wall Street powerhouse, is under pressure to diversify its business mix beyond the traditional emphasis on investment banking and stock-and-bond trading. So it's pushing hard to build up an online retail bank for ordinary savers -- and offering some of the highest rates in the U.S. to lure them in.
Goldman Sachs Group Inc. (GS) wants your cash. And you might actually want to give it to them. 
The Wall Street investment bank is trying to transform itself into a broader financial-services company like bigger rivals Bank of America Corp. (BAC)  and JPMorgan Chase & Co. (JPM) . So a couple years ago, Goldman expanded beyond its traditional clientele -- elite corporations, big investors and the super-rich -- to provide retail banking through a new website called Marcus. The company now offers both personal loans and savings accounts, with a minimum deposit of just $1. So, ordinary people can apply. 
But here's why you should take a look now: Since New York-based Goldman is trying to build up the business rapidly, it's offering some of the highest rates on savings deposits in the U.S. - currently 1.7%. That compares with near-zero rates at the biggest retail banks, including Bank of America, JPMorgan Chase, Citigroup Inc. (C) and Wells Fargo & Co. (WFC) .   
Goldman doesn't have costs of building and maintaining branches or paying tellers and managers, so it can afford to pay a higher rate on deposits than its larger competitors. And so far it's working. Deposits at Marcus climbed at an annual pace of 63% in the first quarter - growth rates more akin to the technology startups that Goldman's investment bankers like to take public in stock offerings.
"This is just the opening move by Goldman in what they hope to be a major disruption to the consumer savings and lending space," said Mike Mayo, an analyst at Wells Fargo, also a big branch-oriented bank. "Clearly they're making noise by offering superior rates."
It may sound suspicious that an elite Wall Street powerhouse like Goldman - known for working the corridors of high finance and producing three U.S. Treasury secretaries in recent decades from the ranks of former executives -- would take a sudden interest in commoners' bank accounts.
But the firm is under pressure from its own investors to branch out into new businesses after its trading division, historically an industry leader, turned in the worst performance last year among its big Wall Street competitors. Goldman CEO Lloyd Blankfein said at a luncheon in New York today that moving into commercial banking makes sense for the firm.
"The opportunities in the consumer sphere have moved to us," Blankfein said in front of the Economic Club of New York. "It's macro risk management, and we've been good at that for a long time. Algorithms are in our wheelhouse."
Since the start of 2017, Goldman shares have slid 3.8%, while JPMorgan and Bank of America are both up at least 25%. Even Wells Fargo, which has endured a series of scandals and regulatory sanctions stemming from a culture of overly aggressive sales practices, has done better, falling by just 0.1% over the period. 
A chief complaint of investors and analysts is that Goldman did little to reinvent itself following the 2008 financial crisis. Like most other big U.S. banks, the firm survived the financial crisis by taking a bailout from the Treasury Department and getting tens of billions of dollars in secret emergency loans from the Federal Reserve.
Facing shareholder ire last year over a series of disappointing results from trading fixed-income securities, Goldman CEO Lloyd Blankfein in September unveiled a five-point plan to boost annual revenue by at least $5 billion firmwide within three years. Key in the effort was a goal of increasing revenue at Marcus, the retail savings and lending website, by at least $1 billion.
"They have to expand beyond fixed-income, which has become commodity-like and not as profitable, so this is an area where they think they can scale up quickly with their financial savvy," said David Hendler, principal at analysis firm Montebello Risk Advisors.
Also, there was a market opportunity.
In the wake of the 2008 financial crisis, the Federal Reserve cut U.S. interest rates close to zero and then held them there to help the economy recover. Almost all banks cut retail savings-deposit rates to zero; with the economy in tatters, there wasn't much competition for funds. But since late 2015, as the economy healed, the Fed has raised benchmark U.S. interest rates by 1.75 percentage points -- giving banks room to increase rates paid on savings accounts.  
But the biggest U.S. retail banks have barely nudged up their savings-accounts rates at all. Bank of America, for example, currently offers a basic rate of 0.03% on regular savings accounts, and there's a $500 minimum balance to avoid a monthly $8 fee.
As long as most customers are too content or lazy to change banks, Bank of America, JPMorgan Chase, Citigroup and Wells Fargo can simply rack up big profits by lending the cheap money out at ever-higher rates - and ever-fatter margins. 
At Goldman's Marcus, meanwhile, it looks like Cyber Monday practically every day.   
According to BankRate.com, which collects data on bank offers, Goldman's savings-account rate ranks as the fifth-highest in the U.S. Tiny MapleMark Bank of Dallas ranks first with a rate of 2%, but those accounts require a minimum deposit of $25,000. Goldman also has invested roughly $600 million of its own money in building up the Marcus digital platform, according to a company spokeswoman. 
As a result, deposits at Marcus have roughly doubled since the end of 2016 to more than $22 billion.
"One of our key objectives is to be able to be in that highly competitive tier for our customers," said Marcos Rosenberg, head of deposits at Marcus. "We don't want our customers to have to shop around. We want them to know that we've done the research."
And while Marcus has more deposits than it needs to fund the roughly $3 billion of personal loans that individual customers have so far taken out, the extra money can serve as a cheap source of financing for industrial loans or other activities within the broader Goldman corporate umbrella.
Even at the top-of-the-market rate of 1.7%, the Marcus deposits are still less expensive than the average 2.7% that Goldman pays on short-term borrowings, according to regulatory filings. 
The downside for Goldman's retail-banking customers, of course, is that they can't easily go into a branch to speak face-to-face with a person about their money. Bank of America CFO Paul Donofrio told analysts on a conference call in April that the company has been able to keep its own deposit rates low because an account comes with "transparency, convenience, safety, mobile banking, online banking."
"That has real value to people beyond just deposit rate paid," Donofrio said.
There's also the fact that Goldman - at this point, anyway -- doesn't represent much of a competitive threat to the biggest banks' consumer-banking businesses.
Bank of America, for example, has $1.33 trillion of deposits, or roughly 60 times more than Goldman. JPMorgan has $1.5 trillion of deposits, Wells Fargo has $1.3 trillion and Citigroup has $1 trillion. The biggest banks are far more apt to keep an eye on each other than an upstart like Goldman.
And for many people, the extra interest might not be worth it. A 1.7% rate on a $1,000 deposit would mean just $17 more per year. It adds up for bigger account balances: a $100,000 account would yield an extra $1,700 in interest.
A question, though, is whether the big banks and their sprawling branch networks risk becoming an anachronism; think Amazon.com Inc.'s digital outflanking of the retail industry over the past decade -- even for clothes that people used to like to try on first.
While many savers want the convenience of a branch nearby, others may not care, said Wei Ke, head of North American financial services at consultant Simon-Kucher & Partners. And younger customers "may not have any affinity with the established brands," he said.
Safety isn't a huge concern either: As at almost all U.S. banks, Goldman savings accounts are insured up to $250,000 by the Federal Deposit Insurance Corp. So most regular customers won't have to worry about losing their money if, say, a wrong-way bet on an exotic derivatives trade leads to the Wall Street firm's collapse.
Renny Ponvert, founder and chief executive of Management CV, which analyzes executive teams for big investors, says he's a fan of Goldman's strategy to build an online bank for ordinary savers. He's also a Marcus customer.
After finding out about Goldman's online savings accounts through an e-mail forwarded by a friend, he checked out the website - and quickly homed in on the eye-popping deposit rates, he said.
Dismayed at the rates offered by online brokerage firms, he opened an account at Marcus and transferred over some cash.
"There was a perception that in the past you needed a minimum of $5 million to do business with somebody like that, and now you can do it in a series of mouse clicks," Ponvert said. "I love the idea of it, that you can easily shop around for fair interest rates, as opposed to the old bricks-and-mortar model."
More cash for Goldman.