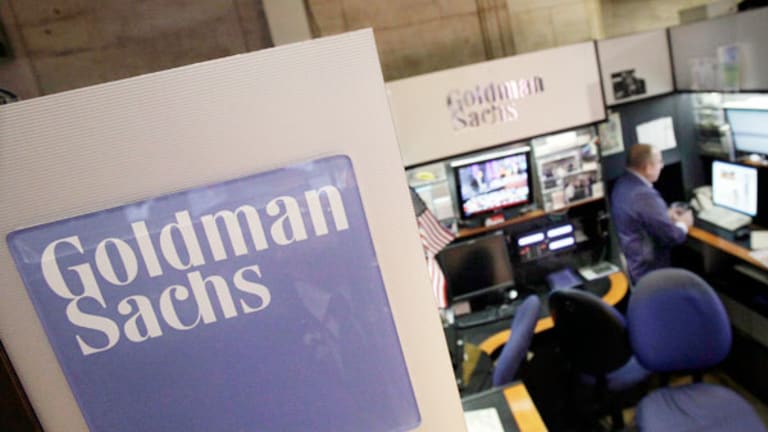 Goldman Offers Hedge Funds to the 99%
Goldman Sachs is trying to fill 401k funds with hedge fund trading strategies
NEW YORK (
) -
Goldman Sachs
(GS) - Get Goldman Sachs Group, Inc. (GS) Report
said Thursday it is bringing the sophisticated trading strategies of Wall Street hedge funds to individual investors with investment portfolio's and retirement accounts as small as $1000.
The bank's investment management unit,
Goldman Sachs Asset Management
, is launching its
Goldman Sachs Multi-Manager Alternatives Fund
(GMAMX) - Get Goldman Sachs Multi-Mngr Alt A Report
, which will give ordinary investors the ability to put their savings and retirements in Wall Street's riskiest products such as junk bonds, bank loans, mortgage backed securities, credit default swaps, structured products, swaptions, total return swaps, swaps on futures, variance swaps and contracts for difference, among other arcane financial instruments.
Notably, the Goldman fund will give ordinary investors a taste of Wall Street trading by allocating assets to actual hedge fund managers, who appear to have the discretion to invest in just about every market and in any way which they chose to.
GSAM managing directors Jason Gottleib and Ryan Roderick will manage the Goldman Sachs Multi-Manager Alternatives Fund's allocations.
According to a late April prospectus, Gottleib and Roderick have already chosen hedge funds
Ares Capital Management
,
Brigade Capital Management
,
GAM International Management
,
Karsch Capital Management
and
Lateef Investment Management
as underlying managers of the Goldman fund's assets.
The fund, according to a prospectus, will give investors exposure to common trading strategies of hedge funds including long-short-equity, event driven investments, relative value trading and opportunistic credit trading.
Costs to execute those strategies will be borne by the fund's investors.
Through the use of leverage and derivative products, Goldman states that the fund's investment exposures "may significantly exceed the amount of assets invested in the Fund, although these exposures may vary over time."
"Up to 15% of the Fund's net assets may be invested in illiquid investments. The Fund does not have a target duration," states a prospectus for the fund.
Investors with as little as $1,000 will have the ability to invest in the Goldman fund. They will have to pay an initial fee of 5.50% on A class shares and annual fees for the fund may reach as high at 3.3% for some classes of shares, potentially eroding compound annual returns relative to low-fee index funds.
Goldman states in a press release announcing its alternative investment fund "many individual investors' portfolios and retirement accounts underweight alternatives, relative to their institutional counterparts."
It remains to be seen, however, whether 401k accounts need exposure to hedge funds and Wall Street trading.
According to the
HFRX Global Hedge Fund Index
, hedge funds returned just 3.5% in 2012, significantly underperforming a 16% gain posted by the
S&P 500 Index
. Over five years, the hedge fund index has lost about 13.6%, while the S&P gained 8.6%, as of year-end 2012.
Private equity giants
Blackstone Group
(BX) - Get Blackstone Group Inc. Class A Report
,
Carlyle Group
(CG) - Get Carlyle Group L.P. Report
and
KKR
(KKR) - Get KKR & Co. Inc. Class A Report
have recently announced the intent to bring their investing approach to retirement accounts, albeit with higher minimum investments.
Goldman's alternative investment mutual fund also comes as the bank pares its own investment in private equity and hedge funds to comply with post-financial crisis regulations.
For instance, the Volcker Rule, a crucial piece of the 2010
Dodd Frank Act
, significantly limits the amount of capital the firm can put into private equity and hedge funds.
In the first quarter, Goldman significantly beat
on $1 billion in private equity investment gains and another $1 billion in write-ups of principal debt and equity trading positions.
Investors, however,
the $2.1 billion in revenue Goldman earned from the bank's so-called "Investing & Lending" unit, amid uncertainty about the sustainability of such earnings. The $2.1 billion figure accounted for about 21% of Goldman's first quarter revenue.
Goldman's Investing & Lending unit holds $57.2 billion in assets, according to the firm's 2012 10-K filing with the Securities and Exchange Commission.
-- Written by Antoine Gara in New York