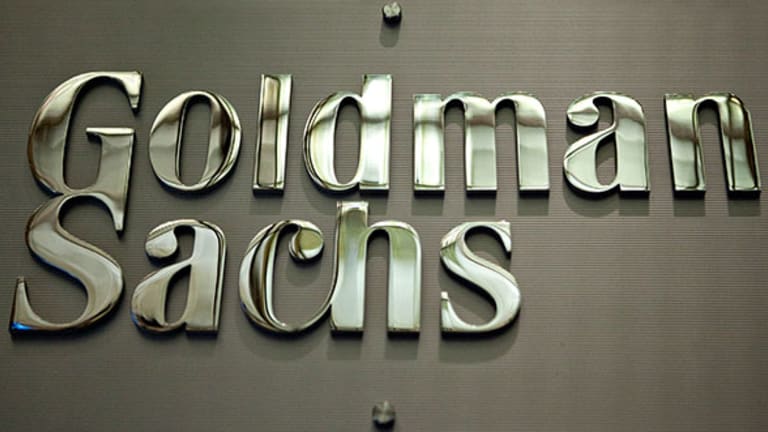 Publish date:
Goldman Gets Paid to Worry, but CEO Tells Investors He's Still Optimistic
Despite market uncertainty related to everything from low oil prices to slowing Chinese growth and a U.S. presidential election, Goldman Sachs CEO Lloyd Blankfein sees plenty of reasons for optimism.
Despite market uncertainty related to everything from low oil prices to slowing Chinese growth and a U.S. presidential election, Goldman Sachs CEO Lloyd Blankfein sees plenty of reasons for optimism.
Goldman Sachs' (GS) - Get Report business is worrying, about everything from China's shift to a consumer economy to liquidity problems in financial markets, on behalf of its clients. And that business is growing, with wild gyrations in financial markets, Great Britain's referendum on leaving the European Union and a presidential election in the U.S.
All "are examples of issues that are generating unease," CEO Lloyd Blankfein said in his annual letter to shareholders on Friday. Still, he says there are plenty of reasons for optimism. 
"We see the U.S. nearing full employment, signs of modest inflation and some stabilization in equity and commodity markets," Blankfein and Chief Operating Officer Gary Cohn wrote. "We don't see how a world of zero or negative interest rates could possibly be the 'new normal.' Moreover, we view China's slower rate of economic growth as still substantial, particularly given that it is now the world's second-largest economy."
His assessment echoes the optimism expressed a day earlier by Federal Reserve Chair Janet Yellen and three of her predecessors in the U.S. central bank's top job. While global concerns remain, including slow growth in Europe that has spurred the central bank there to set negative rates and expansion in China that may have narrowed to as little as 3% a year, the U.S. appears resilient. The labor market has posted an average gain of 225,000 jobs a month for over a year, and Bank of America says personal income, payroll and sales data are strong.
"As managers of risk, we do our best to understand them, and to prepare our clients and our firm for even low-probability but highly consequential scenarios," Blankfein wrote. "We  use our institutional resources to help them navigate the choppy waters, and we regularly consider how these scenarios and other tail-risk events could directly affect our firm."
Like the other large financial firms that report earnings this month, including JPMorgan Chase (JPM) - Get Report and Bank of America (BAC) - Get Report , Goldman Sachs faces risk in the coming year from its lending to energy companies, which have been hit hard by oil prices more than 60% below a 2014 peak above $107. The bank has about $10 billion of credit exposure to the entire oil and gas industry, including $1.5 billion in loans to clients with credit ratings below investment grade, CFO Howard Schwartz said on a January earnings call.
The previous year posed significant challenges as well, Blankfein said, offering a nod to the opening lines of the Charles Dickens classic A Tale of Two Cities: "2015 was a tale of two halves: the first half of the year featured a strong operating environment, but headwinds emerged, particularly during the second half, and these headwinds persisted into early 2016."
Goldman's net income declined 31% last year to $5.57 billion amid legal expenses including settlements with the U.S. Securities and Exchange Commission over inadequate disclosures on municipal bond offerings. Still, revenue was stable, declining just 2% to $33.8 billion amid global market turmoil, and the bank was an adviser on $1 trillion in mergers, maintaining its top ranking.
Finance companies with investment businesses like Goldman are likely to have been pinched by a dearth of deal-making and initial public offerings during the first quarter, Brian Kleinhanzl, an analyst with Keefe, Bruyette & Woods, said in a telephone interview. No U.S. companies went public in January, and only 11 did so for the entire three-month period, according to a review by accounting firm PwC.
"It was a really tough operating environment for the biggest banks," Kleinhanzl said. Still, the banks may reap some benefit from the Federal Reserve's 25 basis-point rate hike in December, the first since rates were cut to nearly zero during the financial crisis of 2008. There may be as many as two more this year, the central bank indicated after its March meeting.
While "interest rates in many parts of the world remain at -- or even below -- zero, and growth and deflation concerns, among other worries, have persisted," Blankfein wrote, "it is important to remember that cycles do turn, even if the timing of such inflections may be difficult to predict."
Even though inflation remains below the Federal Reserve's target of 2%, partly because of low oil prices and a stronger U.S. dollar, the Fed's Yellen said the economy is healthy and growing.
"This is an economy on a solid course, not a bubble economy," she said. "We have relatively weak global growth, but the U.S. economy has been doing well, and domestic strength has been propelling us forward."